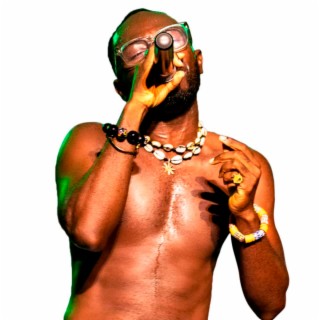 Okyeame Kwame
Current #11.4k

All Time #7,892

Kwame Nsiah-Apau (born 17 April 1976), known by his stage name Okyeame Kwame and nicknamed Rap Doctor, is a Ghanaian musician, songwriter, creative director and entrepreneur. Many Okyeame Kwame songs become very popular and trendy online with a great number of streaming and downloads on Boomplay.

Apau was born in Kumasi, Ashanti Region of Ghana. He is the third of six siblings. His two younger brothers, Kwaku Nsiah Boamah nicknamed "Flowking Stone" and Kwaku Nsiah Amankwah nicknamed "Kunta Kinte", also perform as a duo, under the brand name "Bradez".

Growing up, Kwame's parents expected him to become a physician, yet he gained interest in rap music from a very young age, when he wrote his own songs and performed at local shows since his days at the Anglican Senior High School in Kumasi

Kwame is a product of Kwame Nkrumah University of Science and Technology where he studied Akan and Sociology for his first degree with formal education in music under the tutelage of Dr Daniel Amponsah a.k.a. Agya Koo Nimo.

Agya Koo Nimo taught him Classical Guitar and Philosophy in African Music. Subsequently, he enrolled at the University of Ghana and graduated in 2016 with a master's degree in Strategic Marketing.

He is also an associate co-opted member of the Chartered Institute of Marketing Ghana in recognition of his professional use of marketing in creative arts.

Career
Okyeame Kwame raps and sings mostly in Twi dialect of the Akan language of Ghana. However, his versatile prowess sees him do songs in English as well.

His stage name Okyeame chosen to reflect his lyrical fluidity means "linguist (of the royal court)" in his native Akan

In 1997 he achieved notoriety as a member of the "Akyeame" hiplife duo, together with fellow Ghanaian Daniel Kofi Amoateng (under the stage name Okyeame Kofi).

They recorded together the albums "Nyansapo" ("Witty Knot", 1997), "Nkonsonkonson" ("Shackles", 1998), "Ntoaso" ("Continuity", 2000) and "Apam Foforo" ("New Testament", 2002).

He performed solo under his own record label One Mic Entertainment, in Accra since they parted in 2004. He also featured renowned Ghanaian highlife and hiplife artists as Daddy Lumba, Kojo Antwi and Ofori Amponsah.

For declaring himself B.R.A (Best Rapper Alive) in a song he recorded after winning Ghana Music Awards Artist of the Year award in 2009, Okyeame Kwame sparked a conflict with fellow Ghanaian rapper Obrafour, who saw himself more deserving.

This resulted in one of the memorable feuds the Ghanaian music scene has seen, with Obrafour challenging Okyeame Kwame to a rap battle on the streets which was never honored.

In 2011, after Obrafour had apologized for his actions Okyeame Kwame explained he declined Obrafour's challenge because there was no need for it at the time, as winning Artist of the Year was vindicative enough.

Okyeame Kwame has contributed his due to education and the promotion of scholarship, his rap lyrics (which incorporate didactic themes, social consciousness and poetry) being studied in some Ghanaian universities. He recently came out with a song titled Yeeko ft Ghana's very own highlife artist Kuami Eugene.

Follow Boomplay and keep up-to-date with the latest Okyeame Kwame songs and information.

Achievement
Due to his notoriety as a national icon in native Ghana, Kwame has become an iconic figure for corporate Ghana.

He has so far become brand ambassador for MTN Group, GT Bank and Coca-Cola in Ghana, aside being appointed the public relations officer of the Musicians Union of Ghana (MUSIGA) from 2012 and the Ghana Music Right Owner (GHAMRO) in 2014.

From 2015, Kwame has was appointed as ambassador for "My African Union, My Voice" campaign launched by the African Union in Addis Ababa as part of the activities of the "State of the Union" (SoTU) - a Pan-African Civil Society Organizations project which is currently being implemented in African countries including Ghana.

The stated goals of the campaign are to help creating public awareness of the objectives of the African Union and to promote active citizen participation in the implementation of its protocols, conventions and policy decisions at the level of the member states of the Union.

In over two decades of his music career, Okyeame Kwame has more than 60 nominations and has won more than 25 of them.

He won Artist of the Year in 2015 at the MOGO Awards, Hiplife Legend in 2014 at the Ghana Music Honours.

In 2009 he won 5 Awards at the Ghana Music Awards.

He won the Artist of the Year, Hip Hop Song of the Year, Hiplife Artist of the Year, Hip Hop Artist of the Year and Best Music Video of the Year

Okyeame Kwame Songs
• Yeeko ft Kuami
• Eugene
• Ino be my matter
• Love locked down
• Small small ft
• Mzvee
• Woso ft Richie
• Kpa ft Wulomei

Okyeame Kwame songs are included in Boomplay music playlists. Search to stream and download Okyeame Kwame songs MP3/ single/ albums on the platform....more

Country/Region : Ghana
Songs

(15)

Albums

(1)

Playlists

(28)
1

2

3

4

5

6

7

8

9

10

11

12

13

14

15
Listen to Okyeame Kwame's new songs including "Ino Be My Matter ft. Kuami Eugene", "Bra ft. Afriyie Wutah", "Made In Ghana ft. KiDi" and many more. Enjoy Okyeame Kwame's latest songs and explore the Okyeame Kwame's new music albums. If you want to download Okyeame Kwame songs MP3, use the Boomplay App to download the Okyeame Kwame songs for free. Discover Okyeame Kwame's latest songs, popular songs, trending songs all on Boomplay.
Kwame Nsiah-Apau (born 17 April 1976), known by his stage name Okyeame Kwame and nicknamed Rap Doctor, is a Ghanaian musician, songwriter, creative director and entrepreneur. Many Okyeame Kwame songs become very popular and trendy online with a great number of streaming and downloads on Boomplay.

Apau was born in Kumasi, Ashanti Region of Ghana. He is the third of six siblings. His two younger brothers, Kwaku Nsiah Boamah nicknamed "Flowking Stone" and Kwaku Nsiah Amankwah nicknamed "Kunta Kinte", also perform as a duo, under the brand name "Bradez".

Growing up, Kwame's parents expected him to become a physician, yet he gained interest in rap music from a very young age, when he wrote his own songs and performed at local shows since his days at the Anglican Senior High School in Kumasi

Kwame is a product of Kwame Nkrumah University of Science and Technology where he studied Akan and Sociology for his first degree with formal education in music under the tutelage of Dr Daniel Amponsah a.k.a. Agya Koo Nimo.

Agya Koo Nimo taught him Classical Guitar and Philosophy in African Music. Subsequently, he enrolled at the University of Ghana and graduated in 2016 with a master's degree in Strategic Marketing.

He is also an associate co-opted member of the Chartered Institute of Marketing Ghana in recognition of his professional use of marketing in creative arts.

Career
Okyeame Kwame raps and sings mostly in Twi dialect of the Akan language of Ghana. However, his versatile prowess sees him do songs in English as well.

His stage name Okyeame chosen to reflect his lyrical fluidity means "linguist (of the royal court)" in his native Akan

In 1997 he achieved notoriety as a member of the "Akyeame" hiplife duo, together with fellow Ghanaian Daniel Kofi Amoateng (under the stage name Okyeame Kofi).

They recorded together the albums "Nyansapo" ("Witty Knot", 1997), "Nkonsonkonson" ("Shackles", 1998), "Ntoaso" ("Continuity", 2000) and "Apam Foforo" ("New Testament", 2002).

He performed solo under his own record label One Mic Entertainment, in Accra since they parted in 2004. He also featured renowned Ghanaian highlife and hiplife artists as Daddy Lumba, Kojo Antwi and Ofori Amponsah.

For declaring himself B.R.A (Best Rapper Alive) in a song he recorded after winning Ghana Music Awards Artist of the Year award in 2009, Okyeame Kwame sparked a conflict with fellow Ghanaian rapper Obrafour, who saw himself more deserving.

This resulted in one of the memorable feuds the Ghanaian music scene has seen, with Obrafour challenging Okyeame Kwame to a rap battle on the streets which was never honored.

In 2011, after Obrafour had apologized for his actions Okyeame Kwame explained he declined Obrafour's challenge because there was no need for it at the time, as winning Artist of the Year was vindicative enough.

Okyeame Kwame has contributed his due to education and the promotion of scholarship, his rap lyrics (which incorporate didactic themes, social consciousness and poetry) being studied in some Ghanaian universities. He recently came out with a song titled Yeeko ft Ghana's very own highlife artist Kuami Eugene.

Follow Boomplay and keep up-to-date with the latest Okyeame Kwame songs and information.

Achievement
Due to his notoriety as a national icon in native Ghana, Kwame has become an iconic figure for corporate Ghana.

He has so far become brand ambassador for MTN Group, GT Bank and Coca-Cola in Ghana, aside being appointed the public relations officer of the Musicians Union of Ghana (MUSIGA) from 2012 and the Ghana Music Right Owner (GHAMRO) in 2014.

From 2015, Kwame has was appointed as ambassador for "My African Union, My Voice" campaign launched by the African Union in Addis Ababa as part of the activities of the "State of the Union" (SoTU) - a Pan-African Civil Society Organizations project which is currently being implemented in African countries including Ghana.

The stated goals of the campaign are to help creating public awareness of the objectives of the African Union and to promote active citizen participation in the implementation of its protocols, conventions and policy decisions at the level of the member states of the Union.

In over two decades of his music career, Okyeame Kwame has more than 60 nominations and has won more than 25 of them.

He won Artist of the Year in 2015 at the MOGO Awards, Hiplife Legend in 2014 at the Ghana Music Honours.

In 2009 he won 5 Awards at the Ghana Music Awards.

He won the Artist of the Year, Hip Hop Song of the Year, Hiplife Artist of the Year, Hip Hop Artist of the Year and Best Music Video of the Year

Okyeame Kwame Songs
• Yeeko ft Kuami
• Eugene
• Ino be my matter
• Love locked down
• Small small ft
• Mzvee
• Woso ft Richie
• Kpa ft Wulomei

Okyeame Kwame songs are included in Boomplay music playlists. Search to stream and download Okyeame Kwame songs MP3/ single/ albums on the platform.
New Comments(
24

)
FAQs about Okyeame Kwame
Where is Okyeame Kwame from?
He is from Ghana.
What are the latest songs of Okyeame Kwame?
The latest songs of Okyeame Kwame are Yeeko (Mixed) ft. Kuami Eugene, Adonko ft. Kwabena Kwabena and Yenzima ft. Fancy Gadam.
What are the best songs of Okyeame Kwame?
The best songs of Okyeame Kwame are Yeeko ft. Kuami Eugene, Ino Be My Matter ft. Kuami Eugene and Woman (Girls Anthem) ft. Sista Afia.
What are the best albums of Okyeame Kwame?
The best albums of Okyeame Kwame are Yeeko, Made In Ghana and Woman (Girls Anthem).
How to download songs of Okyeame Kwame?
You can download songs of Okyeame Kwame from Boomplay App for free.
Firstly, install Boomplay app on your mobile phone.
Secondly, navigate to the song you would like to download.
Thirdly, Tap on More > Download.