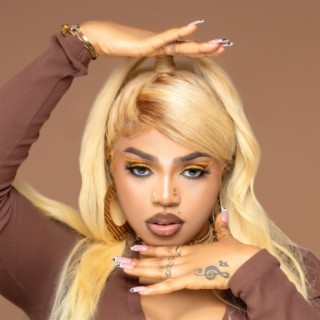 Blanche Bailly
Current #298

All Time #157

Bailly Larinette Tatah stage named Blanche Bailly is a 26-year-old singer, songwriter, and actress from Cameroon, whose debut single Kam We Stay thrust her into the limelight. Many of Blanche Bailly songs become very popular and trendy online with a great number of streaming and downloads on Boomplay.

Blanche Bailly was born in Kumba, a city in the South West Region of Cameroon to religious parents. She was born on 8 August 1995.

She studied at Sacred Heart School Kumba, for her primary school education. For her secondary school education, she had short stints at Baptist Secondary School, Kang-Darombi, and Diligent Secondary School, Kang-Darombi. When she turned 12, she and her family emigrated to France where she resumed her studies.

Career
Blanche Bailly's stay in France benefited her career as it made her a bilingual singer. While in France, she made the decision to become a stage performer and recording artist.

She relocated to the UK where her career began fully. She hooked up with a Cameroonian artist who helped secure her first studio session.

In 2015, she released her first single, Killa produced by Ayo Beats. Later on, she made contact with Cameroonian-based music producer, Mr. Elad who wrote her first single Kam We Stay in 2016. The song was produced by another Cameroon-based producer, Philbillbeatz.

After the success of the single, Blanche Bailly decided to move back to her home country. In 2017, she collaborated with Philbillbeatz again on another single titled, Mimbayeur featuring rapper Minks. This song turned out to be more successful than her first single and it had over 5 million views on YouTube.

Since then, she has performed in sold-out shows in Cameroon and other countries like Malabo, Gabon, France, Switzerland.

A talented artist, Blanche has received nominations for different awards such as Best Female Central Africa Artist at AFRIMA, Best Urban, and Revelation of the year at Canal D'or. In 2016, she won the Revelation of the year award at
Balafon Music Awards.

Blanche Bailly is signed to HNM, Real Touch Records.

Follow Boomplay and keep up-to-date with the latest Blanche Bailly songs and information.

Blanche Bailly Songs
• Mine
• Mimbayeur
• Dou Dou
• Mes Respects
• Jaloux (feat. Tzy Panchak)
• Ton pied mon pied
• Dinguo
• Ndolo
• Bonbon
• Kam We Stay
• L'argent
• Argent
• Favor
• Bruce Lee
• Let You Go
• Champion
• Freesty
• Killa

Blanche Bailly songs are included in Boomplay music playlists. Search to stream and download Blanche Bailly songs MP3/ single/ albums on the platform....more

Country/Region : Cameroon
Listen to Blanche Bailly's new songs including "Mine ft. Joeboy", "Dou Dou ft. Fanicko", "Jaloux ft Tzy Panchak" and many more. Enjoy Blanche Bailly's latest songs and explore the Blanche Bailly's new music albums. If you want to download Blanche Bailly songs MP3, use the Boomplay App to download the Blanche Bailly songs for free. Discover Blanche Bailly's latest songs, popular songs, trending songs all on Boomplay.
Bailly Larinette Tatah stage named Blanche Bailly is a 26-year-old singer, songwriter, and actress from Cameroon, whose debut single Kam We Stay thrust her into the limelight. Many of Blanche Bailly songs become very popular and trendy online with a great number of streaming and downloads on Boomplay.

Blanche Bailly was born in Kumba, a city in the South West Region of Cameroon to religious parents. She was born on 8 August 1995.

She studied at Sacred Heart School Kumba, for her primary school education. For her secondary school education, she had short stints at Baptist Secondary School, Kang-Darombi, and Diligent Secondary School, Kang-Darombi. When she turned 12, she and her family emigrated to France where she resumed her studies.

Career
Blanche Bailly's stay in France benefited her career as it made her a bilingual singer. While in France, she made the decision to become a stage performer and recording artist.

She relocated to the UK where her career began fully. She hooked up with a Cameroonian artist who helped secure her first studio session.

In 2015, she released her first single, Killa produced by Ayo Beats. Later on, she made contact with Cameroonian-based music producer, Mr. Elad who wrote her first single Kam We Stay in 2016. The song was produced by another Cameroon-based producer, Philbillbeatz.

After the success of the single, Blanche Bailly decided to move back to her home country. In 2017, she collaborated with Philbillbeatz again on another single titled, Mimbayeur featuring rapper Minks. This song turned out to be more successful than her first single and it had over 5 million views on YouTube.

Since then, she has performed in sold-out shows in Cameroon and other countries like Malabo, Gabon, France, Switzerland.

A talented artist, Blanche has received nominations for different awards such as Best Female Central Africa Artist at AFRIMA, Best Urban, and Revelation of the year at Canal D'or. In 2016, she won the Revelation of the year award at
Balafon Music Awards.

Blanche Bailly is signed to HNM, Real Touch Records.

Follow Boomplay and keep up-to-date with the latest Blanche Bailly songs and information.

Blanche Bailly Songs
• Mine
• Mimbayeur
• Dou Dou
• Mes Respects
• Jaloux (feat. Tzy Panchak)
• Ton pied mon pied
• Dinguo
• Ndolo
• Bonbon
• Kam We Stay
• L'argent
• Argent
• Favor
• Bruce Lee
• Let You Go
• Champion
• Freesty
• Killa

Blanche Bailly songs are included in Boomplay music playlists. Search to stream and download Blanche Bailly songs MP3/ single/ albums on the platform.