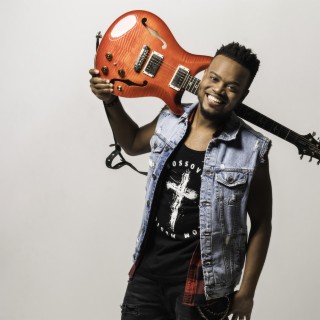 Travis Greene
Current #2,581

All Time #9,839

Travis Montorius Greene (born January 17, 1984) is an American gospel musician and pastor.

Greene began his music career in 2007 with the release of 'The More' via Greenelight Records. He has since released two studio albums, 'Stretching Out' in 2010, 'The Hill' in 2015, and an extended play, 'Intentional' in 2015. Travis Greene's third album 'Crossover: Live From Music City' was released in 2017 as a live album. Greene's music has charted on the Billboard Top Gospel Albums and the Top Gospel Songs charts and he has been nominated for multiple awards, including 2 Grammy Awards and 13 Stellar Awards.
Travis alongside his wife lead Forward City Church in Columbia, South Carolina.

The release of Stretching Out was Greene's introduction to the Billboard magazine Top Gospel Albums chart, where it placed at No. 27. Songs, "Still Here" and "Prove My Love", both charted on the Billboard magazine Top Gospel Songs chart, at peaks of Nos. 17 and 29, respectively.

Greene released an extended play, Intentional, on August 21, 2015, with RCA Inspiration, where this placed at No. 3 on the Billboard magazine Top Gospel Albums chart. His song, "Intentional", peaked at No. 1 on the Billboard magazine Top Gospel Songs chart .

Greene's second studio album, The Hill, was released on October 30, 2015, from RCA Inspiration. The Hill charted at No. 1 on the Billboard Gospel charts.

On March 24, 2017, Greene led the field of nominees at the 2017 Stellar Gospel Music Awards by taking home seven awards. At the awards, Greene performed a medley of "Made a Way" alongside Gospel recording artists Israel Houghton, Jonathan McReynolds and Jonathan Butler....more

Boom ID : 101661230 Country : United States Gender : Male
Songs

(0)

Albums

(0)

Playlists

(28)
Listen to Travis Greene's new songs including and many more. Enjoy Travis Greene's latest songs and explore the Travis Greene's new music albums. If you want to download Travis Greene songs MP3, use the Boomplay App to download the Travis Greene songs for free. Discover Travis Greene's latest songs, popular songs, trending songs all on Boomplay.
Travis Montorius Greene (born January 17, 1984) is an American gospel musician and pastor.

Greene began his music career in 2007 with the release of 'The More' via Greenelight Records. He has since released two studio albums, 'Stretching Out' in 2010, 'The Hill' in 2015, and an extended play, 'Intentional' in 2015. Travis Greene's third album 'Crossover: Live From Music City' was released in 2017 as a live album. Greene's music has charted on the Billboard Top Gospel Albums and the Top Gospel Songs charts and he has been nominated for multiple awards, including 2 Grammy Awards and 13 Stellar Awards.
Travis alongside his wife lead Forward City Church in Columbia, South Carolina.

The release of Stretching Out was Greene's introduction to the Billboard magazine Top Gospel Albums chart, where it placed at No. 27. Songs, "Still Here" and "Prove My Love", both charted on the Billboard magazine Top Gospel Songs chart, at peaks of Nos. 17 and 29, respectively.

Greene released an extended play, Intentional, on August 21, 2015, with RCA Inspiration, where this placed at No. 3 on the Billboard magazine Top Gospel Albums chart. His song, "Intentional", peaked at No. 1 on the Billboard magazine Top Gospel Songs chart .

Greene's second studio album, The Hill, was released on October 30, 2015, from RCA Inspiration. The Hill charted at No. 1 on the Billboard Gospel charts.

On March 24, 2017, Greene led the field of nominees at the 2017 Stellar Gospel Music Awards by taking home seven awards. At the awards, Greene performed a medley of "Made a Way" alongside Gospel recording artists Israel Houghton, Jonathan McReynolds and Jonathan Butler.
New Comments(
129

)