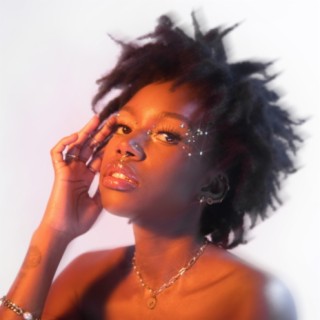 Karun
Current #13.7k

All Time #8,069

Karungari Mungai popularly known with her stage name Karun is an RnB singer and songwriter based in Kenya and former member of the legendary iconic group Camp Mulla music group.

Many of Karun's Songs became very popular and trendy on social media in line with a great number of streaming and downloads on Boomplay.

Career.
Karun began her musical journey back when she was 6 years old and her dad noticed it so he took her to a studio for the first time when she was 8 and also wrote her first song a christmas song that year but she started doing music officially when she was 13 when Matthew (Taio of Camp Mulla) asked her to sing a verse on one of the songs they were working on but they didn't have the "Camp Mulla" name then.

One of their songs was eventually played on radio and got the band from a position of making music for their highschool friends to being nominated for a BET Award 2 years later. After 3 years of success and fame in the group, the group disbanded and Miss Karun and Taio (Thee MC Africa) confirmed their exit to solo projects.

Achievements
Karun over the years has no doubt broken milestones in her life with her breakthrough in the music industry with the song "Party Don't Stop" featuring Collins Majale which won an award in the Chaguo La Teeniz Awards back in 2012.

From there she released a series of bangers but after leaving Camp Mulla she released her first solo album tittled "Sun & Moon" and this caught the attention of many including President Uhuru Kenyatta who attended the launch of the album at Muthaiga Golf Club in 2013.

She is also an Alumni of Mr Eazi's EmPawa African Program and was nominated one of the Forbes Africa 30 under 30 in 2019 Award. She also bagged the award for Best R&B artiste at Cafe Ngoma Awards. Back in U.S, she became a member of a pop a cappella group called Kepoambe and performed at several festivals e.g the Madaraka Festival in Seattle.

In 2021 she released her new album "Catch A Vibe" which has really gone lengths...more

Country/Region : Kenya
Songs

(34)

Albums

(6)

Playlists

(31)
1

2

3

4

5

6

7

8

9

10

11

12

13

14

15

16

17

18

19

20

21

22

23

24

25

26

27

28

29

30

31

32

33

34
Listen to Karun's new songs including "True To Me (Sky Girls Anthem)", "Glow Up", "Roadtrip" and many more. Enjoy Karun's latest songs and explore the Karun's new music albums. If you want to download Karun songs MP3, use the Boomplay App to download the Karun songs for free. Discover Karun's latest songs, popular songs, trending songs all on Boomplay.
Karungari Mungai popularly known with her stage name Karun is an RnB singer and songwriter based in Kenya and former member of the legendary iconic group Camp Mulla music group.

Many of Karun's Songs became very popular and trendy on social media in line with a great number of streaming and downloads on Boomplay.

Career.
Karun began her musical journey back when she was 6 years old and her dad noticed it so he took her to a studio for the first time when she was 8 and also wrote her first song a christmas song that year but she started doing music officially when she was 13 when Matthew (Taio of Camp Mulla) asked her to sing a verse on one of the songs they were working on but they didn't have the "Camp Mulla" name then.

One of their songs was eventually played on radio and got the band from a position of making music for their highschool friends to being nominated for a BET Award 2 years later. After 3 years of success and fame in the group, the group disbanded and Miss Karun and Taio (Thee MC Africa) confirmed their exit to solo projects.

Achievements
Karun over the years has no doubt broken milestones in her life with her breakthrough in the music industry with the song "Party Don't Stop" featuring Collins Majale which won an award in the Chaguo La Teeniz Awards back in 2012.

From there she released a series of bangers but after leaving Camp Mulla she released her first solo album tittled "Sun & Moon" and this caught the attention of many including President Uhuru Kenyatta who attended the launch of the album at Muthaiga Golf Club in 2013.

She is also an Alumni of Mr Eazi's EmPawa African Program and was nominated one of the Forbes Africa 30 under 30 in 2019 Award. She also bagged the award for Best R&B artiste at Cafe Ngoma Awards. Back in U.S, she became a member of a pop a cappella group called Kepoambe and performed at several festivals e.g the Madaraka Festival in Seattle.

In 2021 she released her new album "Catch A Vibe" which has really gone lengths
New Comments(
12

)
FAQs about Karun
Where is Karun from?
She is from Kenya.
What are the latest songs of Karun?
The latest songs of Karun are Notes Own, Non Jamie and Progressed Purse.
What are the best songs of Karun?
The best songs of Karun are True To Me (Sky Girls Anthem), Clout Chaser ft. Jojo SK and Pen & Paper ft. Hook.
What are the best albums of Karun?
The best albums of Karun are Catch A Vibe, True To Me and Clout Chaser.
How to download songs of Karun?
You can download songs of Karun from Boomplay App for free.
Firstly, install Boomplay app on your mobile phone.
Secondly, navigate to the song you would like to download.
Thirdly, Tap on More > Download.