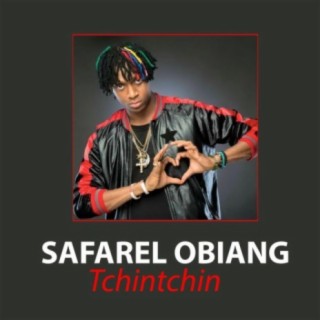 Safarel Obiang
Current #1,972

All Time #1,447

SAFAREL OBIANG born GOORE BASTIEN JUNIOR born on June 10 is a musician from Ivory Coast. Many of Safarel Obiang songs become very popular and trendy online with a great number of streaming and downloads on Boomplay.

Career
This young artist from the center west of the Ivory Coast, took his first steps in music from an early age. He took the time to learn his passion, music, while pursuing his studies. Bastien has several strings to his bow, notably that of artist-singer, choreographer dancer, model and disc joker. Long before really launching into the musical world, he was a model in an Italian agency, named BIANCONERO.

Later, his love for music and his talent will be revealed by the release of his first single titled "kebaro" in 2008.

Then an unfortunate event slows him down and pushes him to go and settle outside the country, more precisely in the United States, in order to forget and evacuate the pain that it has caused him. This is the death of his first son. He returns a few years later, but hesitates to get back to music, he was disoriented. He then received encouragement and help from certain artists from the coupé-décalé register. Serge Beynaud was a great help to him, he says.

He therefore resumed his career and released several titles as well as dances and concepts, but the title that propelled him into music was "LA KUITATA" featuring the Ivorian artist S-kelly. From that moment he began to arouse interest among Ivorian music lovers until he released "Manger Chier" and "Grattanhou".

Follow Boomplay and keep up to date with the latest Safarel Obiang songs and information.

Safarel Obiang Songs
• Tchoutchou
• Manger chier
• Tchintchin
• Goumouli
• Sauter Sauter
• Abougor
• Grattahoun
• Yaya danse
• Kuitata
• Yaya Dance
• Shaka Zulu
• Ploto Nayo
• Grattanhou
• Kpoaah
• Hommage à Arafat
• Décaler
• #Kpoaah
• La danse de la prière
• Poporo

Safarel Obiang songs are included in Boomplay music playlists. Search to stream and download Safarel Obiang songs MP3/ single/ albums on the platform....more

Country/Region : Côte d'Ivoire
Songs

(2)

Albums

(2)

Playlists

(0)
Listen to Safarel Obiang's new songs including "Accelerer", "CHARA DANCE", and many more. Enjoy Safarel Obiang's latest songs and explore the Safarel Obiang's new music albums. If you want to download Safarel Obiang songs MP3, use the Boomplay App to download the Safarel Obiang songs for free. Discover Safarel Obiang's latest songs, popular songs, trending songs all on Boomplay.
SAFAREL OBIANG born GOORE BASTIEN JUNIOR born on June 10 is a musician from Ivory Coast. Many of Safarel Obiang songs become very popular and trendy online with a great number of streaming and downloads on Boomplay.

Career
This young artist from the center west of the Ivory Coast, took his first steps in music from an early age. He took the time to learn his passion, music, while pursuing his studies. Bastien has several strings to his bow, notably that of artist-singer, choreographer dancer, model and disc joker. Long before really launching into the musical world, he was a model in an Italian agency, named BIANCONERO.

Later, his love for music and his talent will be revealed by the release of his first single titled "kebaro" in 2008.

Then an unfortunate event slows him down and pushes him to go and settle outside the country, more precisely in the United States, in order to forget and evacuate the pain that it has caused him. This is the death of his first son. He returns a few years later, but hesitates to get back to music, he was disoriented. He then received encouragement and help from certain artists from the coupé-décalé register. Serge Beynaud was a great help to him, he says.

He therefore resumed his career and released several titles as well as dances and concepts, but the title that propelled him into music was "LA KUITATA" featuring the Ivorian artist S-kelly. From that moment he began to arouse interest among Ivorian music lovers until he released "Manger Chier" and "Grattanhou".

Follow Boomplay and keep up to date with the latest Safarel Obiang songs and information.

Safarel Obiang Songs
• Tchoutchou
• Manger chier
• Tchintchin
• Goumouli
• Sauter Sauter
• Abougor
• Grattahoun
• Yaya danse
• Kuitata
• Yaya Dance
• Shaka Zulu
• Ploto Nayo
• Grattanhou
• Kpoaah
• Hommage à Arafat
• Décaler
• #Kpoaah
• La danse de la prière
• Poporo

Safarel Obiang songs are included in Boomplay music playlists. Search to stream and download Safarel Obiang songs MP3/ single/ albums on the platform.
New Comments(
43

)