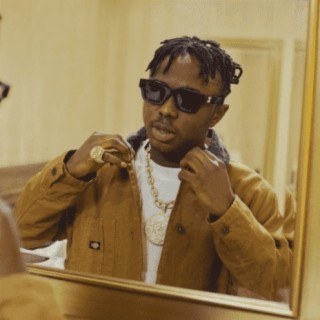 Kashcoming
Current #12.3k

All Time #3,679

Kashcoming popularly known as Drip Papa is a fast rising Nigerian singer born and raised in the country. He hails in Nigeria with his family doing what he loves best, music. Many of Kashcoming's Songs became very popular and trendy on social media in line with a great number of streaming and downloads on Boomplay.

Career
Kashcoming found his voice in music when he decided to pursue his musical journey at his early life. He was inspired with the urge to help and inspire those those young singers out there to pursue music and to be a vessel of hope through his music that's why he decided to do afro pop. He has since had a successful career with a release of 7 albums 7 songs "Controlla," "Good Loving," "Saloo," "Jonze," "Jonze Amapiano," "Fire Fighter," and "Saloo (Remix)." His latest album "Saloo (Remix)" has seen massive gains of streams on boomplay with over 377.3k of streams since its premier in the music platform.

His second most streamed album was "Saloo" with 36.2k streams. He has also been blessed to do a collabo with one of the best afrobeat artists in Nigeria "TBanks, Zlatan and Buju" on the the remix of Saloo and other songs. Follow Boomplay and keep up to date with the latest songs of Kashcoming and information.

Kashcoming's Songs
• Controlla
• Jonze
• Jonze Amapiano
• Saloo
• Saloo (Remix)
• Good Loving
• Fire Fighter

Kashcoming's Songs are included in Boomplay music playlists. Search, stream, and download Kashcoming's Songs, her latest singles and albums in MP3 only on the Boomplay platform for free....more

Country/Region : Nigeria
Songs

(7)

Albums

(7)

Playlists

(0)
Listen to Kashcoming's new songs including "Saloo (Remix) ft. Buju", "Saloo", "Vibes on Vibes" and many more. Enjoy Kashcoming's latest songs and explore the Kashcoming's new music albums. If you want to download Kashcoming songs MP3, use the Boomplay App to download the Kashcoming songs for free. Discover Kashcoming's latest songs, popular songs, trending songs all on Boomplay.
Kashcoming popularly known as Drip Papa is a fast rising Nigerian singer born and raised in the country. He hails in Nigeria with his family doing what he loves best, music. Many of Kashcoming's Songs became very popular and trendy on social media in line with a great number of streaming and downloads on Boomplay.

Career
Kashcoming found his voice in music when he decided to pursue his musical journey at his early life. He was inspired with the urge to help and inspire those those young singers out there to pursue music and to be a vessel of hope through his music that's why he decided to do afro pop. He has since had a successful career with a release of 7 albums 7 songs "Controlla," "Good Loving," "Saloo," "Jonze," "Jonze Amapiano," "Fire Fighter," and "Saloo (Remix)." His latest album "Saloo (Remix)" has seen massive gains of streams on boomplay with over 377.3k of streams since its premier in the music platform.

His second most streamed album was "Saloo" with 36.2k streams. He has also been blessed to do a collabo with one of the best afrobeat artists in Nigeria "TBanks, Zlatan and Buju" on the the remix of Saloo and other songs. Follow Boomplay and keep up to date with the latest songs of Kashcoming and information.

Kashcoming's Songs
• Controlla
• Jonze
• Jonze Amapiano
• Saloo
• Saloo (Remix)
• Good Loving
• Fire Fighter

Kashcoming's Songs are included in Boomplay music playlists. Search, stream, and download Kashcoming's Songs, her latest singles and albums in MP3 only on the Boomplay platform for free.