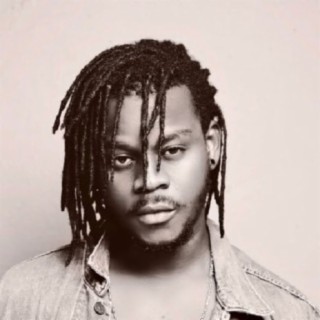 Jupitar
Current #4,849

All Time #5,047

Michael Okine better known by his stage name Jupitar was born on 29 August 1988 in Ghana, he is a fast rising Reggae/Dancehall musician from based in Ghana. Many ask why the name JupiTAR and why is it spelt with "ar" instead of "er"?

Jupiter is the 5th planet from the sun and the largest planet in the solar system. That's what Jupitar aspires to be. Ofcourse not a planet but the largest artist to ever emanate from the continent of Africa. The "TAR" is to exude his royal blackness; a black star; a proud Ghanaian who has dedicated a lot of work into mastering his craft. Many of Jupitar's Songs became very popular and trendy on social media in line with a great number of streaming and downloads on Boomplay.

Career
Jupitar began performing at the age of 14, as a church chorister. Towards the end of high school, Jupitar started getting involved in dancehall clashes (lyrical battles), local competitions and performing at small community shows which helped to build his fan base before his official debut.

In 2011 he met Ghanaian producer, Genius Selections. He collaborated with Ghanaian rapper Trigmatic to produce his first national hit which gained him an instant nomination at the Ghana Music Awards. Since then, Jupitar has shared the stage with the likes of Busy Signal, Mavado and Demarco. His unique style and music dexterity has helped in unveiling his talent outside the shores of Ghana. Jupitar recently traveled to the United Kingdom for an event organized by DC Konnections.

It was an opportunity for him to collaborate with other foreign artists and also help expand his fan base and network. Jupitar is is currently under the management of Dons Club Ent, a music label run by Richard (Dick) Darkey and Samson Adams also known as Ola. The label's mission is to introduce Jupitar to the rest of Africa and the world.

Achievements
Since 2011, he has been making a large impact in Africa's dancehall scene through his authentic sounding music and captivating stage craft. In 2012 he released hit single "Money Box" which made his permanent mark in the music industry and created instant appeal. He has since been nominated and awarded for various Ghanaian industry awards and is regarded as one of Africa's most talented Dancehall musicians.

He also graced the stage for the BASS Awards alongside Jamaican dancehall artist Elephant Man. Jupitar has been nominated in five different award categories for Most Popular Dancehall Song of the Year and Best Dancehall Artist among many others. Follow Boomplay and keep up-to-date with the latest songs of Jupitar and information.

Jupitar's Songs
• Enemies
• Star Life
• Money Box
• Celebration
• Tonight
• Badness
• Mega Don Pay
• Feelings
• Honor You
• Eternity
• All Out

Jupitar's Songs are included in Boomplay music playlists. Search, stream, and download Jupitar's Songs, her latest singles and albums in MP3 only on the Boomplay platform for free....more

Country/Region : Ghana
Songs

(30)

Albums

(30)

Playlists

(21)
1

2

3

4

5

6

7

8

9

10

11

12

13

14

15

16

17

18

19

20

21

22

23

24

25

26

27

28

29

30
Listen to Jupitar's new songs including "Enemies ft. Sarkodie", "Eternity", "All Out" and many more. Enjoy Jupitar's latest songs and explore the Jupitar's new music albums. If you want to download Jupitar songs MP3, use the Boomplay App to download the Jupitar songs for free. Discover Jupitar's latest songs, popular songs, trending songs all on Boomplay.
Michael Okine better known by his stage name Jupitar was born on 29 August 1988 in Ghana, he is a fast rising Reggae/Dancehall musician from based in Ghana. Many ask why the name JupiTAR and why is it spelt with "ar" instead of "er"?

Jupiter is the 5th planet from the sun and the largest planet in the solar system. That's what Jupitar aspires to be. Ofcourse not a planet but the largest artist to ever emanate from the continent of Africa. The "TAR" is to exude his royal blackness; a black star; a proud Ghanaian who has dedicated a lot of work into mastering his craft. Many of Jupitar's Songs became very popular and trendy on social media in line with a great number of streaming and downloads on Boomplay.

Career
Jupitar began performing at the age of 14, as a church chorister. Towards the end of high school, Jupitar started getting involved in dancehall clashes (lyrical battles), local competitions and performing at small community shows which helped to build his fan base before his official debut.

In 2011 he met Ghanaian producer, Genius Selections. He collaborated with Ghanaian rapper Trigmatic to produce his first national hit which gained him an instant nomination at the Ghana Music Awards. Since then, Jupitar has shared the stage with the likes of Busy Signal, Mavado and Demarco. His unique style and music dexterity has helped in unveiling his talent outside the shores of Ghana. Jupitar recently traveled to the United Kingdom for an event organized by DC Konnections.

It was an opportunity for him to collaborate with other foreign artists and also help expand his fan base and network. Jupitar is is currently under the management of Dons Club Ent, a music label run by Richard (Dick) Darkey and Samson Adams also known as Ola. The label's mission is to introduce Jupitar to the rest of Africa and the world.

Achievements
Since 2011, he has been making a large impact in Africa's dancehall scene through his authentic sounding music and captivating stage craft. In 2012 he released hit single "Money Box" which made his permanent mark in the music industry and created instant appeal. He has since been nominated and awarded for various Ghanaian industry awards and is regarded as one of Africa's most talented Dancehall musicians.

He also graced the stage for the BASS Awards alongside Jamaican dancehall artist Elephant Man. Jupitar has been nominated in five different award categories for Most Popular Dancehall Song of the Year and Best Dancehall Artist among many others. Follow Boomplay and keep up-to-date with the latest songs of Jupitar and information.

Jupitar's Songs
• Enemies
• Star Life
• Money Box
• Celebration
• Tonight
• Badness
• Mega Don Pay
• Feelings
• Honor You
• Eternity
• All Out

Jupitar's Songs are included in Boomplay music playlists. Search, stream, and download Jupitar's Songs, her latest singles and albums in MP3 only on the Boomplay platform for free.
New Comments(
15

)
FAQs about Jupitar
Where is Jupitar from?
He is from Ghana.
How to download songs of Jupitar?
You can download songs of Jupitar from Boomplay App for free.
Firstly, install Boomplay app on your mobile phone.
Secondly, navigate to the song you would like to download.
Thirdly, Tap on More > Download.