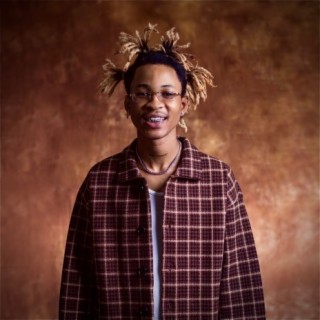 AV
Current #2,627

All Time #753

Born Adindu Victor but professionally known as AV is a Nigerian Afro-Pop singer and songwriter. Many of AV songs become very popular and trendy online with a great number of streaming and downloads on Boomplay.

AV state of origin is unknown but the musical genius was born in Benin city, capital of Edo state in Nigeria.

Career
The talented artist became interested in music at a very young age, not so surprising after all his family are all music enthusiasts. AV ventured into music professionally in 2018 and released his first successful song in 2020, the song was titled "Temperature".

His most notable song so far "Big Thug Boys" was released on June 4th, 2020 and currently has over 10 million streams on music platforms.
AV noted that American acts, Kendrick Lamar, Future, Xxxtentacion, Nigerian singer, Asa and Jamaican singer, Chronixx are among his inspirations.

AV has released more than five songs with no collaboration yet, his first release was a song produced by Vybe and titled "Blow" in 2019.

Follow Boomplay and keep up-to-date with the latest AV songs and information.

AV Songs
• Jiggy
• Blow
• Hustle
• My Song
• Temperature
• Big Thug Boys

AV songs are included in Boomplay music playlists. Search to stream and download AV songs MP3/ single/ albums on the platform....more

Country/Region : Nigeria
Songs

(7)

Albums

(2)

Playlists

(12)
Listen to AV's new songs including "Baby (Bonus)", "VISION", "CC" and many more. Enjoy AV's latest songs and explore the AV's new music albums. If you want to download AV songs MP3, use the Boomplay App to download the AV songs for free. Discover AV's latest songs, popular songs, trending songs all on Boomplay.
Born Adindu Victor but professionally known as AV is a Nigerian Afro-Pop singer and songwriter. Many of AV songs become very popular and trendy online with a great number of streaming and downloads on Boomplay.

AV state of origin is unknown but the musical genius was born in Benin city, capital of Edo state in Nigeria.

Career
The talented artist became interested in music at a very young age, not so surprising after all his family are all music enthusiasts. AV ventured into music professionally in 2018 and released his first successful song in 2020, the song was titled "Temperature".

His most notable song so far "Big Thug Boys" was released on June 4th, 2020 and currently has over 10 million streams on music platforms.
AV noted that American acts, Kendrick Lamar, Future, Xxxtentacion, Nigerian singer, Asa and Jamaican singer, Chronixx are among his inspirations.

AV has released more than five songs with no collaboration yet, his first release was a song produced by Vybe and titled "Blow" in 2019.

Follow Boomplay and keep up-to-date with the latest AV songs and information.

AV Songs
• Jiggy
• Blow
• Hustle
• My Song
• Temperature
• Big Thug Boys

AV songs are included in Boomplay music playlists. Search to stream and download AV songs MP3/ single/ albums on the platform.
FAQs about AV
Where is AV from?
He is from Nigeria.
What are the latest songs of AV?
The latest songs of AV are Falling Love, VISION and VIBE.
What are the best songs of AV?
The best songs of AV are Big Thug Boys, Confession and Baby (Bonus).
What are the best albums of AV?
The best albums of AV are Big Thug Boys, Confession and B&B (Booze & Bumbum).
How to download songs of AV?
You can download songs of AV from Boomplay App for free.
Firstly, install Boomplay app on your mobile phone.
Secondly, navigate to the song you would like to download.
Thirdly, Tap on More > Download.