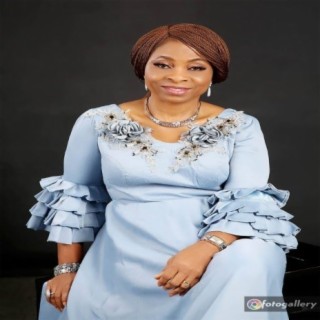 Mummy J
Current #15.6k

All Time #9,056

Juliet Obioma known as Mummy J is an exquisite gospel songstress, songwriter, praise, worship leader and song writer. Many of Mummy J songs become very popular and trendy online with a great number of streaming and downloads on Boomplay. She started singing at a young age in her local church choir. Mummy J hails from the eastern state of Nigeria, Abia state.

Career
Mummy J joined her Church Choir as a child of about ten years because of her love for music. Back in her school days in IMT Enugu, she also joined the 'Christian Union Pilgrims Band' as one of the lead singers. She is the mother of "Ebube", one of the winner of the reality talent show "The Voice Nigeria".

Her interest in music grew more when she became a member of the Pilgrims Band IMT Enugu during her school days. She has served as the worship team lead in her church for several years.

Follow Boomplay and keep up to date with the latest Mummy J songs and information.

Mummy J Songs
• None like you
• I'm so grateful Mowa
• Eze
• Jaburata
• Ekele Mu
• From Glory To Glory
• Creator Of The Universe
• This Work With You
• Fourth Man In The Fire
• Fix Me Lord
• Jaginma
• Lover Of My Soul
• Let The World See
• Mowa Dupe
• Hurunaynanya

Mummy J songs are included in Boomplay music playlists. Search to stream and download Mummy J songs MP3/ single/ albums on the platform....more

Country/Region : Nigeria
Songs

(17)

Albums

(4)

Playlists

(0)
1

2

3

4

5

6

7

8

9

10

11

12

13

14

15

16

17
Listen to Mummy J's new songs including "Eze", "Mowa Dupe", "Lover Of My Soul" and many more. Enjoy Mummy J's latest songs and explore the Mummy J's new music albums. If you want to download Mummy J songs MP3, use the Boomplay App to download the Mummy J songs for free. Discover Mummy J's latest songs, popular songs, trending songs all on Boomplay.
Juliet Obioma known as Mummy J is an exquisite gospel songstress, songwriter, praise, worship leader and song writer. Many of Mummy J songs become very popular and trendy online with a great number of streaming and downloads on Boomplay. She started singing at a young age in her local church choir. Mummy J hails from the eastern state of Nigeria, Abia state.

Career
Mummy J joined her Church Choir as a child of about ten years because of her love for music. Back in her school days in IMT Enugu, she also joined the 'Christian Union Pilgrims Band' as one of the lead singers. She is the mother of "Ebube", one of the winner of the reality talent show "The Voice Nigeria".

Her interest in music grew more when she became a member of the Pilgrims Band IMT Enugu during her school days. She has served as the worship team lead in her church for several years.

Follow Boomplay and keep up to date with the latest Mummy J songs and information.

Mummy J Songs
• None like you
• I'm so grateful Mowa
• Eze
• Jaburata
• Ekele Mu
• From Glory To Glory
• Creator Of The Universe
• This Work With You
• Fourth Man In The Fire
• Fix Me Lord
• Jaginma
• Lover Of My Soul
• Let The World See
• Mowa Dupe
• Hurunaynanya

Mummy J songs are included in Boomplay music playlists. Search to stream and download Mummy J songs MP3/ single/ albums on the platform.
New Comments(
1

)