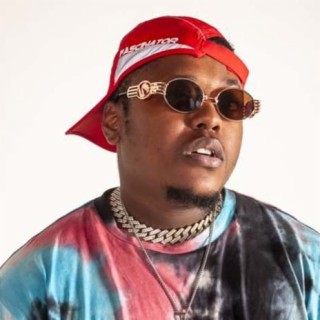 Kaygee DaKing
Current #7,412

All Time #2,165

Born and bred in Naledi, Soweto Kagiso Mashiane, better known by his moniker, KayGee Daking, is a rapper, choreographer and well traveled entertainer. He has had an opportunity to go to Europe as a dancer between the years 2013-2015 travelling back and forth.

KayGee Daking songs, like Lesilo, become very popular and trendy online with a great number of streaming and downloads on Boomplay.

Career
He started his career as a dancer/choreographer in the year 2008, until he started making his own music in 2011 writing rhymes and reciting them to close friends, but it was in 2013, where he started recording his own music in his bedroom. Early 2016 saw the entertainer found a record label,

Too Lit Music Record, along with his best friend. He began working with his new producer nEAsy bEAtz, who records, mixes and masters everything for KayGee DaKing.

He has released his joint, 6 Digits too much praise and this comes after he bodied DJ Eskay's Pull Up. The young rapper is gearing up to drop his debut EP, Sotraville President, which is set to drop on the 10th of November this year. The 8 track project will be his introduction to the mainstream and will consist of no features.

Follow Boomplay and keep up-to-date with the latest KayGee Daking songs and information.

KayGee Daking songs are included in Boomplay music playlists. Search to stream and download KayGee Daking songs MP3/ single/ albums on the platform....more

Country/Region : South Africa
Songs

(9)

Albums

(3)

Playlists

(1)
Listen to Kaygee DaKing's new songs including "Lesilo", "Wututu ft. M Paq", "Shampopo" and many more. Enjoy Kaygee DaKing's latest songs and explore the Kaygee DaKing's new music albums. If you want to download Kaygee DaKing songs MP3, use the Boomplay App to download the Kaygee DaKing songs for free. Discover Kaygee DaKing's latest songs, popular songs, trending songs all on Boomplay.
Born and bred in Naledi, Soweto Kagiso Mashiane, better known by his moniker, KayGee Daking, is a rapper, choreographer and well traveled entertainer. He has had an opportunity to go to Europe as a dancer between the years 2013-2015 travelling back and forth.

KayGee Daking songs, like Lesilo, become very popular and trendy online with a great number of streaming and downloads on Boomplay.

Career
He started his career as a dancer/choreographer in the year 2008, until he started making his own music in 2011 writing rhymes and reciting them to close friends, but it was in 2013, where he started recording his own music in his bedroom. Early 2016 saw the entertainer found a record label,

Too Lit Music Record, along with his best friend. He began working with his new producer nEAsy bEAtz, who records, mixes and masters everything for KayGee DaKing.

He has released his joint, 6 Digits too much praise and this comes after he bodied DJ Eskay's Pull Up. The young rapper is gearing up to drop his debut EP, Sotraville President, which is set to drop on the 10th of November this year. The 8 track project will be his introduction to the mainstream and will consist of no features.

Follow Boomplay and keep up-to-date with the latest KayGee Daking songs and information.

KayGee Daking songs are included in Boomplay music playlists. Search to stream and download KayGee Daking songs MP3/ single/ albums on the platform.
New Comments(
0

)

What do you think of this artist?