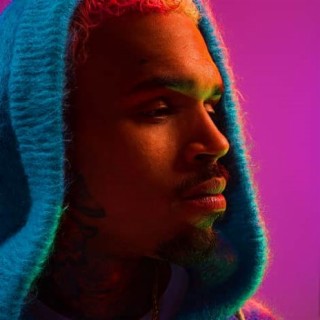 Chris Brown
Current #366

All Time #118

Christopher Maurice Brown (Born May 5, 1989 Virginia) known as Chris Brown, is an American R&B singer, songwriter, and actor whose melodic voice and skilled dancing propelled him to fame, though his success was sometimes overshadowed by his tumultuous personal life.

Chris Brown grew up in Virginia, he discovered a love for dancing and singing, and, when he was 15 years old, he was signed to Jive Records. His first album, a self-titled release, debuted in 2005. Sales climbed steadily on the strength of the chart-topping single "Run It!". In 2006 Brown was nominated for two Grammy Awards, including best new artist, and in 2007 he expanded his entertainment career with roles in the dance drama film Stomp the Yard, Exclusive featured collaborations with such big names as Lil Wayne and Kanye West, and its single "Kiss Kiss," featuring singer-rapper T-Pain, reached the top of the Billboard Hot 100.
Chris Brown rebounded with the album F.A.M.E. after his jail sentence due to assaulting Rihanna, which became his first number one album on the Billboard 200 chart and won him a Grammy Award for best R&B album.

In 2012 Chris Brown released the chart-topping Fortune. That same year he and Rihanna released remixes of each other's songs via the social networking site Twitter, and he was featured on a song on her album Unapologetic. The collaborations sparked rumours of romantic reconciliation; in early 2013 Rihanna confirmed that the two had begun dating again, but they broke up later that year. Brown to recorded his subsequent albums included X (2014), which features guest appearances by Lil Wayne and R. Kelly; Royalty (2015), named for his daughter; and the double albums Heartbreak on a Full Moon (2017) and Indigo (2019). The mixtape Slime & B (2020) is a collaboration with rapper Young Thug....more

Country/Region : United States
Listen to Chris Brown's new songs including "Yeah 3x", "Run It (Live)", "Nobody Has To Know (Mixed) ft. Davido" and many more. Enjoy Chris Brown's latest songs and explore the Chris Brown's new music albums. If you want to download Chris Brown songs MP3, use the Boomplay App to download the Chris Brown songs for free. Discover Chris Brown's latest songs, popular songs, trending songs all on Boomplay.
Christopher Maurice Brown (Born May 5, 1989 Virginia) known as Chris Brown, is an American R&B singer, songwriter, and actor whose melodic voice and skilled dancing propelled him to fame, though his success was sometimes overshadowed by his tumultuous personal life.

Chris Brown grew up in Virginia, he discovered a love for dancing and singing, and, when he was 15 years old, he was signed to Jive Records. His first album, a self-titled release, debuted in 2005. Sales climbed steadily on the strength of the chart-topping single "Run It!". In 2006 Brown was nominated for two Grammy Awards, including best new artist, and in 2007 he expanded his entertainment career with roles in the dance drama film Stomp the Yard, Exclusive featured collaborations with such big names as Lil Wayne and Kanye West, and its single "Kiss Kiss," featuring singer-rapper T-Pain, reached the top of the Billboard Hot 100.
Chris Brown rebounded with the album F.A.M.E. after his jail sentence due to assaulting Rihanna, which became his first number one album on the Billboard 200 chart and won him a Grammy Award for best R&B album.

In 2012 Chris Brown released the chart-topping Fortune. That same year he and Rihanna released remixes of each other's songs via the social networking site Twitter, and he was featured on a song on her album Unapologetic. The collaborations sparked rumours of romantic reconciliation; in early 2013 Rihanna confirmed that the two had begun dating again, but they broke up later that year. Brown to recorded his subsequent albums included X (2014), which features guest appearances by Lil Wayne and R. Kelly; Royalty (2015), named for his daughter; and the double albums Heartbreak on a Full Moon (2017) and Indigo (2019). The mixtape Slime & B (2020) is a collaboration with rapper Young Thug.
FAQs about Chris Brown
Where is Chris Brown from?
He is from United States.
What are the latest songs of Chris Brown?
The latest songs of Chris Brown are With You (Mixed), Call Me Every Day (Mixed) ft. Wizkid and Yeah 3x (Mixed).
What are the best songs of Chris Brown?
The best songs of Chris Brown are Under The Influence and Call Me Every Day ft. Wizkid.
What are the best albums of Chris Brown?
The best albums of Chris Brown are Indigo (Extended), Call Me Every Day and Indigo.
How to download songs of Chris Brown?
You can download songs of Chris Brown from Boomplay App for free.
Firstly, install Boomplay app on your mobile phone.
Secondly, navigate to the song you would like to download.
Thirdly, Tap on More > Download.