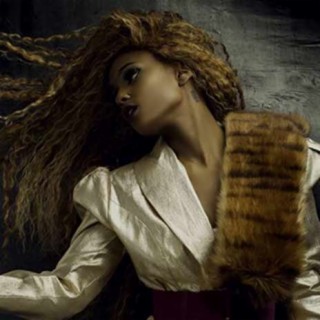 Vanessa Mdee
Current #2,650

All Time #1,738

Vanessa Mdee is a Tanzanian singer, songwriter, rapper, youth activist, tv temperament and radio host. She is popularly better-known for being the primary ever Tanzanian MTV VJ. Many Vanessa Mdee's songs become very popular and trendy online with a great number of streaming and downloads on Boomplay.

Her music has seen her over the years gain such a lot quality and amass such a large following on social media. She was born on seven June 1988 in Tanzania. She is thirty two years recent.

Although Vanessa was born in Arusha she had the opportunity to measure in big apple, Paris, and national capital. Vanessa features a baby sister, Matianne Mdee, World Health Organization goes by the pseudonym Mimi Mars.

Diamond Platnumz has professed his love for her persistently which he desires he was qualitative analysis Mimi Mars, however Mimi has given her reasons on why she can't be in an exceedingly relationship with Diamond. Mimi discovered that she was seeing somebody already.

CAREER
To prove that she was meant to be within the show biz, her career started in 2007. this can be once she got the prospect to audition for The MTV VJ Search in Dar einsteinium Salaam and he or she later joined Carol and Kule to host the Coca-Cola Chart categorical.

Her style in fashion has seen her conjointly host the MTV Africa Music Awards for 3 years in an exceedingly row. In 2012 Mdee hosted MTV Base Meets, a show meshed towards empowering young Africans from round the world by giving them the rare chance to take a seat down with Associate in Nursing cogent leader.

ACHIEVEMENT
In 2014, aboard Tanzanian songster Barnaba Elias, they teamed up and discharged their latest up tempo hairdo Pop duet Siri. In 2015 Vanessa discharged her fifth single no one however ME wherever she was joined by the South African rapper K.O.

Vanessa had the chance to be a part of the Kili Music Music Tour likewise because the Serengeti party Music Tour in 2014. She ought to share the stage with stage with trade greats like Davido, Diamond Platnumz and Patoranking, to call a couple of.

Vanessa discharged her debut album 'Money Mondays' in 2018. The album possesses eighteen tracks and per Boom Play, a streaming platform, the album skint the record in East African Music.

In 2019, Vanessa got another gig on TV and now she was undraped in a concert by the four pioneer judges for the debut season of East Africa's Got Talent. She conjointly discharged her hit 'Still' wherever she featured Rayvanny.

Follow Boomplay and keep up-to-date with the latest Vanessa Mdee's songs and information.

VANESSA MDEE'S SONGS
• Still
• Life
• Wet
• Bambino
• Cash ma'am
• Kisela
• Top
• Bounce
• Bado ft. Rayvanny

Vanessa has been concerned in an exceedingly range of comes and has signed a variety of diplomatist deals that have unbroken the checks coming back in. She is believed to possess an internet value of $ 6 million.

Vanessa Mdee's songs are included in Boomplay music playlists. Search to stream and download Vanessa Mdee's songs MP3/Single/Albums on the platform....more

Country/Region : Tanzania
Listen to Vanessa Mdee's new songs including "Bado ft. Rayvanny", "Moyo", "Bambino ft. Reekado Banks" and many more. Enjoy Vanessa Mdee's latest songs and explore the Vanessa Mdee's new music albums. If you want to download Vanessa Mdee songs MP3, use the Boomplay App to download the Vanessa Mdee songs for free. Discover Vanessa Mdee's latest songs, popular songs, trending songs all on Boomplay.
Vanessa Mdee is a Tanzanian singer, songwriter, rapper, youth activist, tv temperament and radio host. She is popularly better-known for being the primary ever Tanzanian MTV VJ. Many Vanessa Mdee's songs become very popular and trendy online with a great number of streaming and downloads on Boomplay.

Her music has seen her over the years gain such a lot quality and amass such a large following on social media. She was born on seven June 1988 in Tanzania. She is thirty two years recent.

Although Vanessa was born in Arusha she had the opportunity to measure in big apple, Paris, and national capital. Vanessa features a baby sister, Matianne Mdee, World Health Organization goes by the pseudonym Mimi Mars.

Diamond Platnumz has professed his love for her persistently which he desires he was qualitative analysis Mimi Mars, however Mimi has given her reasons on why she can't be in an exceedingly relationship with Diamond. Mimi discovered that she was seeing somebody already.

CAREER
To prove that she was meant to be within the show biz, her career started in 2007. this can be once she got the prospect to audition for The MTV VJ Search in Dar einsteinium Salaam and he or she later joined Carol and Kule to host the Coca-Cola Chart categorical.

Her style in fashion has seen her conjointly host the MTV Africa Music Awards for 3 years in an exceedingly row. In 2012 Mdee hosted MTV Base Meets, a show meshed towards empowering young Africans from round the world by giving them the rare chance to take a seat down with Associate in Nursing cogent leader.

ACHIEVEMENT
In 2014, aboard Tanzanian songster Barnaba Elias, they teamed up and discharged their latest up tempo hairdo Pop duet Siri. In 2015 Vanessa discharged her fifth single no one however ME wherever she was joined by the South African rapper K.O.

Vanessa had the chance to be a part of the Kili Music Music Tour likewise because the Serengeti party Music Tour in 2014. She ought to share the stage with stage with trade greats like Davido, Diamond Platnumz and Patoranking, to call a couple of.

Vanessa discharged her debut album 'Money Mondays' in 2018. The album possesses eighteen tracks and per Boom Play, a streaming platform, the album skint the record in East African Music.

In 2019, Vanessa got another gig on TV and now she was undraped in a concert by the four pioneer judges for the debut season of East Africa's Got Talent. She conjointly discharged her hit 'Still' wherever she featured Rayvanny.

Follow Boomplay and keep up-to-date with the latest Vanessa Mdee's songs and information.

VANESSA MDEE'S SONGS
• Still
• Life
• Wet
• Bambino
• Cash ma'am
• Kisela
• Top
• Bounce
• Bado ft. Rayvanny

Vanessa has been concerned in an exceedingly range of comes and has signed a variety of diplomatist deals that have unbroken the checks coming back in. She is believed to possess an internet value of $ 6 million.

Vanessa Mdee's songs are included in Boomplay music playlists. Search to stream and download Vanessa Mdee's songs MP3/Single/Albums on the platform.
FAQs about Vanessa Mdee
Where is Vanessa Mdee from?
She is from Tanzania.
How to download songs of Vanessa Mdee?
You can download songs of Vanessa Mdee from Boomplay App for free.
Firstly, install Boomplay app on your mobile phone.
Secondly, navigate to the song you would like to download.
Thirdly, Tap on More > Download.