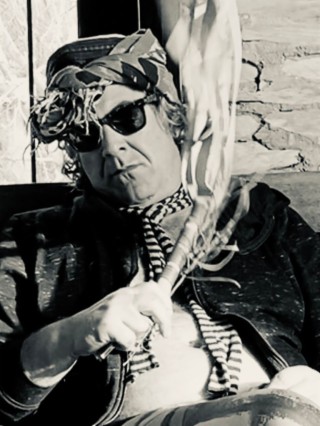 Mondays Are Cancelled
Current #99k+

All Time #395.4k

Mondays Are Cancelled (aka Steve Freedom) is a South African musician and producer of electronica, techno, deep house, minimal techno, deep amapiano and trap. He specialises as a Live-DJ Musician with two NI Maschines and a Nord Stage 3, DJ-style music at a moment in time. Not taking Covid lying down and unable to play Berlin, home and beyond, he produced and released more than a hundred original tracks over the past twelve months. Mondays Are Cancelled regularly feature in the top 10 in Techno, Tech-House, Deep-House and Minimal and claimed No.1 Electronica and No.1 Minimal Techno in 2022 on Mixcloud. During lockdown he rigged his motorcycle with a battery powered speaker and DJ-controller and travelled to many informal settlements and townships in South Africa to bring music to the people of his country. He plans to be back in Europe in 2023. In the meantime, enjoy his music on Boomplay and beyond starting at https://linktr.ee/mondaysarecancelled

...more

Country/Region : Others
Songs

(111)

Albums

(104)

Playlists

(0)
1

2

3

4

5

6

7

8

9

10

11

12

13

14

15

16

17

18

19

20

21

22

23

24

25

26

27

28

29

30

31

32

33

34

35

36

37

38

39

40

41

42

43

44

45

46

47

48

49

50

51

52

53

54

55

56

57

58

59

60

61

62

63

64

65

66

67

68

69

70

71

72

73

74

75

76

77

78

79

80

81

82

83

84

85

86

87

88

89

90

91

92

93

94

95

96

97

98

99

100
Listen to Mondays Are Cancelled's new songs including "Let's Chase The Wind", "Breathe", "Okay But Not Now" and many more. Enjoy Mondays Are Cancelled's latest songs and explore the Mondays Are Cancelled's new music albums. If you want to download Mondays Are Cancelled songs MP3, use the Boomplay App to download the Mondays Are Cancelled songs for free. Discover Mondays Are Cancelled's latest songs, popular songs, trending songs all on Boomplay.
Mondays Are Cancelled Biography
Mondays Are Cancelled (aka Steve Freedom) is a South African musician and producer of electronica, techno, deep house, minimal techno, deep amapiano and trap. He specialises as a Live-DJ Musician with two NI Maschines and a Nord Stage 3, DJ-style music at a moment in time. Not taking Covid lying down and unable to play Berlin, home and beyond, he produced and released more than a hundred original tracks over the past twelve months. Mondays Are Cancelled regularly feature in the top 10 in Techno, Tech-House, Deep-House and Minimal and claimed No.1 Electronica and No.1 Minimal Techno in 2022 on Mixcloud. During lockdown he rigged his motorcycle with a battery powered speaker and DJ-controller and travelled to many informal settlements and townships in South Africa to bring music to the people of his country. He plans to be back in Europe in 2023. In the meantime, enjoy his music on Boomplay and beyond starting at https://linktr.ee/mondaysarecancelled
New Comments(
0

)

What do you think of this artist?
FAQs about Mondays Are Cancelled
How to download songs of Mondays Are Cancelled?
You can download songs of Mondays Are Cancelled from Boomplay App for free.
Firstly, install Boomplay app on your mobile phone.
Secondly, navigate to the song you would like to download.
Thirdly, Tap on More > Download.