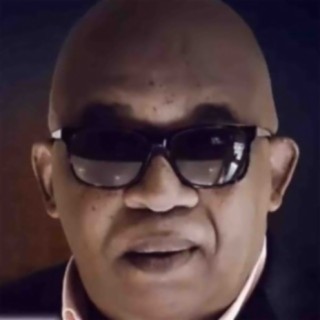 Ben Décca
Current #3,150

All Time #5,625

Ben Decca was born in Deido in Douala on February 23, 1958 to Eyoum Mouangue James Decca and Bella Mouangue Maximine. He is the second of a family of 11 children including 3 boys and 8 girls.

He is the older brother of Grace Decca, Dora Decca and Isaac Decca, well-known Makossa artists on the Cameroonian music scene.
Raised in a deeply Christian family, he broke with modesty and humility from an early age. Little Ben grew up surrounded by his brothers and sisters who were also touched later by the call of music.

By his own admission, he had a half-rigid, half-loving childhood, marked in particular by the strong personality with which his now deceased father was endowed, who still according to him, had to be hard at that time to instill in him values ​​of which he is still a fervent defender today. Very withdrawn, it was around the age of 15 that he developed a very close relationship with his father, who was then very pragmatic and rigorous.

After obtaining his CAP, he left Cameroon for France to pursue studies in automobile mechanics. There he obtained a diploma as an automotive expert and became a member of the trade union chamber of automotive experts in Paris, France, where he worked for a few years before returning to Cameroon..

Originally from the coastal region of Cameroon, he succeeded in thirty years of career, alongside other artists, to democratize the traditional musical rhythm of the Sawa people. Author of the successful titles Ye Te Na Oa released in 1982, or Alane Mba from his album Saphir, Papa Ben, as he is affectionately called by his fans, is an emblematic figure of African and Cameroonian music.

Many Ben Decca songs become very popular and trendy online with a great number of streaming and downloads on Boomplay.

Career
Ben Decca launched into music at the end of the 1970s thanks to his cousin Joe Mboule, an icon of Cameroonian music. He learned to sing songs by Eboa Lotin, Ekambi Brillant and François Misse Ngoh. He released his first solo album in 1981. Ben Decca mainly sings about love, in French and in the Duala language.

Between 1981 and 2015, Ben Decca released 24 albums, the most popular of which were Yetena oa, Amour à sens Unique, Réconciliation, Classe Plus, Tourbillon and Makossa Phoenix.

In November 2015, he celebrated his 30 years of career with a series of new shows in the cities of Douala and Yaoundé. He is accompanied on stage by his sisters and young artists including Kaïsa Pakito, Armand Biyag, Gaelle Wondje, Martino Ngalle and Dany Muna.

In 2017, Ben Decca returned to the Cameroonian music scene with a twenty-fifth album entitled Électron Libre in which we find the titles Souffrance d'amour and Double Heat.

Achievements
On December 15, 2015, he received the distinction of Chevalier de l'Ordre de la Valeur from the Minister of Culture, Narcisse Mouelle Kombi

Other Infos
Ben Decca is married in second marriage after the divorce of his first marriage.

Follow Boomplay and keep up-to-date with the latest Ben Decca songs and information..

Ben Decca Songs and Albums
• Souffrance d'amour
• Nyong'a Mulema
• Makossa Phoenix
• It's My Choice - Best of
• It's All Me
• 24 hours of drunkenness
• Symbiosis
• 30 years of career vol.1
• Ossoko 24
• Free Electron

Ben Decca songs are included in Boomplay music playlists. Search to stream and download Ben Decca songs MP3/ single/ albums on the platform....more

Country/Region : Cameroon
Listen to Ben Décca's new songs including "Amour A Sense Unique", "Amour A Sens Unique", "Parler parler" and many more. Enjoy Ben Décca's latest songs and explore the Ben Décca's new music albums. If you want to download Ben Décca songs MP3, use the Boomplay App to download the Ben Décca songs for free. Discover Ben Décca's latest songs, popular songs, trending songs all on Boomplay.
Ben Decca was born in Deido in Douala on February 23, 1958 to Eyoum Mouangue James Decca and Bella Mouangue Maximine. He is the second of a family of 11 children including 3 boys and 8 girls.

He is the older brother of Grace Decca, Dora Decca and Isaac Decca, well-known Makossa artists on the Cameroonian music scene.
Raised in a deeply Christian family, he broke with modesty and humility from an early age. Little Ben grew up surrounded by his brothers and sisters who were also touched later by the call of music.

By his own admission, he had a half-rigid, half-loving childhood, marked in particular by the strong personality with which his now deceased father was endowed, who still according to him, had to be hard at that time to instill in him values ​​of which he is still a fervent defender today. Very withdrawn, it was around the age of 15 that he developed a very close relationship with his father, who was then very pragmatic and rigorous.

After obtaining his CAP, he left Cameroon for France to pursue studies in automobile mechanics. There he obtained a diploma as an automotive expert and became a member of the trade union chamber of automotive experts in Paris, France, where he worked for a few years before returning to Cameroon..

Originally from the coastal region of Cameroon, he succeeded in thirty years of career, alongside other artists, to democratize the traditional musical rhythm of the Sawa people. Author of the successful titles Ye Te Na Oa released in 1982, or Alane Mba from his album Saphir, Papa Ben, as he is affectionately called by his fans, is an emblematic figure of African and Cameroonian music.

Many Ben Decca songs become very popular and trendy online with a great number of streaming and downloads on Boomplay.

Career
Ben Decca launched into music at the end of the 1970s thanks to his cousin Joe Mboule, an icon of Cameroonian music. He learned to sing songs by Eboa Lotin, Ekambi Brillant and François Misse Ngoh. He released his first solo album in 1981. Ben Decca mainly sings about love, in French and in the Duala language.

Between 1981 and 2015, Ben Decca released 24 albums, the most popular of which were Yetena oa, Amour à sens Unique, Réconciliation, Classe Plus, Tourbillon and Makossa Phoenix.

In November 2015, he celebrated his 30 years of career with a series of new shows in the cities of Douala and Yaoundé. He is accompanied on stage by his sisters and young artists including Kaïsa Pakito, Armand Biyag, Gaelle Wondje, Martino Ngalle and Dany Muna.

In 2017, Ben Decca returned to the Cameroonian music scene with a twenty-fifth album entitled Électron Libre in which we find the titles Souffrance d'amour and Double Heat.

Achievements
On December 15, 2015, he received the distinction of Chevalier de l'Ordre de la Valeur from the Minister of Culture, Narcisse Mouelle Kombi

Other Infos
Ben Decca is married in second marriage after the divorce of his first marriage.

Follow Boomplay and keep up-to-date with the latest Ben Decca songs and information..

Ben Decca Songs and Albums
• Souffrance d'amour
• Nyong'a Mulema
• Makossa Phoenix
• It's My Choice - Best of
• It's All Me
• 24 hours of drunkenness
• Symbiosis
• 30 years of career vol.1
• Ossoko 24
• Free Electron

Ben Decca songs are included in Boomplay music playlists. Search to stream and download Ben Decca songs MP3/ single/ albums on the platform.
New Comments(
9

)
FAQs about Ben Décca
Where is Ben Décca from?
He is from Cameroon.
What are the latest songs of Ben Décca?
The latest songs of Ben Décca are Nguma ndolo, Sona Papa and Nja nu.
What are the best songs of Ben Décca?
The best songs of Ben Décca are Aimer, Osi dimbéa and Souffrance d'amour.
What are the best albums of Ben Décca?
The best albums of Ben Décca are Les incomparables slows, vol. 2 (30 ans de carrière, tous ses succès), Le duo Grace Décca & Ben Décca and Makossa Phoenix.
How to download songs of Ben Décca?
You can download songs of Ben Décca from Boomplay App for free.
Firstly, install Boomplay app on your mobile phone.
Secondly, navigate to the song you would like to download.
Thirdly, Tap on More > Download.