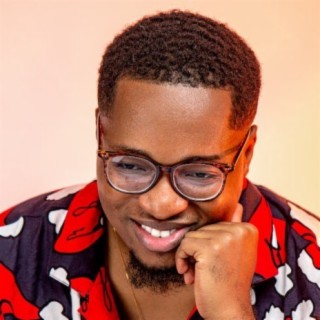 Ko-Jo Cue
Current #10.8k

All Time #4,245

Linford Kennedy Amankwaa (born 27 May 1989), better known by his stage name Ko-Jo Cue, is a Ghanaian Hip-Hop/Afro-Pop artiste from Kumasi, Ashanti Region. Many Ko-Jo Cue songs become very popular and trendy online with a great number of streaming and downloads on Boomplay.

He is currently signed to BBnZ Live and is affiliated to The Cue, a talent development group which he formed with producer Peewezel. In 2014, he dropped his mixtape "The Shining" to incredible reviews from critics.

The mixtape went on to be downloaded more than 12000 times and trended on social media for two weeks. His current single, Lavender has charted on more than 6 major radio stations in Ghana.

Career.
In January 2010, Ko-Jo Cue released the first installment in a series he called 'Growing Pains'. The project which was titled 'N.A.T.H.A.N' attracted the attention of the online community on Facebook as well as the major Ghanaian blogs and websites most notable among them being Ghana Mixtapes and BigXGh. It was the first project of its kind by a Kumasi artiste and it gained him regional recognition.

Within the space of three months, he added two more installments 'N.O.N.A' and 'Now And Forever' with the latter earning him respect amongst the Ghanaian Hip-Hop community and the former spawning his first viral hit with a track titled 'Head Nod' produced by Peewee.

The song made it onto radio rotation in his hometown and even caught the attention of Bradez and Okyeame Kwame (two of the biggest acts from his hometown as at that time). He then took 2 more months to release the last instalment in the series which he titled 'The Wait'.

The buzz generated by 'Head Nod' attracted artists out of his region and soon he found himself working with acts like Kay-Ara, Klu, and Pappykojo. He also worked on a cover of Kwaw Kesse's 'Poppin' with Flowking Stone (one half of the Bradez). He kept his visual appearances minimal but managed to gather quite a cult following which expanded as he collaborated with more artistes outside his region.

In January 2011, Ko-Jo Cue released Before We Shine and solidified his status as an underground king and earned a spot as one of Kumasi's top 5 rappers. The project earned him two viral hits with the songs 'My Life' (which earned rotation on DW radio) and the fan favourite 'E No Be Say'. He performed at the maiden edition of the Asabaako Music Festival which featured acts like Yaa Pono and Wanlov.

He was also brought on-stage by Flowking Stone at a Vodafone street carnival in Asokwa-Kumasi. In March 2012, he released 'Winning' as the first single for the second instalment of Before We Shine. The song which was produced by Klu became the leading trending topic on Ghanaian Twitter for four hours earning over 3,000 downloads in a week. It also received rotation on YFM. In June 2012, he released his first ever visual for the single titled 'The Flood'. The video was directed by Jeneral Jay and received rotation on various national television stations eventually landing on Channel O.

In October 2012, he released another single titled 'Lie Ben' which featured Asem to commercial acclaim. The song served as his first nationally recognized song surpassing 'Head Nod' and 'Winning' in downloads and radio rotation. He also announced the release date for the second installment of Before We Shine.

In January 2013, almost a year after the release of its first single, Ko-Jo Cue released the sequel 'Before We Shine 2: The Cremation of Care' to critical praise.The mixtape which had 16 tracks (plus 2 bonus tracks) also featured artistes like Flowking Stone (Bradez), Edi-Young, Klu, Cabum, Kay-Ara and Trix. Production duties were handled by Klu, Kid Ziggy, Kuvie, Alberto, Cabum and Peewee. The buzz generated by the mixtape led to him being covered by most of the major Ghanaian entertainment newspapers.

The 'Communicator' dubbed him as 'A Star in the making' whilst the 'Business & Financial Times Weekend' called him 'the voice of the new generation'. News One and Graphic Showbiz also covered the young upstart enabling him to reach a wider audience.

The media coverage didn't end there as the video for the second single of the mixtape 'Aden Koraa' received regular rotation on the major television stations in Ghana. He was interviewed on Rapcity for GTV, appeared on 'The DJ Black Cypher' which aired on Viasat 1.

Follow Boomplay and keep up-to-date with the latest Ko-Jo Cue songs and information.

Achievement.
In April, he released a single called Corolla Music and it went viral sparking a conversation about local hip-hop on YFM. The success of the song caught the attention of E.L who reached out to him so the two acts could collaborate. E.L also went an extra mile to secure a deal for him at BBnZ Live. In August he released Low Key, the result of his collaboration with E.L and the single quickly became a favorite on radio playlists across the country. It also served as the first single to his then anticipated mixtape The Shining....more

Country/Region : Ghana
Listen to Ko-Jo Cue's new songs including "Everybody Knows ft. Kelvyn Boy", "Kama ft. Kojo Eyshun", "You Decide ft. Ricky Tyler" and many more. Enjoy Ko-Jo Cue's latest songs and explore the Ko-Jo Cue's new music albums. If you want to download Ko-Jo Cue songs MP3, use the Boomplay App to download the Ko-Jo Cue songs for free. Discover Ko-Jo Cue's latest songs, popular songs, trending songs all on Boomplay.
Linford Kennedy Amankwaa (born 27 May 1989), better known by his stage name Ko-Jo Cue, is a Ghanaian Hip-Hop/Afro-Pop artiste from Kumasi, Ashanti Region. Many Ko-Jo Cue songs become very popular and trendy online with a great number of streaming and downloads on Boomplay.

He is currently signed to BBnZ Live and is affiliated to The Cue, a talent development group which he formed with producer Peewezel. In 2014, he dropped his mixtape "The Shining" to incredible reviews from critics.

The mixtape went on to be downloaded more than 12000 times and trended on social media for two weeks. His current single, Lavender has charted on more than 6 major radio stations in Ghana.

Career.
In January 2010, Ko-Jo Cue released the first installment in a series he called 'Growing Pains'. The project which was titled 'N.A.T.H.A.N' attracted the attention of the online community on Facebook as well as the major Ghanaian blogs and websites most notable among them being Ghana Mixtapes and BigXGh. It was the first project of its kind by a Kumasi artiste and it gained him regional recognition.

Within the space of three months, he added two more installments 'N.O.N.A' and 'Now And Forever' with the latter earning him respect amongst the Ghanaian Hip-Hop community and the former spawning his first viral hit with a track titled 'Head Nod' produced by Peewee.

The song made it onto radio rotation in his hometown and even caught the attention of Bradez and Okyeame Kwame (two of the biggest acts from his hometown as at that time). He then took 2 more months to release the last instalment in the series which he titled 'The Wait'.

The buzz generated by 'Head Nod' attracted artists out of his region and soon he found himself working with acts like Kay-Ara, Klu, and Pappykojo. He also worked on a cover of Kwaw Kesse's 'Poppin' with Flowking Stone (one half of the Bradez). He kept his visual appearances minimal but managed to gather quite a cult following which expanded as he collaborated with more artistes outside his region.

In January 2011, Ko-Jo Cue released Before We Shine and solidified his status as an underground king and earned a spot as one of Kumasi's top 5 rappers. The project earned him two viral hits with the songs 'My Life' (which earned rotation on DW radio) and the fan favourite 'E No Be Say'. He performed at the maiden edition of the Asabaako Music Festival which featured acts like Yaa Pono and Wanlov.

He was also brought on-stage by Flowking Stone at a Vodafone street carnival in Asokwa-Kumasi. In March 2012, he released 'Winning' as the first single for the second instalment of Before We Shine. The song which was produced by Klu became the leading trending topic on Ghanaian Twitter for four hours earning over 3,000 downloads in a week. It also received rotation on YFM. In June 2012, he released his first ever visual for the single titled 'The Flood'. The video was directed by Jeneral Jay and received rotation on various national television stations eventually landing on Channel O.

In October 2012, he released another single titled 'Lie Ben' which featured Asem to commercial acclaim. The song served as his first nationally recognized song surpassing 'Head Nod' and 'Winning' in downloads and radio rotation. He also announced the release date for the second installment of Before We Shine.

In January 2013, almost a year after the release of its first single, Ko-Jo Cue released the sequel 'Before We Shine 2: The Cremation of Care' to critical praise.The mixtape which had 16 tracks (plus 2 bonus tracks) also featured artistes like Flowking Stone (Bradez), Edi-Young, Klu, Cabum, Kay-Ara and Trix. Production duties were handled by Klu, Kid Ziggy, Kuvie, Alberto, Cabum and Peewee. The buzz generated by the mixtape led to him being covered by most of the major Ghanaian entertainment newspapers.

The 'Communicator' dubbed him as 'A Star in the making' whilst the 'Business & Financial Times Weekend' called him 'the voice of the new generation'. News One and Graphic Showbiz also covered the young upstart enabling him to reach a wider audience.

The media coverage didn't end there as the video for the second single of the mixtape 'Aden Koraa' received regular rotation on the major television stations in Ghana. He was interviewed on Rapcity for GTV, appeared on 'The DJ Black Cypher' which aired on Viasat 1.

Follow Boomplay and keep up-to-date with the latest Ko-Jo Cue songs and information.

Achievement.
In April, he released a single called Corolla Music and it went viral sparking a conversation about local hip-hop on YFM. The success of the song caught the attention of E.L who reached out to him so the two acts could collaborate. E.L also went an extra mile to secure a deal for him at BBnZ Live. In August he released Low Key, the result of his collaboration with E.L and the single quickly became a favorite on radio playlists across the country. It also served as the first single to his then anticipated mixtape The Shining.
New Comments(
19

)
FAQs about Ko-Jo Cue
Where is Ko-Jo Cue from?
He is from Ghana.
What are the latest songs of Ko-Jo Cue?
The latest song of Ko-Jo Cue is Everybody Knows (Mixed) ft. Kelvyn Boy.
What are the best songs of Ko-Jo Cue?
The best songs of Ko-Jo Cue are Everybody Knows ft. Kelvyn Boy, You Decide ft. Ricky Tyler and Kama ft. Kojo Eyshun.
What are the best albums of Ko-Jo Cue?
The best albums of Ko-Jo Cue are 21 Memory Lane, For My Brothers and The Shining.
How to download songs of Ko-Jo Cue?
You can download songs of Ko-Jo Cue from Boomplay App for free.
Firstly, install Boomplay app on your mobile phone.
Secondly, navigate to the song you would like to download.
Thirdly, Tap on More > Download.