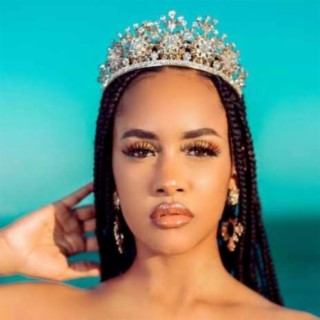 Tanasha Donna
Current #3,980

All Time #1,480

Tanasha Donna (born Tanasha Donna Barbieri Oketch) is a Kenyan singer, radio presenter and fashion model. She has steadily built her name as one of the fastest rising songstresses on the Kenyan music scene. Many of Tanasha's Songs became very popular and trendy on social media in line with a great number of streaming and downloads on Boomplay.

Career
Tanasha's music career has been has been characterised by collaborations with a number of well-known African musicians. The release that got many ears tuning to her music is her 2019 single called Radio featuring Barak Jacuzzi. This then followed with a collaboration from Diamond Platinumz on the hit song Gere.

The song introduced her to the wider African audience, hence thrusting her further into the music limelight. The visuals accompanying the song have racked over 30 million views on YouTube. In a considerably short time into her music career, Tanasha has been able to release a number of well received singles and albums.

Achievements
Tanasha has achieved a substantial degree of success outside music due to her influence through fashion and entrepreneurship. In 2020, she secured a brand advert deal with Infinix to popularise their Note 7 and ZERO 8 brands. She has also launched her hair company by the name For Her Luxury Hair at which she is the CEO. Tanasha has one EP under her belt.

The Donatella EP was released in 2020. It is a three-track effort featuring Mbosso and Khaligraph Jones. The songs off the EP include La Vie, Ride and Te Amo. The EP currently has over 800,000 total Boomplay streams. Her music has been featured on Boomplay playlists such as Love Expressions, Hot Girls and Afro Way among others.

Follow Boomplay and keep up-to-date with the latest songs of Tanasha Donna and information.

Tanasha's Latest Songs.
• La Vie (feat. Mbosso)
• Na Wewe (Avec Toi)
• Kalypso (feat. Khaligraph Jones)
• Complicationship (feat. Bad Boy Timz)
• Mood

Explore Boomplay and download Tanasha's latest songs.

Tannasha's Songs are included in Boomplay music playlists. Search, stream, and download Tannasha's Songs, his latest singles and albums in MP3 only on the Boomplay platform for free....more

Country/Region : Kenya
Songs

(14)

Albums

(12)

Playlists

(34)
1

2

3

4

5

6

7

8

9

10

11

12

13

14
Listen to Tanasha Donna's new songs including "La Vie ft. Mbosso", "Karma 🅴", "La Vie ft. Mbosso" and many more. Enjoy Tanasha Donna's latest songs and explore the Tanasha Donna's new music albums. If you want to download Tanasha Donna songs MP3, use the Boomplay App to download the Tanasha Donna songs for free. Discover Tanasha Donna's latest songs, popular songs, trending songs all on Boomplay.
Tanasha Donna (born Tanasha Donna Barbieri Oketch) is a Kenyan singer, radio presenter and fashion model. She has steadily built her name as one of the fastest rising songstresses on the Kenyan music scene. Many of Tanasha's Songs became very popular and trendy on social media in line with a great number of streaming and downloads on Boomplay.

Career
Tanasha's music career has been has been characterised by collaborations with a number of well-known African musicians. The release that got many ears tuning to her music is her 2019 single called Radio featuring Barak Jacuzzi. This then followed with a collaboration from Diamond Platinumz on the hit song Gere.

The song introduced her to the wider African audience, hence thrusting her further into the music limelight. The visuals accompanying the song have racked over 30 million views on YouTube. In a considerably short time into her music career, Tanasha has been able to release a number of well received singles and albums.

Achievements
Tanasha has achieved a substantial degree of success outside music due to her influence through fashion and entrepreneurship. In 2020, she secured a brand advert deal with Infinix to popularise their Note 7 and ZERO 8 brands. She has also launched her hair company by the name For Her Luxury Hair at which she is the CEO. Tanasha has one EP under her belt.

The Donatella EP was released in 2020. It is a three-track effort featuring Mbosso and Khaligraph Jones. The songs off the EP include La Vie, Ride and Te Amo. The EP currently has over 800,000 total Boomplay streams. Her music has been featured on Boomplay playlists such as Love Expressions, Hot Girls and Afro Way among others.

Follow Boomplay and keep up-to-date with the latest songs of Tanasha Donna and information.

Tanasha's Latest Songs.
• La Vie (feat. Mbosso)
• Na Wewe (Avec Toi)
• Kalypso (feat. Khaligraph Jones)
• Complicationship (feat. Bad Boy Timz)
• Mood

Explore Boomplay and download Tanasha's latest songs.

Tannasha's Songs are included in Boomplay music playlists. Search, stream, and download Tannasha's Songs, his latest singles and albums in MP3 only on the Boomplay platform for free.
New Comments(
182

)