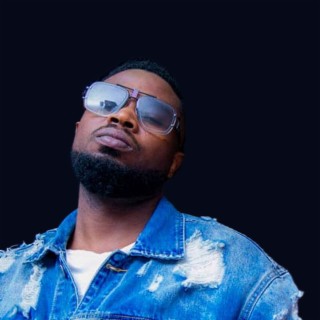 Daddy Andre
Current #5,118

All Time #2,359

Andrew Ojambo popularly known as Daddy Andre is a Ugandan recording artist, songwriter, and producer.

He sings in more than three languages. His music genre specialty is Afro beat, Hip hop, Dancehall, Afro-pop, and RnB. Daddy Andre was born on 12 August 1980 at Nsambya, the eastern part of Uganda.

Career
Daddy Andre discovered his passion for music at the age of 16 and has held on to the vision of becoming a Ugandan superstar in the music industry. His musical journey started back in 2010 when he started producing and writing songs for his friends and in the year 2014, he had come up with more than enough breakthrough songs both in Production and writing.

This is where the demand for his touch started from hence coming up with songs like; Don't Stop by John Blaq & Daddy Andre and Weekend by Sheeba & Runtown. He has also featured artists like Beenie Gunter, Skales, Ethan, Nutty Nethan, Levixon, Lydia Jazmine, and Spice Diana.

He later discovered he could take on singing as a career since he is very good at writing lyrics. He started by mimicking international Artists, especially dancehall artists. Follow Boomplay and keep up to date with the latest songs of Daddy Andre and information.

Daddy Andre's Songs
• Olina work
• Zinira dala
• Don't Stop
• Owmana Wabandi
• Weekend
• watching
• Have no fear
• Tonelabila
• Sikikukweeka
• Folo Folo
• More and More
• Baby Papa
• Trumpet
• Frreaky Freaky
• Hurt You
• Pretty Pretty
• You and Me

Daddy Andre's Songs are included in Boomplay music playlists. Search, stream, and download Daddy Abdre's Songs, her latest singles, and albums in MP3 only on the Boomplay platform for free....more

Country/Region : Uganda
Listen to Daddy Andre's new songs including "You And Me", "Maria", "More and More" and many more. Enjoy Daddy Andre's latest songs and explore the Daddy Andre's new music albums. If you want to download Daddy Andre songs MP3, use the Boomplay App to download the Daddy Andre songs for free. Discover Daddy Andre's latest songs, popular songs, trending songs all on Boomplay.
Andrew Ojambo popularly known as Daddy Andre is a Ugandan recording artist, songwriter, and producer.

He sings in more than three languages. His music genre specialty is Afro beat, Hip hop, Dancehall, Afro-pop, and RnB. Daddy Andre was born on 12 August 1980 at Nsambya, the eastern part of Uganda.

Career
Daddy Andre discovered his passion for music at the age of 16 and has held on to the vision of becoming a Ugandan superstar in the music industry. His musical journey started back in 2010 when he started producing and writing songs for his friends and in the year 2014, he had come up with more than enough breakthrough songs both in Production and writing.

This is where the demand for his touch started from hence coming up with songs like; Don't Stop by John Blaq & Daddy Andre and Weekend by Sheeba & Runtown. He has also featured artists like Beenie Gunter, Skales, Ethan, Nutty Nethan, Levixon, Lydia Jazmine, and Spice Diana.

He later discovered he could take on singing as a career since he is very good at writing lyrics. He started by mimicking international Artists, especially dancehall artists. Follow Boomplay and keep up to date with the latest songs of Daddy Andre and information.

Daddy Andre's Songs
• Olina work
• Zinira dala
• Don't Stop
• Owmana Wabandi
• Weekend
• watching
• Have no fear
• Tonelabila
• Sikikukweeka
• Folo Folo
• More and More
• Baby Papa
• Trumpet
• Frreaky Freaky
• Hurt You
• Pretty Pretty
• You and Me

Daddy Andre's Songs are included in Boomplay music playlists. Search, stream, and download Daddy Abdre's Songs, her latest singles, and albums in MP3 only on the Boomplay platform for free.
New Comments(
64

)