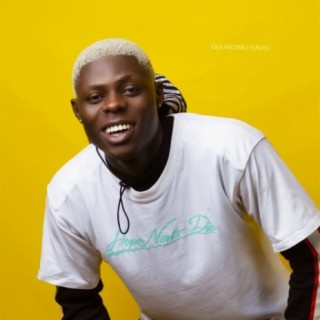 Mohbad
Current #4

All Time #120

Ilerioluwa Oladimeji Aloba known by his stage name Mohbad is a promising Yoruba Indigenous singer, songwriter, rapper, and performer born on 8th June,1996. MohBad is a Nigerian singer-songwriter and rapper from Lagos.

Mohbad built a fanbase by posting videos of himself freestyling, and in 2019 he signed a deal with Marlian Records, owned by fellow Nigerian artist Naira Marley.

Nigerian entertainment magazine CityPeople nominated Mohbad for two 2020 Music Awards: Revelation of the Year and Street Song of the Year ("Komajensun").

In 2020, MohBad's "Ponmo Sweet," featuring Naira Marley and Lil Kesh, rose to No. 18 on Billboard's Top Triller Global chart. Mohbad is a leading Nigerian artiste and a multi-award winner in the Music industry.

However, Mohbad was signed under record label named "Marlian Music" and under his imprint are a lot of talented acts. However, he's is a free going person, as we've from his relation with others. On his tracks, we get to see another side of the singer as we see him speak the bitter truth that humans don't like to hear. It makes you want to have a rethink about life and change somethings about yourself. Download and Listen to Mohbad on Boomplay....more

Country/Region : Nigeria
Songs

(24)

Albums

(6)

Playlists

(4)
1

2

3

4

5

6

7

8

9

10

11

12

13

14

15

16

17

18

19

20

21

22

23

24
Listen to Mohbad's new songs including "Peace", "Feel Good", "Komajensun ft. Naira Marley" and many more. Enjoy Mohbad's latest songs and explore the Mohbad's new music albums. If you want to download Mohbad songs MP3, use the Boomplay App to download the Mohbad songs for free. Discover Mohbad's latest songs, popular songs, trending songs all on Boomplay.
Ilerioluwa Oladimeji Aloba known by his stage name Mohbad is a promising Yoruba Indigenous singer, songwriter, rapper, and performer born on 8th June,1996. MohBad is a Nigerian singer-songwriter and rapper from Lagos.

Mohbad built a fanbase by posting videos of himself freestyling, and in 2019 he signed a deal with Marlian Records, owned by fellow Nigerian artist Naira Marley.

Nigerian entertainment magazine CityPeople nominated Mohbad for two 2020 Music Awards: Revelation of the Year and Street Song of the Year ("Komajensun").

In 2020, MohBad's "Ponmo Sweet," featuring Naira Marley and Lil Kesh, rose to No. 18 on Billboard's Top Triller Global chart. Mohbad is a leading Nigerian artiste and a multi-award winner in the Music industry.

However, Mohbad was signed under record label named "Marlian Music" and under his imprint are a lot of talented acts. However, he's is a free going person, as we've from his relation with others. On his tracks, we get to see another side of the singer as we see him speak the bitter truth that humans don't like to hear. It makes you want to have a rethink about life and change somethings about yourself. Download and Listen to Mohbad on Boomplay.
New Comments(
724

)
FAQs about Mohbad
Where is Mohbad from?
He is from Nigeria.
How to download songs of Mohbad?
You can download songs of Mohbad from Boomplay App for free.
Firstly, install Boomplay app on your mobile phone.
Secondly, navigate to the song you would like to download.
Thirdly, Tap on More > Download.