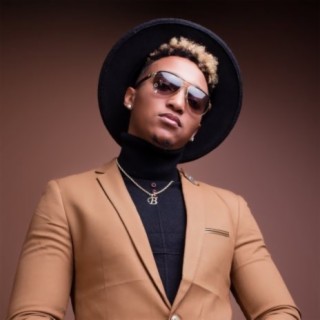 Brown Mauzo
Current #9,123

All Time #4,439

Fredrick Kilonzo Mutinda musically known as Brown Mauzo was born on 31st Dec. He is a famous Kenyan secular musician based in Nairobi. The songwriter mainly sings in Swahili and has written songs for big names in the industry like Esther Akoth, popularly known as Akothee. Many of Brown Mauzo's Songs became very popular and trendy on social media in line with a great number of streaming and downloads on Boomplay.

Mauzo had signed her under his label but she left after her brand grew. His grasp of the Swahili language and manner of speaking had many thinking he hailed from Tanzania. He grew up in Mombasa and he is Kamba by tribe. He was an Ogopa DJs signee before he left to put up his own label.

Career
From a very young age, he loved music and would often listen to renown musicians. Despite his interest in music, it was not until 2007 that he began to be known by a number of Kenyans. The inspiration of his music comes from his love, life experience and the events happening in the society. Before 2007, he was part of a music band named Wawili Pekee. Later, he ventured out on his own and began releasing music singles. Subira was his first single, followed by Natamani in 2013.

Over the years, he has also released many other songs and even featured big names in the Kenyan music industry in some of his songs. Away from music, Brown is also a businessman who owns several boutiques in Mombasa. The artist have not had a smooth ride in the industry after one of his songs Wote Wazuri which features Timmy Tdat attracted a lot controversy.

Timmy Tdat was accused of inappropriately touching one of the video vixens. The scene was edited from the final copy and Brown threatened to pull down the video. The artist later expressed his regret for working with Timmy Tdat. His other hit song Dawa was also shrouded in controversy. Together with his fiancée, he was accused of featuring a teenager without parental consent. However, they denied the accusations saying they had sought permission from the girl's parents before doing the shoot.

His fiancée was the one who choreographed the song Dawa. In January 2019, some rumors claimed the singer had taken poison due to problems with his then girlfriend. He trashed these rumours saying that he had been indoors for a while and had not eaten, hence, why he fainted and was rushed to the hospital. In Kenya, Brown works with Main Switch for his Audio Production and for his videos, he works with One point One Montage Production.

Follow Boomplay and keep up-to-date with the latest songs of Brown Mauzo and information.

Brown Mauzo's Songs
• Body ft. Ndovu Kuu
• Mapenzi maradhi
• Mbona
• Nimebadilika
• Natamani
• Aniote
• Kwekwe
• Would you love me
• Sipendi ukilia
• Ntunziye
• Hakuna kulala

Brown Mauzo's Songs are included in Boomplay music playlists. Search, stream, and download Brown Mauzo's Songs, his latest singles and albums in MP3 only on the Boomplay platform for free....more

Country/Region : Kenya
Songs

(28)

Albums

(18)

Playlists

(36)
1

2

3

4

5

6

7

8

9

10

11

12

13

14

15

16

17

18

19

20

21

22

23

24

25

26

27

28
Listen to Brown Mauzo's new songs including "Body ft. Ndovu Kuu", "Utanizalia ft. Vera Sidika", "Moyo Wangu" and many more. Enjoy Brown Mauzo's latest songs and explore the Brown Mauzo's new music albums. If you want to download Brown Mauzo songs MP3, use the Boomplay App to download the Brown Mauzo songs for free. Discover Brown Mauzo's latest songs, popular songs, trending songs all on Boomplay.
Fredrick Kilonzo Mutinda musically known as Brown Mauzo was born on 31st Dec. He is a famous Kenyan secular musician based in Nairobi. The songwriter mainly sings in Swahili and has written songs for big names in the industry like Esther Akoth, popularly known as Akothee. Many of Brown Mauzo's Songs became very popular and trendy on social media in line with a great number of streaming and downloads on Boomplay.

Mauzo had signed her under his label but she left after her brand grew. His grasp of the Swahili language and manner of speaking had many thinking he hailed from Tanzania. He grew up in Mombasa and he is Kamba by tribe. He was an Ogopa DJs signee before he left to put up his own label.

Career
From a very young age, he loved music and would often listen to renown musicians. Despite his interest in music, it was not until 2007 that he began to be known by a number of Kenyans. The inspiration of his music comes from his love, life experience and the events happening in the society. Before 2007, he was part of a music band named Wawili Pekee. Later, he ventured out on his own and began releasing music singles. Subira was his first single, followed by Natamani in 2013.

Over the years, he has also released many other songs and even featured big names in the Kenyan music industry in some of his songs. Away from music, Brown is also a businessman who owns several boutiques in Mombasa. The artist have not had a smooth ride in the industry after one of his songs Wote Wazuri which features Timmy Tdat attracted a lot controversy.

Timmy Tdat was accused of inappropriately touching one of the video vixens. The scene was edited from the final copy and Brown threatened to pull down the video. The artist later expressed his regret for working with Timmy Tdat. His other hit song Dawa was also shrouded in controversy. Together with his fiancée, he was accused of featuring a teenager without parental consent. However, they denied the accusations saying they had sought permission from the girl's parents before doing the shoot.

His fiancée was the one who choreographed the song Dawa. In January 2019, some rumors claimed the singer had taken poison due to problems with his then girlfriend. He trashed these rumours saying that he had been indoors for a while and had not eaten, hence, why he fainted and was rushed to the hospital. In Kenya, Brown works with Main Switch for his Audio Production and for his videos, he works with One point One Montage Production.

Follow Boomplay and keep up-to-date with the latest songs of Brown Mauzo and information.

Brown Mauzo's Songs
• Body ft. Ndovu Kuu
• Mapenzi maradhi
• Mbona
• Nimebadilika
• Natamani
• Aniote
• Kwekwe
• Would you love me
• Sipendi ukilia
• Ntunziye
• Hakuna kulala

Brown Mauzo's Songs are included in Boomplay music playlists. Search, stream, and download Brown Mauzo's Songs, his latest singles and albums in MP3 only on the Boomplay platform for free.
New Comments(
11

)
FAQs about Brown Mauzo
Where is Brown Mauzo from?
He is from Kenya.
What are the latest songs of Brown Mauzo?
The latest songs of Brown Mauzo are Katoto ft. Arrow Bwoy & Ndovu Kuu, In Love and Tell Me.
What are the best songs of Brown Mauzo?
The best songs of Brown Mauzo are Body ft. Ndovu Kuu, Utanizalia ft. Vera Sidika and Moyo Wangu.
What are the best albums of Brown Mauzo?
The best albums of Brown Mauzo are V The Album, Utanizalia and In Love.
How to download songs of Brown Mauzo?
You can download songs of Brown Mauzo from Boomplay App for free.
Firstly, install Boomplay app on your mobile phone.
Secondly, navigate to the song you would like to download.
Thirdly, Tap on More > Download.