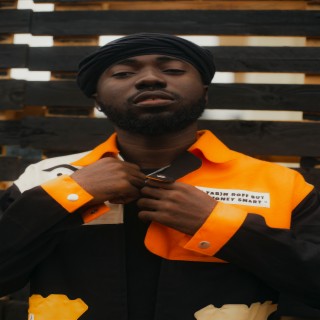 Kwame Yesu
Current #5,639

All Time #5,135

Rebo Tribe's forerunner Kwame Yesu with his alter ego Astro Nyame(born Raymond Kyere), is a performing artist from Ghanaian best known for his hit Single which achieved a local the nation. Specializing in Hiphop, Trap and Afro-beats, Ye expresses his experiences, thoughts & opinions from his perspective through his art(music), though they might not be P.C but definitely honest. He's been consistent and passionate about his craft since 2017 when he decided to take music on professionally.
In 2017 Astro Nyame initiated a hub Co-founded with his partner Jay "THEBOYZCLB." For creatives from different backgrounds; artists, producers, fashion etc. To collaborate and put out a clothing line and organize music & art concerts aimed to push the Ghanaian music scene forward.
Follow Kwame Yesu on all social media platforms.

Instagram: instagram.com/kwame_ysu
Twitter: twitter.com/kwame_ysu
Youtube: youtubechannel/kwameyesu

bookings: book.yesu@gmail.com...more

Boom ID : 102778280 Country : Ghana Gender : Male
Songs

(15)

Albums

(8)

Playlists

(29)
1

2

3

4

5

6

7

8

9

10

11

12

13

14

15
Listen to Kwame Yesu's new songs including "BAM ft. Copta", "Lemme ft. Quamina Mp", "Ma'sem" and many more. Enjoy Kwame Yesu's latest songs and explore the Kwame Yesu's new music albums. If you want to download Kwame Yesu songs MP3, use the Boomplay App to download the Kwame Yesu songs for free. Discover Kwame Yesu's latest songs, popular songs, trending songs all on Boomplay.
Rebo Tribe's forerunner Kwame Yesu with his alter ego Astro Nyame(born Raymond Kyere), is a performing artist from Ghanaian best known for his hit Single which achieved a local the nation. Specializing in Hiphop, Trap and Afro-beats, Ye expresses his experiences, thoughts & opinions from his perspective through his art(music), though they might not be P.C but definitely honest. He's been consistent and passionate about his craft since 2017 when he decided to take music on professionally.
In 2017 Astro Nyame initiated a hub Co-founded with his partner Jay "THEBOYZCLB." For creatives from different backgrounds; artists, producers, fashion etc. To collaborate and put out a clothing line and organize music & art concerts aimed to push the Ghanaian music scene forward.
Follow Kwame Yesu on all social media platforms.

Instagram: instagram.com/kwame_ysu
Twitter: twitter.com/kwame_ysu
Youtube: youtubechannel/kwameyesu

bookings: book.yesu@gmail.com
New Comments(
0

)

What do you think of this artist?