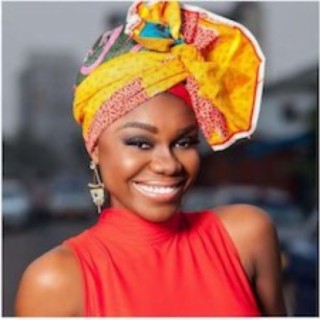 Becca
Current #5,600

All Time #2,096

Rebecca Akosua Acheampomaa Acheampong known mononymously as Becca, is a Ghanaian singer, songwriter and actress. She was born on 15 August 1984 in Kumasi, Ghana. She first gained recognition as a contestant on the second season of TV3's annual singing competition Mentor.

Many of Becca Songs became very popular and trendy on social media in line with a great number of streaming and downloads on Boomplay.

Career
Becca was quite active in church and school activities during her childhood. She attended Morning Star and Wesley Girls' High School. She took an interest in showcasing her vocal dexterity at talent shows held at the latter school. She graduated from Croydon College and became a child care and education worker. Becca relocated to Ghana and signed with Kiki Banson's EKB Records.

She studied at the Ghana Institute of Management and Public Administration. Becca started working on her debut studio album Sugar in 2007. The album comprises 12 songs and was recorded in English and Twi. It was preceded by the lead single "You Lied to Me". The song was released in 2007 and features vocals from Kwabena Kwabena. The music video for the song was shot and directed in Ghana.

On 13 Nov 2007, Becca launched the album in Ghana. She featured Hugh Masekela on the song "I Love You". Sugar was launched in South Africa alongside Hugh Masekela's album Live at the Market Theatre.

Becca's second studio album Time 4 Me was released on 16 May 2013. Becca describes the album as a musical journey inspired by her thoughts, emotions and beliefs. The album comprises 20 songs and features guest appearances from 2face Idibia, MI, King Ayisoba, Trigmatic, Jay Storm and Akwaboah.

The album produced the singles "Forever", "Push", "Bad Man Bad Girl", "No Away" and "Follow the Leader". Time 4 Me was certified 2x platinum in Ghana. Becca went on a nationwide campus tour to promote the album. Becca's 2011 single "Africa Woman" appeared as a bonus on the album; the song is a melodic ode to the strength and character of African women.

The music video for "African Woman" was shot and directed in Ghana by Samad Davis; it starts with a quote and transitions into landscape scenes of Becca.

In 2011, Becca released "Forever" and "Push" as the album's lead and second singles. "Push" features guest vocals by King Ayisoba and Trigmatic. The music video for "Push" was uploaded to YouTube on 17 May 2011 and features cameo appearances from John Dumelo, Yvonne Okoro and Yvonne Nelson. The album's third single "Bad Man Bad Girl" was released in February 2012; it features vocals by 2face Idibia and was recorded in the summer of 2011.

The music video for "Bad Man Bad Girl" was shot in Accra and other parts of Ghana. The MI-assisted track "No Away" was released on 22 June 2012, as the album's fourth single. It was recorded in Ghana and Nigeria and mixed in South Africa. The music video for "No Away" was shot in South Africa and uploaded to YouTube on 12 August 2012.

On 17 June 2013, Becca released the album's fifth single "Follow the Leader". On 25 June 2013, EKB Records released the music video for her song "Time 4 Me", which was shot in Yokohama and Tokyo.

On 12 April 2014, Becca released her single "Move". It features vocals by South African group Uhuru and debuted on Bola Ray's Drive Time show on Joy FM. It was produced by Kaywa and written by Becca and Kiki Banson; it features cameo appearances from Yvonne Chaka Chaka and Hugh Masekela. Kwame Dadzie of Flex Ghana reviewed the song and concluded its rhythm is a replica of "Khona". Becca's upbringing and surroundings influenced her musical and fashion style.

She has established a rescue organization which raises funds to help children affected by HIV/AIDS in Ghana. In 2014, she became a Goodwill ambassador for UNAIDS. On 1 September 2009, GLO Mobile Ghana unveiled Becca as one of its brand ambassadors. Moreover, the Ministry of Youth and Sports unveiled her as one of Ghana's official ambassadors for the 2014 FIFA World Cup.

Achievements
Her debut studio album Sugar was released in 2007; it earned her five nominations at the 2008 Ghana Music Awards. The album's lead single "You Lied to Me" won Record of the Year at the aforementioned awards show. Becca released her second studio album Time 4 Me on 16 May 2013. It features guest appearances from 2face Idibia, MI, King Ayisoba, Trigmatic, Jay Storm and Akwaboah.

The album was certified 2x platinum in Ghana. Becca's accolades include one Kora Award, one National Youth Achievers Award, four Ghana Music Awards, and three 4Syte TV Music Video Awards.

In 2013, she headlined the annual Girl Talk concert, which started in 2011. Becca was ranked 94 on E.tv Ghana's 2013 list of the 100 most influential people in Ghana.

In March 2021, she was among Top 30 Most Influential Women in Music by 3Music Awards Women Brunch. She has worked with foreign artistes such as Hugh Masakela and MI Abaga. Among many other nominations and award winnings.

Follow Boomplay...more

Country/Region : Ghana
Songs

(24)

Albums

(13)

Playlists

(15)
1

2

3

4

5

6

7

8

9

10

11

12

13

14

15

16

17

18

19

20

21

22

23

24
Listen to Becca's new songs including "Gina ft. Kizz Daniel", "HW3 Ft Bisa Kdei", "Beshiwo Ft. Bisa Kdei" and many more. Enjoy Becca's latest songs and explore the Becca's new music albums. If you want to download Becca songs MP3, use the Boomplay App to download the Becca songs for free. Discover Becca's latest songs, popular songs, trending songs all on Boomplay.
Rebecca Akosua Acheampomaa Acheampong known mononymously as Becca, is a Ghanaian singer, songwriter and actress. She was born on 15 August 1984 in Kumasi, Ghana. She first gained recognition as a contestant on the second season of TV3's annual singing competition Mentor.

Many of Becca Songs became very popular and trendy on social media in line with a great number of streaming and downloads on Boomplay.

Career
Becca was quite active in church and school activities during her childhood. She attended Morning Star and Wesley Girls' High School. She took an interest in showcasing her vocal dexterity at talent shows held at the latter school. She graduated from Croydon College and became a child care and education worker. Becca relocated to Ghana and signed with Kiki Banson's EKB Records.

She studied at the Ghana Institute of Management and Public Administration. Becca started working on her debut studio album Sugar in 2007. The album comprises 12 songs and was recorded in English and Twi. It was preceded by the lead single "You Lied to Me". The song was released in 2007 and features vocals from Kwabena Kwabena. The music video for the song was shot and directed in Ghana.

On 13 Nov 2007, Becca launched the album in Ghana. She featured Hugh Masekela on the song "I Love You". Sugar was launched in South Africa alongside Hugh Masekela's album Live at the Market Theatre.

Becca's second studio album Time 4 Me was released on 16 May 2013. Becca describes the album as a musical journey inspired by her thoughts, emotions and beliefs. The album comprises 20 songs and features guest appearances from 2face Idibia, MI, King Ayisoba, Trigmatic, Jay Storm and Akwaboah.

The album produced the singles "Forever", "Push", "Bad Man Bad Girl", "No Away" and "Follow the Leader". Time 4 Me was certified 2x platinum in Ghana. Becca went on a nationwide campus tour to promote the album. Becca's 2011 single "Africa Woman" appeared as a bonus on the album; the song is a melodic ode to the strength and character of African women.

The music video for "African Woman" was shot and directed in Ghana by Samad Davis; it starts with a quote and transitions into landscape scenes of Becca.

In 2011, Becca released "Forever" and "Push" as the album's lead and second singles. "Push" features guest vocals by King Ayisoba and Trigmatic. The music video for "Push" was uploaded to YouTube on 17 May 2011 and features cameo appearances from John Dumelo, Yvonne Okoro and Yvonne Nelson. The album's third single "Bad Man Bad Girl" was released in February 2012; it features vocals by 2face Idibia and was recorded in the summer of 2011.

The music video for "Bad Man Bad Girl" was shot in Accra and other parts of Ghana. The MI-assisted track "No Away" was released on 22 June 2012, as the album's fourth single. It was recorded in Ghana and Nigeria and mixed in South Africa. The music video for "No Away" was shot in South Africa and uploaded to YouTube on 12 August 2012.

On 17 June 2013, Becca released the album's fifth single "Follow the Leader". On 25 June 2013, EKB Records released the music video for her song "Time 4 Me", which was shot in Yokohama and Tokyo.

On 12 April 2014, Becca released her single "Move". It features vocals by South African group Uhuru and debuted on Bola Ray's Drive Time show on Joy FM. It was produced by Kaywa and written by Becca and Kiki Banson; it features cameo appearances from Yvonne Chaka Chaka and Hugh Masekela. Kwame Dadzie of Flex Ghana reviewed the song and concluded its rhythm is a replica of "Khona". Becca's upbringing and surroundings influenced her musical and fashion style.

She has established a rescue organization which raises funds to help children affected by HIV/AIDS in Ghana. In 2014, she became a Goodwill ambassador for UNAIDS. On 1 September 2009, GLO Mobile Ghana unveiled Becca as one of its brand ambassadors. Moreover, the Ministry of Youth and Sports unveiled her as one of Ghana's official ambassadors for the 2014 FIFA World Cup.

Achievements
Her debut studio album Sugar was released in 2007; it earned her five nominations at the 2008 Ghana Music Awards. The album's lead single "You Lied to Me" won Record of the Year at the aforementioned awards show. Becca released her second studio album Time 4 Me on 16 May 2013. It features guest appearances from 2face Idibia, MI, King Ayisoba, Trigmatic, Jay Storm and Akwaboah.

The album was certified 2x platinum in Ghana. Becca's accolades include one Kora Award, one National Youth Achievers Award, four Ghana Music Awards, and three 4Syte TV Music Video Awards.

In 2013, she headlined the annual Girl Talk concert, which started in 2011. Becca was ranked 94 on E.tv Ghana's 2013 list of the 100 most influential people in Ghana.

In March 2021, she was among Top 30 Most Influential Women in Music by 3Music Awards Women Brunch. She has worked with foreign artistes such as Hugh Masakela and MI Abaga. Among many other nominations and award winnings.

Follow Boomplay
FAQs about Becca
Where is Becca from?
She is from Ghana.
How to download songs of Becca?
You can download songs of Becca from Boomplay App for free.
Firstly, install Boomplay app on your mobile phone.
Secondly, navigate to the song you would like to download.
Thirdly, Tap on More > Download.