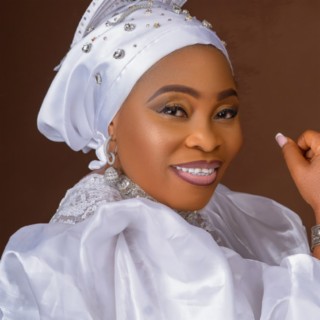 Tope Alabi
Current #186

All Time #132

Patricia Temitope Alabi was born on 27th October, 1970 as the only daughter. She was born to Pa Joseph Akinyele and Madam Agnes Kehinde.

Music Career
Tope Alabi came to limelight in 2000 after releasing the debut album Oore ti O Common. This album brought her fame and also earned her the moniker Oore ti o Common and Agbo Jesu. Prior to that, she had released two albums – Ikoko Dudu and Baba Iwo la k'epe.

However, she did Oore ti o common (uncommon favour) first as a cover of a makossa hit before changing it to a gospel song in 2000. She also did some soundtracks such as Adake dajo, Angeli Mi and many more.

Tope Alabi has released eleven albums. The latest album, The Spirit of Light, 2019 was done in conjunction with the popular songwriter and photographer TY Bello. According to Tope, the album was not planned, the duo just wanted to worship God, but things turned around and it became an album. For instance, one of the tracks, Logan ti o de broke the internet within few hours of release.

Tope Alabi Gospel Vibes
Tope Alabi and her husband Soji runs a music label, Tope Alabi Gospel Vibes. Under this label, they organise event and concert where a lot of people come to worship God. One of the worship concert is the annual Praise The Almighty Concert.

Also, they established the Mardebra Comforter Foundation, a subsidiary of the Gospel Vibes. Through the foundation, Tope and her husband cater for orphans and the less-privileged.

Award And Recognition
Some of her awards and recognition include;

>>Gospel Artiste of the Year, Nigeria Entertainment Awards, 2015
>>Best Soundtrack Artiste of the Year, City People Movies Awards,
>>Proclamation Award, New York State Senate, 2016
>>Award presented by Gospel Promotion Outreach, Orioke Baba Abiye Ede.

Enjoy listening your favorite music from Tope Alabi on Boomplay....more

Country/Region : Nigeria
Listen to Tope Alabi's new songs including "Yes And Amen", "You Are Worthy", "Halleluyah" and many more. Enjoy Tope Alabi's latest songs and explore the Tope Alabi's new music albums. If you want to download Tope Alabi songs MP3, use the Boomplay App to download the Tope Alabi songs for free. Discover Tope Alabi's latest songs, popular songs, trending songs all on Boomplay.
Patricia Temitope Alabi was born on 27th October, 1970 as the only daughter. She was born to Pa Joseph Akinyele and Madam Agnes Kehinde.

Music Career
Tope Alabi came to limelight in 2000 after releasing the debut album Oore ti O Common. This album brought her fame and also earned her the moniker Oore ti o Common and Agbo Jesu. Prior to that, she had released two albums – Ikoko Dudu and Baba Iwo la k'epe.

However, she did Oore ti o common (uncommon favour) first as a cover of a makossa hit before changing it to a gospel song in 2000. She also did some soundtracks such as Adake dajo, Angeli Mi and many more.

Tope Alabi has released eleven albums. The latest album, The Spirit of Light, 2019 was done in conjunction with the popular songwriter and photographer TY Bello. According to Tope, the album was not planned, the duo just wanted to worship God, but things turned around and it became an album. For instance, one of the tracks, Logan ti o de broke the internet within few hours of release.

Tope Alabi Gospel Vibes
Tope Alabi and her husband Soji runs a music label, Tope Alabi Gospel Vibes. Under this label, they organise event and concert where a lot of people come to worship God. One of the worship concert is the annual Praise The Almighty Concert.

Also, they established the Mardebra Comforter Foundation, a subsidiary of the Gospel Vibes. Through the foundation, Tope and her husband cater for orphans and the less-privileged.

Award And Recognition
Some of her awards and recognition include;

>>Gospel Artiste of the Year, Nigeria Entertainment Awards, 2015
>>Best Soundtrack Artiste of the Year, City People Movies Awards,
>>Proclamation Award, New York State Senate, 2016
>>Award presented by Gospel Promotion Outreach, Orioke Baba Abiye Ede.

Enjoy listening your favorite music from Tope Alabi on Boomplay.
FAQs about Tope Alabi
Where is Tope Alabi from?
She is from Nigeria.
How to download songs of Tope Alabi?
You can download songs of Tope Alabi from Boomplay App for free.
Firstly, install Boomplay app on your mobile phone.
Secondly, navigate to the song you would like to download.
Thirdly, Tap on More > Download.