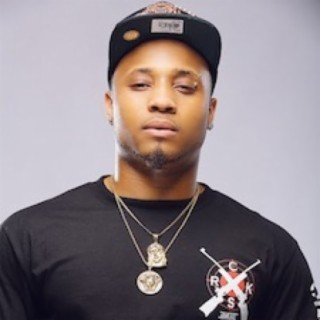 B-Red
Current #2,523

All Time #1,366

B Red Real Name Adebayo Adeleke Singer is a singer-songwriter. in Atlanta, Georgia, United States, born July 23. B-Red songs become very popular and trendy online with a great number of streaming and downloads on Boomplay.

He is the son of a popular senator from the Federal Republic of Nigeria, Senator Ademola Adeleke, also known for his dance moves.

He is also known for being the cousin of Nigerian pop star Davido. He also has an older brother named Sina Rambo, also signed to the HKN Music label. B Red is a versatile singer with Afro Pop and R&B music genres.

CAREER
B Red returned to Nigeria to pursue his music career. He started his professional career in February 2013 after the release of his single "Insane Girl", produced by Shizzi. He gained prominence with the single "Fall For You" with Davido. He released many songs like; Uju, Cucumber, Archie, E Better, Last, Connect, Tire, Run Come, Twerk, Give Them, Worry, etc., and already has high-level collaborations with Davido, Tiwa Savage, and Don Jazzy.

Follow Boomplay and keep up-to-date with the latest B Red songs and information.

B-Red Songs
• EP- All the Way Up (2016)
• Album-The Jordan (2020)

B-Red songs are included in Boomplay music playlists. Search to stream and download B Red songs MP3/ single/ albums on the platform....more

Country/Region : Nigeria
Songs

(31)

Albums

(11)

Playlists

(2)
1

2

3

4

5

6

7

8

9

10

11

12

13

14

15

16

17

18

19

20

21

22

23

24

25

26

27

28

29

30

31
Listen to B-Red's new songs including "Dollar ft. Davido & Peruzzi", "Lekki Roundabout", "Remember ft. Davido" and many more. Enjoy B-Red's latest songs and explore the B-Red's new music albums. If you want to download B-Red songs MP3, use the Boomplay App to download the B-Red songs for free. Discover B-Red's latest songs, popular songs, trending songs all on Boomplay.
B Red Real Name Adebayo Adeleke Singer is a singer-songwriter. in Atlanta, Georgia, United States, born July 23. B-Red songs become very popular and trendy online with a great number of streaming and downloads on Boomplay.

He is the son of a popular senator from the Federal Republic of Nigeria, Senator Ademola Adeleke, also known for his dance moves.

He is also known for being the cousin of Nigerian pop star Davido. He also has an older brother named Sina Rambo, also signed to the HKN Music label. B Red is a versatile singer with Afro Pop and R&B music genres.

CAREER
B Red returned to Nigeria to pursue his music career. He started his professional career in February 2013 after the release of his single "Insane Girl", produced by Shizzi. He gained prominence with the single "Fall For You" with Davido. He released many songs like; Uju, Cucumber, Archie, E Better, Last, Connect, Tire, Run Come, Twerk, Give Them, Worry, etc., and already has high-level collaborations with Davido, Tiwa Savage, and Don Jazzy.

Follow Boomplay and keep up-to-date with the latest B Red songs and information.

B-Red Songs
• EP- All the Way Up (2016)
• Album-The Jordan (2020)

B-Red songs are included in Boomplay music playlists. Search to stream and download B Red songs MP3/ single/ albums on the platform.
New Comments(
30

)