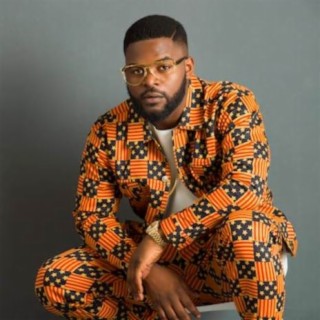 Falz
Current #796

All Time #432

Folarin Falana (born October 27, 1990), better known by his stage name Falz, is a Nigerian rapper, songwriter and actor who began his career while in secondary school after forming a group called "The School Boys" with his friend before his professional career as a music artist began in 2009. Falz became more well-known after releasing the song "Marry Me" featuring vocals from Poe and Yemi Alade.

He currently owns an independent record label called Bahd Guys Records. He released his debut album Wazup Guy in 2014. His second album Stories That Touch was released in 2015. He released 27 in 2017, and his fourth studio album Moral Instruction in 2019. Falz started music as a hobby while in secondary school. He formed a music group with a friend called "The School Boys". In 2009, he released a compilation of some of his recordings as a mixtape titled Shakara: The Mixtape.

In 2015, Falz was nominated in the "Best Collaboration of The Year" category at the 2015 Nigeria Entertainment Awards for his chart-topping single "Marry Me". It won him a nomination in the "Best Collaboration of The Year" category at the 2015 Nigeria Entertainment Awards. He was also nominated in the "Best Rap Act of The Year" and "Best New Act to Watch" categories.

On 27 October 2017, his 27th birthday, Falz released a new album titled 27 to celebrate the day. This was a surprise album, as it was not promoted before its release. The album was majorly produced by Sess as in-house producer, withand some tracks were done by Maleek Berry, and studio magic. This Falz's album did very well and it gained several awards and nominations, including a nomination for The Headies Award for Rap Album of the Year....more

Country/Region : Nigeria
Listen to Falz's new songs including "Mercy", "Yakubu ft. Vector", "Oga" and many more. Enjoy Falz's latest songs and explore the Falz's new music albums. If you want to download Falz songs MP3, use the Boomplay App to download the Falz songs for free. Discover Falz's latest songs, popular songs, trending songs all on Boomplay.
Folarin Falana (born October 27, 1990), better known by his stage name Falz, is a Nigerian rapper, songwriter and actor who began his career while in secondary school after forming a group called "The School Boys" with his friend before his professional career as a music artist began in 2009. Falz became more well-known after releasing the song "Marry Me" featuring vocals from Poe and Yemi Alade.

He currently owns an independent record label called Bahd Guys Records. He released his debut album Wazup Guy in 2014. His second album Stories That Touch was released in 2015. He released 27 in 2017, and his fourth studio album Moral Instruction in 2019. Falz started music as a hobby while in secondary school. He formed a music group with a friend called "The School Boys". In 2009, he released a compilation of some of his recordings as a mixtape titled Shakara: The Mixtape.

In 2015, Falz was nominated in the "Best Collaboration of The Year" category at the 2015 Nigeria Entertainment Awards for his chart-topping single "Marry Me". It won him a nomination in the "Best Collaboration of The Year" category at the 2015 Nigeria Entertainment Awards. He was also nominated in the "Best Rap Act of The Year" and "Best New Act to Watch" categories.

On 27 October 2017, his 27th birthday, Falz released a new album titled 27 to celebrate the day. This was a surprise album, as it was not promoted before its release. The album was majorly produced by Sess as in-house producer, withand some tracks were done by Maleek Berry, and studio magic. This Falz's album did very well and it gained several awards and nominations, including a nomination for The Headies Award for Rap Album of the Year.
FAQs about Falz
Where is Falz from?
He is from Nigeria.
How to download songs of Falz?
You can download songs of Falz from Boomplay App for free.
Firstly, install Boomplay app on your mobile phone.
Secondly, navigate to the song you would like to download.
Thirdly, Tap on More > Download.