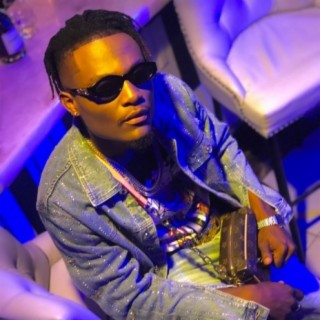 Masauti
Current #3,074

All Time #1,662

Masauti (born Mohammed Ali Said) is a Kenyan singer-songwriter, vocalist and performing artiste. He was born and raised in Mombasa, a city in the coastal stretch of Kenya. Masauti also goes by the monikers Kenyan Boy and Mswazzi. Many of Masauti's Songs became very popular and trendy on social media in line with a great number of streaming and downloads on Boomplay.

Career
Although Masauti popped up in the music scene quite recently, he has actually been doing music professionally from around 2014. In 2015, Masauti signed to SwaRnB Records - a record label owned by the renowned Kenyan record producer Tedd Josiah. He then went on to release Mahabuba; his debut single in late 2015. The release received quite a fair reception from the public but this never deterred him from pushing even further. Masauti's breakout came in 2019 with the hit single Kiboko.

The song proved such a success to the point of attracting a remix from the superstar rapper Khaligraph Jones. The music video for remix version of the song currently stands at over 5 million YouTube views. Ipepete also goes down the line as one of Masauti's biggest hit records yet. The single which features a bouncy party vibe and smooth vocals seemed to cement Masauti as a household name. The music video accompanying the single currently has a total of 6 million YouTube views and nearly 900K total Boomplay streams.

Achievements.
Masauti's resilience and excellent career has seen him achieve quite a handful in such a short time. In 2020, he received a silver plaque from YouTube for surpassing the 100,000 mark of subscribers on his channel.

He also got nominated for a 2020 Pulse Music Video Award for his work on Kiboko. He has also secured collaborations with some of the best acts in the game including Khaligraph Jones, Mr. Seed and super producer Magix Enga. He currently has a total of over 6 million Boomplay streams and nearly 30 million total YouTube views. Masauti; the self-titled debut album from Masauti was released by SwaRnB.

The full-length is a solo effort save for a feature from Khaligraph Jones. Some of the songs off the project include: Kiboko (Remix), Mayonli Lova, Gaga and Shauri Moyo. His second project - OO1 EP - came in 2020. It's a four-track effort with a feature from Tanasha Donna.

Some of the songs off the EP include Burudani and Deka. The EP has a total of over 1.5 million Boomplay streams currently.

Follow Boomplay and keep up-to-date with the latest Masauti songs and information.

Masauti's Latest Songs
• Sokote
• Dondosha (feat. Lava Lava)
• Inawauma
• No Stress (feat. Trio Mio)
• Foyu
• Lola (feat. Nadia Mukami)

Masauti's latest single is called Hinde. His music has been featured on various Boomplay playlists such as Bongo Lockdown, Afro Fresh, Tupige Sherehe and Afrodisiac among others. Explore Boomplay and download Masauti's latest songs.

Masauti's Songs are included in Boomplay music playlists. Search, stream, and download Masauti's Songs, his latest singles and albums in MP3 only on the Boomplay platform for free....more

Country/Region : Kenya
Listen to Masauti's new songs including "Ipepete", "Sokote", "No Stress ft. Trio Mio" and many more. Enjoy Masauti's latest songs and explore the Masauti's new music albums. If you want to download Masauti songs MP3, use the Boomplay App to download the Masauti songs for free. Discover Masauti's latest songs, popular songs, trending songs all on Boomplay.
Masauti (born Mohammed Ali Said) is a Kenyan singer-songwriter, vocalist and performing artiste. He was born and raised in Mombasa, a city in the coastal stretch of Kenya. Masauti also goes by the monikers Kenyan Boy and Mswazzi. Many of Masauti's Songs became very popular and trendy on social media in line with a great number of streaming and downloads on Boomplay.

Career
Although Masauti popped up in the music scene quite recently, he has actually been doing music professionally from around 2014. In 2015, Masauti signed to SwaRnB Records - a record label owned by the renowned Kenyan record producer Tedd Josiah. He then went on to release Mahabuba; his debut single in late 2015. The release received quite a fair reception from the public but this never deterred him from pushing even further. Masauti's breakout came in 2019 with the hit single Kiboko.

The song proved such a success to the point of attracting a remix from the superstar rapper Khaligraph Jones. The music video for remix version of the song currently stands at over 5 million YouTube views. Ipepete also goes down the line as one of Masauti's biggest hit records yet. The single which features a bouncy party vibe and smooth vocals seemed to cement Masauti as a household name. The music video accompanying the single currently has a total of 6 million YouTube views and nearly 900K total Boomplay streams.

Achievements.
Masauti's resilience and excellent career has seen him achieve quite a handful in such a short time. In 2020, he received a silver plaque from YouTube for surpassing the 100,000 mark of subscribers on his channel.

He also got nominated for a 2020 Pulse Music Video Award for his work on Kiboko. He has also secured collaborations with some of the best acts in the game including Khaligraph Jones, Mr. Seed and super producer Magix Enga. He currently has a total of over 6 million Boomplay streams and nearly 30 million total YouTube views. Masauti; the self-titled debut album from Masauti was released by SwaRnB.

The full-length is a solo effort save for a feature from Khaligraph Jones. Some of the songs off the project include: Kiboko (Remix), Mayonli Lova, Gaga and Shauri Moyo. His second project - OO1 EP - came in 2020. It's a four-track effort with a feature from Tanasha Donna.

Some of the songs off the EP include Burudani and Deka. The EP has a total of over 1.5 million Boomplay streams currently.

Follow Boomplay and keep up-to-date with the latest Masauti songs and information.

Masauti's Latest Songs
• Sokote
• Dondosha (feat. Lava Lava)
• Inawauma
• No Stress (feat. Trio Mio)
• Foyu
• Lola (feat. Nadia Mukami)

Masauti's latest single is called Hinde. His music has been featured on various Boomplay playlists such as Bongo Lockdown, Afro Fresh, Tupige Sherehe and Afrodisiac among others. Explore Boomplay and download Masauti's latest songs.

Masauti's Songs are included in Boomplay music playlists. Search, stream, and download Masauti's Songs, his latest singles and albums in MP3 only on the Boomplay platform for free.
FAQs about Masauti
Where is Masauti from?
He is from Kenya.
How to download songs of Masauti?
You can download songs of Masauti from Boomplay App for free.
Firstly, install Boomplay app on your mobile phone.
Secondly, navigate to the song you would like to download.
Thirdly, Tap on More > Download.