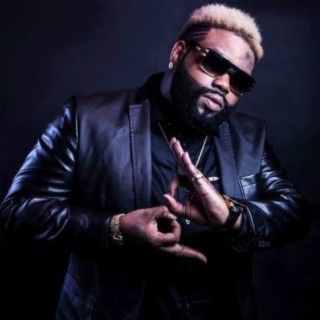 Demarco
Current #1,376

All Time #1,478

Collin Demar Edwards (born 1982), better known by his stage name Demarco, is a Jamaican dancehall and reggae recording artist. Many of Demarco songs become very popular and trendy online with a great number of streaming and downloads on Boomplay.

Born in Portmore, St. Catherine Parish, Edwards gained his early experience performing at the Cactus nightclub at the age of 15, and was a selector for the Future Disco sound system.

Career.
At the age of 16 he relocated to the US where he worked to fund his interest in music production, and began creating tracks for hip hop and dancehall artists.

He is best known for his hit singles "Duppy Know Ah Who Fi Frighten", featuring on the Shoot Out Riddim, "Fallen Soldiers", "True Friend" and "Show It (So Sexy)". He also produced the Top Speed Riddim where he recorded the song "Gal Dem Want" with the Alliance leader Bounty Killer. In 2008 Demarco produced the Big League Riddim and recorded "Broomie" with Elephant Man and his own song "Spend Pon Dem".

Follow Boomplay and keep up-to-date with the latest Demarco songs and information.

Achievement.
One Year later he produced a hit Riddim called Stress Free which had many hit songs like "Jump and Wine" by Tony Matterhorn, "Hammering" by Singing Craig, "Work Mi Ah Work" by Mister G and his own "She Can't Wait". He recorded a remix to Rihanna's Billboard #1 hit "Rude Boy".

Demarco with his hit single Good book has been nominated male deejay of the year in Britain.

Demarco has toured extensively, including multiple visits to Africa, performing in Ghana, Uganda, Kenya, Zimbabwe, Tanzania, and Guinea.

He was nominated for an Urban Music Award for 'Best Reggae Act' in 2013, and again in 2014. In December 2013 he was reportedly recording his debut album. Demarco, as the founder of True Gift Entertainment, produces their own music videos and reality TV series.

Demarco recently signed his first artist to his label by the name of Raytid who later left the label record, due to the belief the record label was not doing good on promoting his music.

In May 2017 Demarco moved to Georgia and is now signed under Akon's record label, EnTREEGRECORDS/KONLIVE Recordlabel.

Demarco Albums
• Untitled (promo CD) (2008)
• 2020: "Boogie Woogie"
• 2017: "No Wahala" (featuring Akon) & Runtown
• 2016: "Backaz"
• 2015: "Celebrate My Life"
• 2014: "Love de gyal dem good"
• 2014: "Bun Up Road"
• 2014: "Flick"
• 2014: "Allergic to Badmind friend"
• 2013: "Lazy Body"
• 2013: Fuck Yuh wah fuck
• 2013: "Continue Whine"
• 2012: "Broad Out"
• 2012: "Wine"
• 2012: "6:30"
• 2011: "I Love My Life"
• 2010: "Show It (So Sexy)" (featuring Craig of Voicemail)
• 2010: "Never Gonna Let You Go" (featuring Thelma Aoyama)
• 2009: "She Can't Wait"
• 2009: "True Friend"
• 2009: "Kings & Queens" (featuring Sizzla)
• 2008: "Standing Soldier"
• 2008: "Our World" (featuring Elephant Man)
• 2007: "Fallen Soldiers"
• 2011: "Hear My Cry"

Demarco songs are included in Boomplay music playlists. Search to stream and download Demarco songs MP3/ single/ albums on the platform....more

Country/Region : Jamaica
Listen to Demarco's new songs including "Comfortable", "Love My Life", "Mover ft. Konshens" and many more. Enjoy Demarco's latest songs and explore the Demarco's new music albums. If you want to download Demarco songs MP3, use the Boomplay App to download the Demarco songs for free. Discover Demarco's latest songs, popular songs, trending songs all on Boomplay.
Collin Demar Edwards (born 1982), better known by his stage name Demarco, is a Jamaican dancehall and reggae recording artist. Many of Demarco songs become very popular and trendy online with a great number of streaming and downloads on Boomplay.

Born in Portmore, St. Catherine Parish, Edwards gained his early experience performing at the Cactus nightclub at the age of 15, and was a selector for the Future Disco sound system.

Career.
At the age of 16 he relocated to the US where he worked to fund his interest in music production, and began creating tracks for hip hop and dancehall artists.

He is best known for his hit singles "Duppy Know Ah Who Fi Frighten", featuring on the Shoot Out Riddim, "Fallen Soldiers", "True Friend" and "Show It (So Sexy)". He also produced the Top Speed Riddim where he recorded the song "Gal Dem Want" with the Alliance leader Bounty Killer. In 2008 Demarco produced the Big League Riddim and recorded "Broomie" with Elephant Man and his own song "Spend Pon Dem".

Follow Boomplay and keep up-to-date with the latest Demarco songs and information.

Achievement.
One Year later he produced a hit Riddim called Stress Free which had many hit songs like "Jump and Wine" by Tony Matterhorn, "Hammering" by Singing Craig, "Work Mi Ah Work" by Mister G and his own "She Can't Wait". He recorded a remix to Rihanna's Billboard #1 hit "Rude Boy".

Demarco with his hit single Good book has been nominated male deejay of the year in Britain.

Demarco has toured extensively, including multiple visits to Africa, performing in Ghana, Uganda, Kenya, Zimbabwe, Tanzania, and Guinea.

He was nominated for an Urban Music Award for 'Best Reggae Act' in 2013, and again in 2014. In December 2013 he was reportedly recording his debut album. Demarco, as the founder of True Gift Entertainment, produces their own music videos and reality TV series.

Demarco recently signed his first artist to his label by the name of Raytid who later left the label record, due to the belief the record label was not doing good on promoting his music.

In May 2017 Demarco moved to Georgia and is now signed under Akon's record label, EnTREEGRECORDS/KONLIVE Recordlabel.

Demarco Albums
• Untitled (promo CD) (2008)
• 2020: "Boogie Woogie"
• 2017: "No Wahala" (featuring Akon) & Runtown
• 2016: "Backaz"
• 2015: "Celebrate My Life"
• 2014: "Love de gyal dem good"
• 2014: "Bun Up Road"
• 2014: "Flick"
• 2014: "Allergic to Badmind friend"
• 2013: "Lazy Body"
• 2013: Fuck Yuh wah fuck
• 2013: "Continue Whine"
• 2012: "Broad Out"
• 2012: "Wine"
• 2012: "6:30"
• 2011: "I Love My Life"
• 2010: "Show It (So Sexy)" (featuring Craig of Voicemail)
• 2010: "Never Gonna Let You Go" (featuring Thelma Aoyama)
• 2009: "She Can't Wait"
• 2009: "True Friend"
• 2009: "Kings & Queens" (featuring Sizzla)
• 2008: "Standing Soldier"
• 2008: "Our World" (featuring Elephant Man)
• 2007: "Fallen Soldiers"
• 2011: "Hear My Cry"

Demarco songs are included in Boomplay music playlists. Search to stream and download Demarco songs MP3/ single/ albums on the platform.
FAQs about Demarco
Where is Demarco from?
He is from Jamaica.
How to download songs of Demarco?
You can download songs of Demarco from Boomplay App for free.
Firstly, install Boomplay app on your mobile phone.
Secondly, navigate to the song you would like to download.
Thirdly, Tap on More > Download.