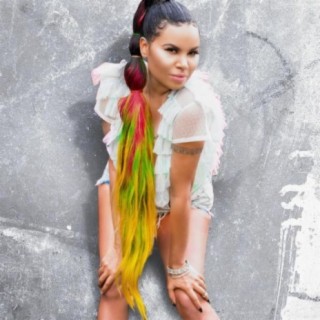 Ce'Cile
Current #5,462

All Time #6,380

Ce'cile (born Cecile Claudine Charlton on 24 February 1976 in Manchester Parish, Jamaica), is a Jamaican musician. Many of Ce'cile songs become very popular and trendy online with a great number of streaming and downloads on Boomplay.

Career
Cecile discovered music through a friend of her father, Michael "Ibo" Cooper from the reggae band Third World and brought out the first single "Beat of Her Heart". She then added her own style to do more of dance hall.

Cecile has also been a backing vocalist for other bands and written and produced songs for many artists.

this Jamaican diva has consistently been tipped as the woman most likely to join Dancehall's men in the mainstream. Style, wit, grace, intelligence, creativity and flare for controversy are all key components for a budding diva. Add a bit of sexiness, along with a large measure of talent and you've just defined the allure of Ce'Cile - Dancehall's "Bad Gyal".

Already armed with raft of popular Jamaican singles, albums released in Japan and Europe, it's her much anticipated N American / Caribbean debut album "Waiting", (Danger Zone / SoBe Records) that is most likely to thrust her to international stardom.

From the beginning Ce'Cile has been an innovator. This 'Bad Gyal' has kept tongues wagging since first breaking into the Dancehall scene with the self produced, shockingly refreshing and thought provoking smash "Changez" designed as a marketing ploy by poking fun at her male counterparts. Rhythmically inventive and catchy, it shot across dancehall's macho braggadocio, light-heartedly lampooning the music's biggest male names with unflattering speculation on their bedroom performance.

Not surprisingly, it won her a legion of female fans. Ce'Cile is a deadly combination of sex appeal with veracity and though dancehall for the most part is purely a testosterone-driven sphere, to miss Ce'Cile is to miss half the story. She writes lyrics that other females shy away from for fear of being shunned in Jamaica's male dominated music scene.

Being the most outspoken, especially on issues concerning women, Ce'Cile has never felt trapped from expressing her stance as being bold, calculating and brutally honest in her lyrics and subject matter.

Her hit song "Give It To Me", (Coolie Dance rhythm driven) requesting reciprocal oral treatment (taboo in Jamaica) was demanding and in your face. "Can You Do Di Wuk" a duet with Sean Paul featured on his Grammy winning multi - platinum selling album "Dutty Rock" was a testiment to her "badgyal" demeanor and the track became a natural pick for djs worldwide and made it possible for her to join Sean in Europe during his Dutty Rock tour for several shows including the Europe MTV Awards pre-party and Wembly Stadium in the UK.

On her album "Waiting", she delves into other topics such as "Faking" disclosing the fact that many women have to resort to that level in order to pacify their partner's inadequate performance. "Talk Talk" playfully reveals the fact that many women are not above sampling their friend's goodies due to the information they confide about their man. "Worth It" is the ultimate "spend your money on me" tune, where she explains her "pro gold digging" stance.

These are just samples of her creative, controversial and fun subject matters. However, Ce'Cile does not forget her roots, thus in addition to spitting on hardcore dancehall bangers, she also delivers on a number of groovy, roots reggae tracks.

Follow Boomplay and keep up-to-date with the latest Ce'cile songs and information.

Ce'cile Songs
• Cecile has enviable cinematography. She has so many songs that have sent her many places and won awards.
• Hot like we - 2018
• African king - 2012
• Tie him - 2015
• Read no book -2015
• Goody - 2008
• Give it to me -2008
• Put it deh - 2012

Ce'cile songs are included in Boomplay music playlists. Search to stream and download Ce'cile songs MP3/ single/ albums on the platform....more

Country/Region : Jamaica
Songs

(34)

Albums

(6)

Playlists

(2)
1

2

3

4

5

6

7

8

9

10

11

12

13

14

15

16

17

18

19

20

21

22

23

24

25

26

27

28

29

30

31

32

33

34
Listen to Ce'Cile's new songs including "Rain", "On the Run (Reggae Version) ft. Bryan Rucker", "Money Love" and many more. Enjoy Ce'Cile's latest songs and explore the Ce'Cile's new music albums. If you want to download Ce'Cile songs MP3, use the Boomplay App to download the Ce'Cile songs for free. Discover Ce'Cile's latest songs, popular songs, trending songs all on Boomplay.
Ce'cile (born Cecile Claudine Charlton on 24 February 1976 in Manchester Parish, Jamaica), is a Jamaican musician. Many of Ce'cile songs become very popular and trendy online with a great number of streaming and downloads on Boomplay.

Career
Cecile discovered music through a friend of her father, Michael "Ibo" Cooper from the reggae band Third World and brought out the first single "Beat of Her Heart". She then added her own style to do more of dance hall.

Cecile has also been a backing vocalist for other bands and written and produced songs for many artists.

this Jamaican diva has consistently been tipped as the woman most likely to join Dancehall's men in the mainstream. Style, wit, grace, intelligence, creativity and flare for controversy are all key components for a budding diva. Add a bit of sexiness, along with a large measure of talent and you've just defined the allure of Ce'Cile - Dancehall's "Bad Gyal".

Already armed with raft of popular Jamaican singles, albums released in Japan and Europe, it's her much anticipated N American / Caribbean debut album "Waiting", (Danger Zone / SoBe Records) that is most likely to thrust her to international stardom.

From the beginning Ce'Cile has been an innovator. This 'Bad Gyal' has kept tongues wagging since first breaking into the Dancehall scene with the self produced, shockingly refreshing and thought provoking smash "Changez" designed as a marketing ploy by poking fun at her male counterparts. Rhythmically inventive and catchy, it shot across dancehall's macho braggadocio, light-heartedly lampooning the music's biggest male names with unflattering speculation on their bedroom performance.

Not surprisingly, it won her a legion of female fans. Ce'Cile is a deadly combination of sex appeal with veracity and though dancehall for the most part is purely a testosterone-driven sphere, to miss Ce'Cile is to miss half the story. She writes lyrics that other females shy away from for fear of being shunned in Jamaica's male dominated music scene.

Being the most outspoken, especially on issues concerning women, Ce'Cile has never felt trapped from expressing her stance as being bold, calculating and brutally honest in her lyrics and subject matter.

Her hit song "Give It To Me", (Coolie Dance rhythm driven) requesting reciprocal oral treatment (taboo in Jamaica) was demanding and in your face. "Can You Do Di Wuk" a duet with Sean Paul featured on his Grammy winning multi - platinum selling album "Dutty Rock" was a testiment to her "badgyal" demeanor and the track became a natural pick for djs worldwide and made it possible for her to join Sean in Europe during his Dutty Rock tour for several shows including the Europe MTV Awards pre-party and Wembly Stadium in the UK.

On her album "Waiting", she delves into other topics such as "Faking" disclosing the fact that many women have to resort to that level in order to pacify their partner's inadequate performance. "Talk Talk" playfully reveals the fact that many women are not above sampling their friend's goodies due to the information they confide about their man. "Worth It" is the ultimate "spend your money on me" tune, where she explains her "pro gold digging" stance.

These are just samples of her creative, controversial and fun subject matters. However, Ce'Cile does not forget her roots, thus in addition to spitting on hardcore dancehall bangers, she also delivers on a number of groovy, roots reggae tracks.

Follow Boomplay and keep up-to-date with the latest Ce'cile songs and information.

Ce'cile Songs
• Cecile has enviable cinematography. She has so many songs that have sent her many places and won awards.
• Hot like we - 2018
• African king - 2012
• Tie him - 2015
• Read no book -2015
• Goody - 2008
• Give it to me -2008
• Put it deh - 2012

Ce'cile songs are included in Boomplay music playlists. Search to stream and download Ce'cile songs MP3/ single/ albums on the platform.
FAQs about Ce'Cile
Where is Ce'Cile from?
She is from Jamaica.
What are the latest songs of Ce'Cile?
The latest songs of Ce'Cile are Let's Work it Out, Love is Like ft. Mahlon Stewart and No Expectations ft. Christopher Martin.
What are the best songs of Ce'Cile?
The best songs of Ce'Cile are African King, Breakup and Waiting.
What are the best albums of Ce'Cile?
The best albums of Ce'Cile are African King, Waiting and Diary of a Journey.
How to download songs of Ce'Cile?
You can download songs of Ce'Cile from Boomplay App for free.
Firstly, install Boomplay app on your mobile phone.
Secondly, navigate to the song you would like to download.
Thirdly, Tap on More > Download.