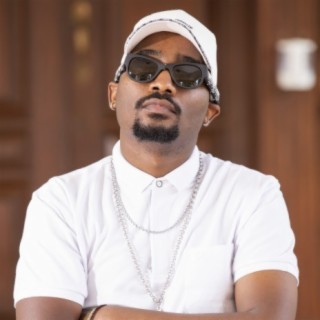 NDOVU KUU
Current #3,592

All Time #7,410

Christopher Thande famously known by his stage name Ndovu Kuu or Krispah was born on 6th January 1996 in Kabete, Nairobi as the last born in a family of three. He chose his pseudo name Ndovu Kuu for his love of elephants. He hails them for their strength and intelligence, and thus considers himself as so. Many of Ndovu Kuu's Songs became very popular and trendy on social media in line with a great number of streaming and downloads on Boomplay.

Career
Krispah's musical journey started after primary school. He went to Kahuho Uhuru boys where his love for music was shaped. He performed well in KCSE having scored a B+ (Plus) and was called to Kenyatta University for a degree in Geospatial engineering. Not liking the course, he opted for East Africa School of Aviation where he pursued Aeronautical engineering. He is an aeronautical engineer, a music producer and artist as well.

He does not confine himself to a specific genre and believes he can sing any genre. His elder sister was a wannabe rapper. In high school, he took up music, played instruments and participated in drama festivals. He would also write rap songs and play it in front of his peers. Over the years, juggling between school, work and artistry, he has sung a couple of songs but what propelled him to fame is the rap about Pamela.

He fell in love with her and thought she was his future but she got pregnant with another man while in Kenyatta University, something that deeply hurt him. He released the song and it trended for a while. He was also able to reach out to Khaligraph Jones who agreed to collaborate with him in the song's music video.

They came together and officially released the song on YouTube with each artist carefully and artfully executing his lines. The song was a massive success and has garnered more than 1 million views in about two weeks in his YouTube channel. The song which had lines like "Mtoto Wangu akiitwa KU nitakataa" trended on social media platforms with so many Kenyans including artists jamming to it.

It was not just the lyrics that did it for Kenyans but it was the beats and the general vibe of the song. Christopher says he will continue to release more music and this is just the beginning.

Achievements
The song 'Ndovu ni Kuu' was published on May 22 2021 but after garnering three million views in a few weeks but unfortunately the video was pulled down from YouTube on grounds of copyright infringement. Krispah was so bright in class that he scored a grade B+ (Plus) in KCSE.

He managed to graduate from East Africa School of Aviation where he pursued Aeronautical engineering and is now an aeronautical engineer, Follow Boomplay and keep up-to-date with the latest songs of Nduvu Kuu and information.

Ndovu Kuu's Latest Songs
• Ndovu Ni Kuu
• Sikusoma
• Tetanus
• Bado Mi Nakudai
• Usherati
• Maggie Wa Nyumbani
• Kenyan Golden Times Medley

Ndovu Kuu's Songs are included in Boomplay music playlists. Search, stream, and download Ndovu Kuu's Songs, his latest singles and albums in MP3 only on the Boomplay platform for free....more

Country/Region : Kenya
Songs

(9)

Albums

(9)

Playlists

(5)
Listen to NDOVU KUU's new songs including "NDOVU NI KUU (feat. KHALIGRAPH JONES & BOUTROSS MUNENE)", "MAGGIE WA NYUMBANI ft. BIEN", "Khadija" and many more. Enjoy NDOVU KUU's latest songs and explore the NDOVU KUU's new music albums. If you want to download NDOVU KUU songs MP3, use the Boomplay App to download the NDOVU KUU songs for free. Discover NDOVU KUU's latest songs, popular songs, trending songs all on Boomplay.
Christopher Thande famously known by his stage name Ndovu Kuu or Krispah was born on 6th January 1996 in Kabete, Nairobi as the last born in a family of three. He chose his pseudo name Ndovu Kuu for his love of elephants. He hails them for their strength and intelligence, and thus considers himself as so. Many of Ndovu Kuu's Songs became very popular and trendy on social media in line with a great number of streaming and downloads on Boomplay.

Career
Krispah's musical journey started after primary school. He went to Kahuho Uhuru boys where his love for music was shaped. He performed well in KCSE having scored a B+ (Plus) and was called to Kenyatta University for a degree in Geospatial engineering. Not liking the course, he opted for East Africa School of Aviation where he pursued Aeronautical engineering. He is an aeronautical engineer, a music producer and artist as well.

He does not confine himself to a specific genre and believes he can sing any genre. His elder sister was a wannabe rapper. In high school, he took up music, played instruments and participated in drama festivals. He would also write rap songs and play it in front of his peers. Over the years, juggling between school, work and artistry, he has sung a couple of songs but what propelled him to fame is the rap about Pamela.

He fell in love with her and thought she was his future but she got pregnant with another man while in Kenyatta University, something that deeply hurt him. He released the song and it trended for a while. He was also able to reach out to Khaligraph Jones who agreed to collaborate with him in the song's music video.

They came together and officially released the song on YouTube with each artist carefully and artfully executing his lines. The song was a massive success and has garnered more than 1 million views in about two weeks in his YouTube channel. The song which had lines like "Mtoto Wangu akiitwa KU nitakataa" trended on social media platforms with so many Kenyans including artists jamming to it.

It was not just the lyrics that did it for Kenyans but it was the beats and the general vibe of the song. Christopher says he will continue to release more music and this is just the beginning.

Achievements
The song 'Ndovu ni Kuu' was published on May 22 2021 but after garnering three million views in a few weeks but unfortunately the video was pulled down from YouTube on grounds of copyright infringement. Krispah was so bright in class that he scored a grade B+ (Plus) in KCSE.

He managed to graduate from East Africa School of Aviation where he pursued Aeronautical engineering and is now an aeronautical engineer, Follow Boomplay and keep up-to-date with the latest songs of Nduvu Kuu and information.

Ndovu Kuu's Latest Songs
• Ndovu Ni Kuu
• Sikusoma
• Tetanus
• Bado Mi Nakudai
• Usherati
• Maggie Wa Nyumbani
• Kenyan Golden Times Medley

Ndovu Kuu's Songs are included in Boomplay music playlists. Search, stream, and download Ndovu Kuu's Songs, his latest singles and albums in MP3 only on the Boomplay platform for free.
New Comments(
46

)
FAQs about NDOVU KUU
Where is NDOVU KUU from?
He is from Kenya.
How to download songs of NDOVU KUU?
You can download songs of NDOVU KUU from Boomplay App for free.
Firstly, install Boomplay app on your mobile phone.
Secondly, navigate to the song you would like to download.
Thirdly, Tap on More > Download.