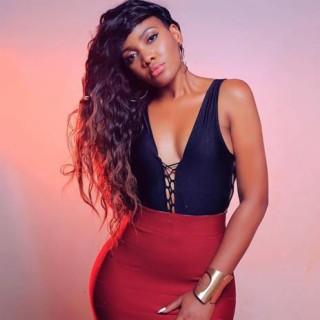 Pia Pounds
Current #12.4k

All Time #2,329

Tracy Kirabo, known professionally as Pia Pounds, is a Ugandan singer-songwriter and performer of the electronic dance and afrobeat music.

Many of Pia Pounds Songs became very popular and trendy on social media in line with a great number of streaming and downloads on Boomplay.

Career
Pia Pound's career started in 2011 when she released her first single, Just the way you are featuring Ragga Dee while still in secondary school. She took a hiatus in music and returned to finish high school. She returned to music while she was a sophomore student at university in 2017.

She was signed by Eddy Kenzo's Big Talent Entertainment label in 2018. Under Big Talent, Pounds' biggest releases were Tubawe and Wawangula. She refused to renew her contract with the label and exited Big Talent Entertainment and started releasing her music as an independent artist in 2019. She then released songs like Byompa featuring Fik Fameica, Easy and Delicious.

In 2020, during the COVID-19 pandemic quarantine and lock-down around the world, Pounds released a love song titled Bintwala about missing the person she loves during the quarantine period.

Pounds was allegedly secretly dating her boss Eddy Kenzo when he separated with him, she then partners with Rema. She refuted the allegations and got engaged to her photographer Daville in a lavish party but soon after broke off the engagement.

Follow Boomplay and keep up to date with the latest songs of Pia Pounds and information.

Pia Pound's Songs
• Taala
• Bintwaala
• Kibeera Kyo
• Tupaate
• Wawangula
• Byompa
• Kasonda
• Tubawe
• Sili Muyaaye
• Wuuba
• Slay Farmer
• Something
• Delicious
• Oli Muyembe
• Easy

Pia Pounds Songs are included in Boomplay music playlists. Search, stream, and download Pia Pounds Songs, her latest singles and albums in MP3 only on the Boomplay platform for free....more

Country/Region : Uganda
Songs

(1)

Albums

(1)

Playlists

(0)

Similar Artists

(10)
Listen to Pia Pounds's new songs including "Slay Farmer, Pt. 2", and many more. Enjoy Pia Pounds's latest songs and explore the Pia Pounds's new music albums. If you want to download Pia Pounds songs MP3, use the Boomplay App to download the Pia Pounds songs for free. Discover Pia Pounds's latest songs, popular songs, trending songs all on Boomplay.
Tracy Kirabo, known professionally as Pia Pounds, is a Ugandan singer-songwriter and performer of the electronic dance and afrobeat music.

Many of Pia Pounds Songs became very popular and trendy on social media in line with a great number of streaming and downloads on Boomplay.

Career
Pia Pound's career started in 2011 when she released her first single, Just the way you are featuring Ragga Dee while still in secondary school. She took a hiatus in music and returned to finish high school. She returned to music while she was a sophomore student at university in 2017.

She was signed by Eddy Kenzo's Big Talent Entertainment label in 2018. Under Big Talent, Pounds' biggest releases were Tubawe and Wawangula. She refused to renew her contract with the label and exited Big Talent Entertainment and started releasing her music as an independent artist in 2019. She then released songs like Byompa featuring Fik Fameica, Easy and Delicious.

In 2020, during the COVID-19 pandemic quarantine and lock-down around the world, Pounds released a love song titled Bintwala about missing the person she loves during the quarantine period.

Pounds was allegedly secretly dating her boss Eddy Kenzo when he separated with him, she then partners with Rema. She refuted the allegations and got engaged to her photographer Daville in a lavish party but soon after broke off the engagement.

Follow Boomplay and keep up to date with the latest songs of Pia Pounds and information.

Pia Pound's Songs
• Taala
• Bintwaala
• Kibeera Kyo
• Tupaate
• Wawangula
• Byompa
• Kasonda
• Tubawe
• Sili Muyaaye
• Wuuba
• Slay Farmer
• Something
• Delicious
• Oli Muyembe
• Easy

Pia Pounds Songs are included in Boomplay music playlists. Search, stream, and download Pia Pounds Songs, her latest singles and albums in MP3 only on the Boomplay platform for free.
New Comments(
17

)