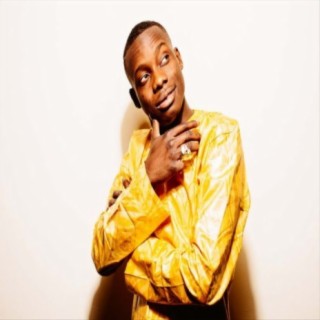 Sidiki Diabaté
Current #127

All Time #36

Sidiki Diabaté is a Malian kora player, musician and music producer born in 1992 in Bamako, Mali. Many Sidiki Diabaté songs become very popular and trendy online with a great number of streaming and downloads on Boomplay.

He is the son of renowned kora player Toumani Diabaté and grandson of Sidiki Diabaté. Diabaté belongs to the 77th generation of musicians in a long family tradition of griots, his family being primarily kora players. His grandfather Sidiki Diabaté recorded the first ever kora album in 1970.

His father also carried on the work with the kora and helped make the instruments sound popular through his albums and collaborations with other African acts. His father's cousin Sona Jobarteh is the first female kora player to come from a Griot family. His uncle Mamadou Sidiki Diabaté is also a prominent kora player.

Career
The early part of Sidiki's career was more focused on hip-hop production, often with rapper and fellow griot Iba One, though he also established himself as a skilled kora player.

Sidiki tapped into the kora heritage by learning how to play the instrument. Later he fused the sounds of the kora with contemporary music like hip-hop, RnB, electronic music, and afro-pop. In 2014, father and son collaborated on a record collection of kora duets which they named Tounami and Sidiki.

He has gone on to do some solo projects. He made his own solo debut in 2016 with Diabateba Music, Vol. 1, a more Afro-pop-leaning album that showed his skill as a singer, songwriter, and producer.

The following year, Sidiki together with his dad and French musician, M, has a trio album to themselves.

eturning to solo work, he again combined R&B and hip-hop elements with occasional traditional flourishes on 2019's Béni. Another single, "Conscience tranquille, "appeared in 2020.

In 2019, he released his solo album, Beni.

Sidiki Diabaté was arrested on September 24, 2020 on the count of assault on an ex-girlfriend.

Achievements
• He was nominated at the 2015 Grammy Awards
• He was also nominated at the 2016 MTV Africa Music Award for Listener's Choice

Follow Boomplay and keep up to date with the latest Sidiki Diabaté songs and information.

Albums
• Toumani & Sidiki, with his father Toumani Diabaté
• Diabateba Music, Vol. 1
• Lamomali, with -M-
• Béni

Sidiki Diabaté Songs
• Diarabi nene bena
• Bi kadi ni kounouye
• Allô allô
• Dakan tigui
• Manitoumani
• Qu'est-ce que je t'ai fait bb
• Dis le moi
• I kadiye
• Dieu merci
• C'est bon

Sidiki Diabaté songs are included in Boomplay music playlists. Search to stream and download Sidiki Diabaté songs MP3/ single/ albums on the platform....more

Country/Region : Mali
Listen to Sidiki Diabaté's new songs including "SIDIKI DIABATÉ - TAN TEGEMA", "Joyeux anniversaire", "FEAT OUMOU SANGARE -DOUNOUYA_TIGUE" and many more. Enjoy Sidiki Diabaté's latest songs and explore the Sidiki Diabaté's new music albums. If you want to download Sidiki Diabaté songs MP3, use the Boomplay App to download the Sidiki Diabaté songs for free. Discover Sidiki Diabaté's latest songs, popular songs, trending songs all on Boomplay.
Sidiki Diabaté is a Malian kora player, musician and music producer born in 1992 in Bamako, Mali. Many Sidiki Diabaté songs become very popular and trendy online with a great number of streaming and downloads on Boomplay.

He is the son of renowned kora player Toumani Diabaté and grandson of Sidiki Diabaté. Diabaté belongs to the 77th generation of musicians in a long family tradition of griots, his family being primarily kora players. His grandfather Sidiki Diabaté recorded the first ever kora album in 1970.

His father also carried on the work with the kora and helped make the instruments sound popular through his albums and collaborations with other African acts. His father's cousin Sona Jobarteh is the first female kora player to come from a Griot family. His uncle Mamadou Sidiki Diabaté is also a prominent kora player.

Career
The early part of Sidiki's career was more focused on hip-hop production, often with rapper and fellow griot Iba One, though he also established himself as a skilled kora player.

Sidiki tapped into the kora heritage by learning how to play the instrument. Later he fused the sounds of the kora with contemporary music like hip-hop, RnB, electronic music, and afro-pop. In 2014, father and son collaborated on a record collection of kora duets which they named Tounami and Sidiki.

He has gone on to do some solo projects. He made his own solo debut in 2016 with Diabateba Music, Vol. 1, a more Afro-pop-leaning album that showed his skill as a singer, songwriter, and producer.

The following year, Sidiki together with his dad and French musician, M, has a trio album to themselves.

eturning to solo work, he again combined R&B and hip-hop elements with occasional traditional flourishes on 2019's Béni. Another single, "Conscience tranquille, "appeared in 2020.

In 2019, he released his solo album, Beni.

Sidiki Diabaté was arrested on September 24, 2020 on the count of assault on an ex-girlfriend.

Achievements
• He was nominated at the 2015 Grammy Awards
• He was also nominated at the 2016 MTV Africa Music Award for Listener's Choice

Follow Boomplay and keep up to date with the latest Sidiki Diabaté songs and information.

Albums
• Toumani & Sidiki, with his father Toumani Diabaté
• Diabateba Music, Vol. 1
• Lamomali, with -M-
• Béni

Sidiki Diabaté Songs
• Diarabi nene bena
• Bi kadi ni kounouye
• Allô allô
• Dakan tigui
• Manitoumani
• Qu'est-ce que je t'ai fait bb
• Dis le moi
• I kadiye
• Dieu merci
• C'est bon

Sidiki Diabaté songs are included in Boomplay music playlists. Search to stream and download Sidiki Diabaté songs MP3/ single/ albums on the platform.