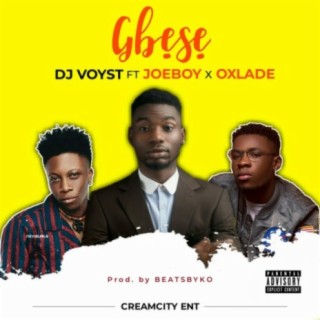 Dj Voyst
Current #5,587

All Time #2,272

Oyidi Olatunde Yusuf (born July 5) is a Nigerian disc jockey, recording artist, and producer. Many of DJ Voyst songs become very popular and trendy online with a great number of streaming and downloads on Boomplay. He is known in the music industry by the stage name DJ Voyst. He works as a Radio DJ with Brilla Fm and has performed at several events across Nigeria. He is the brain behind the hit singles: Good Girl, Jamila, Halle, and Gbese. He also goes by the tag "THE SOUND SURGEON "as he has been able to create a platform for himself as the Voice of Upcoming/Emerging artists out of Nigeria and Africa at large.

DJ Voyst was born to the family of Mr. and Mrs. Yusuf in 1997. He comes from a Muslim background and was grew up in the Akoko part of Lagos. He is from North Central Nigeria and hails from Kogi State. Living in Lagos exposed Tunde to rich music culture and he soon developed a soft spot for the art. His career as a Disc Jockey (DJ) started from his high school days.

As he would act as the DJ in school parties, neighborhood parties, and carnivals. It was around this time, he came up with the stage name DJ Voyst. He is a bosom friend of the singer, Joeboy.

The duo attended the same secondary school. Just like JoeBoy, DJ Voyst is a talented songwriter. He had begun to pen down songs as a teenager. He is known in the industry as the Sound Surgeon.

Career
As an undergraduate, DJ Voyst decided to try his hands on sound production. He linked up with some budding music producers in his school and started understudying them. Within a few months, he had gotten a hand of the craft and began making beats for upcoming artists in Lagos. On the side, he continued to pursue his Disc Jockey career and was invited to perform at many social events in Lagos and southwest Nigeria. He has performed at the Mainland Block Party and Island Block Party in the past.

In December 2019, he got the opportunity to perform at the Starboy Fest. Success found him again and he was invited to perform as a DJ at the Black Out Concert hosted by DJ Tunez. DJ Voyst has also organized his own shows. In collaboration with Cream City Entertainment, he organized The Sound Surgeon tour in Yaba Tech and Tejuosho Complex, Yaba.

As an artiste, he has graced the stage with the likes of Oxlade, Joeboy, T-Classic, Ckay Yo, Oba Lurge, Kidda, Blaqbonez, Starboy Terri, Flex B, Sky Lolo, Yusuf Kanbai, Elhi, and DJ Tunez. He has released mixtapes such as Hold You Down and Next Generation. In December 2020, he featured Elhi on the hit single, Halle. He is the co-founder of Cream City Entertainment, alongside his close friend Uche.

The journey to his brand DJ VOYST has come thus a long way. He has been able to confront every limitation and rose to various occasions where he makes greats marks as in
• 2015 - Mobile Dj
• 2016 - Radio Dj (Brila fm Lagos)
• 2017 - Concert status (THE SOUND SURGEON movement) his own yearly celebrated concert
• 2018 till date - Artiste Dj (music features)

DJ VOYST as an artist has various songs featuring talented artists like Joeboy, Oxlade, Brainee, Flex B and so on.

Follow Boomplay and keep up to date with the latest DJ Voyst songs and information.

DJ Voyst Songs
• Vanessa
• Hold You Down
• Gbese
• Body
• Jamila
• Halle
• Good Life

DJ Voyst songs are included in Boomplay music playlists. Search to stream and download DJ Voyst songs MP3/ single/ albums on the platform....more

Country/Region : Nigeria
Songs

(4)

Albums

(3)

Playlists

(1)
Listen to Dj Voyst's new songs including "B.O.A (Based On Analysis) ft. Victony", "Felicitation ft. Joeboy", "Jamila ft. Yusufkanbai" and many more. Enjoy Dj Voyst's latest songs and explore the Dj Voyst's new music albums. If you want to download Dj Voyst songs MP3, use the Boomplay App to download the Dj Voyst songs for free. Discover Dj Voyst's latest songs, popular songs, trending songs all on Boomplay.
Oyidi Olatunde Yusuf (born July 5) is a Nigerian disc jockey, recording artist, and producer. Many of DJ Voyst songs become very popular and trendy online with a great number of streaming and downloads on Boomplay. He is known in the music industry by the stage name DJ Voyst. He works as a Radio DJ with Brilla Fm and has performed at several events across Nigeria. He is the brain behind the hit singles: Good Girl, Jamila, Halle, and Gbese. He also goes by the tag "THE SOUND SURGEON "as he has been able to create a platform for himself as the Voice of Upcoming/Emerging artists out of Nigeria and Africa at large.

DJ Voyst was born to the family of Mr. and Mrs. Yusuf in 1997. He comes from a Muslim background and was grew up in the Akoko part of Lagos. He is from North Central Nigeria and hails from Kogi State. Living in Lagos exposed Tunde to rich music culture and he soon developed a soft spot for the art. His career as a Disc Jockey (DJ) started from his high school days.

As he would act as the DJ in school parties, neighborhood parties, and carnivals. It was around this time, he came up with the stage name DJ Voyst. He is a bosom friend of the singer, Joeboy.

The duo attended the same secondary school. Just like JoeBoy, DJ Voyst is a talented songwriter. He had begun to pen down songs as a teenager. He is known in the industry as the Sound Surgeon.

Career
As an undergraduate, DJ Voyst decided to try his hands on sound production. He linked up with some budding music producers in his school and started understudying them. Within a few months, he had gotten a hand of the craft and began making beats for upcoming artists in Lagos. On the side, he continued to pursue his Disc Jockey career and was invited to perform at many social events in Lagos and southwest Nigeria. He has performed at the Mainland Block Party and Island Block Party in the past.

In December 2019, he got the opportunity to perform at the Starboy Fest. Success found him again and he was invited to perform as a DJ at the Black Out Concert hosted by DJ Tunez. DJ Voyst has also organized his own shows. In collaboration with Cream City Entertainment, he organized The Sound Surgeon tour in Yaba Tech and Tejuosho Complex, Yaba.

As an artiste, he has graced the stage with the likes of Oxlade, Joeboy, T-Classic, Ckay Yo, Oba Lurge, Kidda, Blaqbonez, Starboy Terri, Flex B, Sky Lolo, Yusuf Kanbai, Elhi, and DJ Tunez. He has released mixtapes such as Hold You Down and Next Generation. In December 2020, he featured Elhi on the hit single, Halle. He is the co-founder of Cream City Entertainment, alongside his close friend Uche.

The journey to his brand DJ VOYST has come thus a long way. He has been able to confront every limitation and rose to various occasions where he makes greats marks as in
• 2015 - Mobile Dj
• 2016 - Radio Dj (Brila fm Lagos)
• 2017 - Concert status (THE SOUND SURGEON movement) his own yearly celebrated concert
• 2018 till date - Artiste Dj (music features)

DJ VOYST as an artist has various songs featuring talented artists like Joeboy, Oxlade, Brainee, Flex B and so on.

Follow Boomplay and keep up to date with the latest DJ Voyst songs and information.

DJ Voyst Songs
• Vanessa
• Hold You Down
• Gbese
• Body
• Jamila
• Halle
• Good Life

DJ Voyst songs are included in Boomplay music playlists. Search to stream and download DJ Voyst songs MP3/ single/ albums on the platform.
New Comments(
6

)
FAQs about Dj Voyst
Where is Dj Voyst from?
He is from Nigeria.
What are the latest songs of Dj Voyst?
The latest song of Dj Voyst is B.O.A (Based On Analysis) ft. Victony.
What are the best songs of Dj Voyst?
The best songs of Dj Voyst are Felicitation ft. Joeboy, B.O.A (Based On Analysis) ft. Victony and Gbese ft. Joeboy & Oxlade.
What are the best albums of Dj Voyst?
The best albums of Dj Voyst are Felicitation, B.O.A (Based On Analysis) and Gbese.
How to download songs of Dj Voyst?
You can download songs of Dj Voyst from Boomplay App for free.
Firstly, install Boomplay app on your mobile phone.
Secondly, navigate to the song you would like to download.
Thirdly, Tap on More > Download.