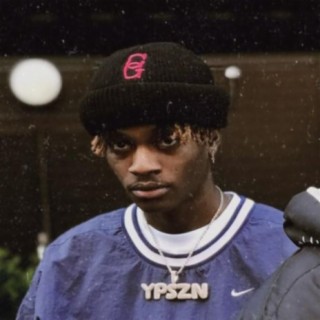 PsychoYP
Current #8,305

All Time #5,871

PsychoYP, a Nigerian rapper who was born on October 28, 1997, in Abuja, is one of the continent's hottest new wave rappers. Nicholas Ihua -Maduenyi is true name. Many of PsychoYP songs become very popular and trendy online with a great number of streaming and downloads on Boomplay.

Originally from Rivers State in Nigeria's southern region, the young Nigerian Trap/Hip-Hop artist has amassed an unmistakable underground hip hop fanbase, as well as a slew of features and lead projects that have seen him continue to make huge waves in the music and entertainment industries.

The Abuja-born rapper, who has established himself as the most sought-after rapper in Nigeria and on the continent, developed his love for music at a young age, which has impacted his style of rap-sung trap, which is unique to the burgeoning new wave of hip-hop.

He began to do music while in secondary school where he would go to the studio with his friend. PsychoYP has been able to develop himself with musical influences from the likes of Lil Wayne and Drake

Career and Achievement
He began his career in 2016 with the release of his EP "Lost In The Sauce," which he followed up with his debut mixtape YPSZN (Explicit) in 2018 and his sophomore YPSZN2 mixtape in 2019, which earned him a No. 1 spot on Top Charts as well as nominations for the 26th Annual South African Music Awards in the Rest of Africa category and the 14th HipTV Headies Award in the Best Rap Album category.

PsychoYP, who isn't afraid to push himself to new heights, wants to pioneer trap culture in Nigeria and pave his path to the top of the new generation of urban music that is breaking down borders in Nigeria and beyond.

The expert vocation started as far back as the age of 14. From that point forward, he has worked together with artistes like MI Abaga and his engaged in many in rap fights which he never lose. His first EP project can be traced back when he released the mouth watering project, Lost In The Sauce

The talented fast rising Nigerian rapper whose main focus is on trap also has a latest body of work, Apex Village. The project captures the appearance of Zilla Oaks, Marv OTM and AYÜÜ.

Psycho YP has gone ahead to drop two joint EPs with fellow act, Kuddi which are This Is What You Wanted and This Is What You Wanted 2. This is after his first project has accumulated massive fan base for him.

A portion of his hit singles are Losing You and Black Card. The singles enjoyed airplays across Nigeria and in the United Kingdom, topping charts in different days.

The gifted artiste, PsychoYP is 23 years old. He is an attractive young fellow who is presently single. He was brought up in a Christian family.

Other info
He is situated in Abuja where he possesses a loft and his own vehicles. He is not married and has no girlfriend. PsychoYP is dynamic via online media, particularly Instagram and has over 56k adherents on the stage. His record has been confirmed.

His authority Instagram handle is @Psychoyp.

The fast rising Nigerian trap rapper and songwriter, PsychoYP has an estimaetd net worth of $30,000-$150,000.

Follow Boomplay and keep up-to-date with the latest PsychoYP songs and information.

PsychoYP Songs
With more than 641.2k streams PsychoYP is one of the Top artist in Boomplay who has many release
• Caro
• Ball
• YKTFV
• Long Way From Home
• Focused
• Ji Masun
• Attention ft. Oxlade & Merry-Lynn

He also had a wonderful release recently which had about 124.5k streams in Boomplay check out: https://www.boomplaymusic.com/share/album/29825942 which he named (Euphoria)

PsychoYP songs are included in Boomplay music playlists. Search to stream and download PsychoYP songs MP3/ single/ albums on the platform....more

Country : Nigeria
Songs

(18)

Albums

(4)

Playlists

(2)
1

2

3

4

5

6

7

8

9

10

11

12

13

14

15

16

17

18
Listen to PsychoYP's new songs including "Be Like You", "OGA (Remix) ft. YCEE, Dremo & Blaqbonez", "To The Max ft. Odunsi The Engine" and many more. Enjoy PsychoYP's latest songs and explore the PsychoYP's new music albums. If you want to download PsychoYP songs MP3, use the Boomplay App to download the PsychoYP songs for free. Discover PsychoYP's latest songs, popular songs, trending songs all on Boomplay.
PsychoYP, a Nigerian rapper who was born on October 28, 1997, in Abuja, is one of the continent's hottest new wave rappers. Nicholas Ihua -Maduenyi is true name. Many of PsychoYP songs become very popular and trendy online with a great number of streaming and downloads on Boomplay.

Originally from Rivers State in Nigeria's southern region, the young Nigerian Trap/Hip-Hop artist has amassed an unmistakable underground hip hop fanbase, as well as a slew of features and lead projects that have seen him continue to make huge waves in the music and entertainment industries.

The Abuja-born rapper, who has established himself as the most sought-after rapper in Nigeria and on the continent, developed his love for music at a young age, which has impacted his style of rap-sung trap, which is unique to the burgeoning new wave of hip-hop.

He began to do music while in secondary school where he would go to the studio with his friend. PsychoYP has been able to develop himself with musical influences from the likes of Lil Wayne and Drake

Career and Achievement
He began his career in 2016 with the release of his EP "Lost In The Sauce," which he followed up with his debut mixtape YPSZN (Explicit) in 2018 and his sophomore YPSZN2 mixtape in 2019, which earned him a No. 1 spot on Top Charts as well as nominations for the 26th Annual South African Music Awards in the Rest of Africa category and the 14th HipTV Headies Award in the Best Rap Album category.

PsychoYP, who isn't afraid to push himself to new heights, wants to pioneer trap culture in Nigeria and pave his path to the top of the new generation of urban music that is breaking down borders in Nigeria and beyond.

The expert vocation started as far back as the age of 14. From that point forward, he has worked together with artistes like MI Abaga and his engaged in many in rap fights which he never lose. His first EP project can be traced back when he released the mouth watering project, Lost In The Sauce

The talented fast rising Nigerian rapper whose main focus is on trap also has a latest body of work, Apex Village. The project captures the appearance of Zilla Oaks, Marv OTM and AYÜÜ.

Psycho YP has gone ahead to drop two joint EPs with fellow act, Kuddi which are This Is What You Wanted and This Is What You Wanted 2. This is after his first project has accumulated massive fan base for him.

A portion of his hit singles are Losing You and Black Card. The singles enjoyed airplays across Nigeria and in the United Kingdom, topping charts in different days.

The gifted artiste, PsychoYP is 23 years old. He is an attractive young fellow who is presently single. He was brought up in a Christian family.

Other info
He is situated in Abuja where he possesses a loft and his own vehicles. He is not married and has no girlfriend. PsychoYP is dynamic via online media, particularly Instagram and has over 56k adherents on the stage. His record has been confirmed.

His authority Instagram handle is @Psychoyp.

The fast rising Nigerian trap rapper and songwriter, PsychoYP has an estimaetd net worth of $30,000-$150,000.

Follow Boomplay and keep up-to-date with the latest PsychoYP songs and information.

PsychoYP Songs
With more than 641.2k streams PsychoYP is one of the Top artist in Boomplay who has many release
• Caro
• Ball
• YKTFV
• Long Way From Home
• Focused
• Ji Masun
• Attention ft. Oxlade & Merry-Lynn

He also had a wonderful release recently which had about 124.5k streams in Boomplay check out: https://www.boomplaymusic.com/share/album/29825942 which he named (Euphoria)

PsychoYP songs are included in Boomplay music playlists. Search to stream and download PsychoYP songs MP3/ single/ albums on the platform.
New Comments(
7

)