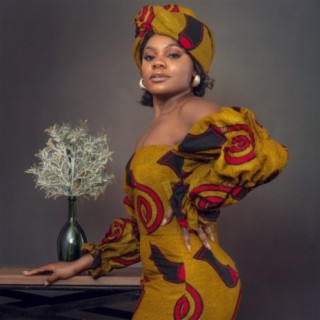 Ulanda
Current #5,933

All Time #9,880

Born December 31st in the beautiful town of Limbe, Cameroon of West Africa, singer and songwriter Ulanda grew up in a loving, musically nurturing household with her parents, siblings, and extended family.

In August 2011, Ulanda left the beautiful country of Cameroon to relocate to the U.S. Leaving her home and all she knew was an emotional trial for Ulanda but living by her mother's advice and her upbeat spirit allowed her to see the hidden opportunities in moving to America. She later moved back home and connected with her roots.Her sultry voice evokes emotions within you.


Her music can be summed up in one word: Contemporary. With the ability to use her voice as an instrument and experimenting with vocal harmonies learned through studying the art of Makossa,Soul,Pop, R&B and Afrobeats, her free spirited lyrics, influenced by Toni Braxton, Charlotte Dipanda, Brandy, Whitney Houston, Celine Dion, Richard bona, Lokua kanza, Bebe manga and Mariah Carey to name a few, bridges the gap between many genres as a beacon to the masses, attracting a universal fan base.

Currently, Ulanda is working on her debut Album anticipated early 2021.

Twitter: https://twitter.com/ulandaulanda
Facebook page: https://www.facebook.com/ulandaulandat​
Instagram:http://instagram.com/ulandaulanda
YouTube : https://www.youtube.com/channel/UCHLAb0kUORj6_NSnGtjAQTg

Ulanda makes music that inspires people to feel beautiful,
inspires hope and takes you away to a better time....more

Country/Region : Cameroon
Songs

(8)

Albums

(9)

Playlists

(0)
Listen to Ulanda's new songs including "Doing me well ft. Cleo grae", "No Way ft. Askia", "Beautiful" and many more. Enjoy Ulanda's latest songs and explore the Ulanda's new music albums. If you want to download Ulanda songs MP3, use the Boomplay App to download the Ulanda songs for free. Discover Ulanda's latest songs, popular songs, trending songs all on Boomplay.
Born December 31st in the beautiful town of Limbe, Cameroon of West Africa, singer and songwriter Ulanda grew up in a loving, musically nurturing household with her parents, siblings, and extended family.

In August 2011, Ulanda left the beautiful country of Cameroon to relocate to the U.S. Leaving her home and all she knew was an emotional trial for Ulanda but living by her mother's advice and her upbeat spirit allowed her to see the hidden opportunities in moving to America. She later moved back home and connected with her roots.Her sultry voice evokes emotions within you.


Her music can be summed up in one word: Contemporary. With the ability to use her voice as an instrument and experimenting with vocal harmonies learned through studying the art of Makossa,Soul,Pop, R&B and Afrobeats, her free spirited lyrics, influenced by Toni Braxton, Charlotte Dipanda, Brandy, Whitney Houston, Celine Dion, Richard bona, Lokua kanza, Bebe manga and Mariah Carey to name a few, bridges the gap between many genres as a beacon to the masses, attracting a universal fan base.

Currently, Ulanda is working on her debut Album anticipated early 2021.

Twitter: https://twitter.com/ulandaulanda
Facebook page: https://www.facebook.com/ulandaulandat​
Instagram:http://instagram.com/ulandaulanda
YouTube : https://www.youtube.com/channel/UCHLAb0kUORj6_NSnGtjAQTg

Ulanda makes music that inspires people to feel beautiful,
inspires hope and takes you away to a better time.
New Comments(
7

)
FAQs about Ulanda
Where is Ulanda from?
She is from Cameroon.
What are the latest songs of Ulanda?
The latest songs of Ulanda are Doing me well ft. Cleo grae and Beautiful.
What are the best songs of Ulanda?
The best songs of Ulanda are No Way ft. Askia, Beautiful and Doing me well ft. Cleo grae.
What are the best albums of Ulanda?
The best albums of Ulanda are No Way, Beautiful and Doing me well.
How to download songs of Ulanda?
You can download songs of Ulanda from Boomplay App for free.
Firstly, install Boomplay app on your mobile phone.
Secondly, navigate to the song you would like to download.
Thirdly, Tap on More > Download.