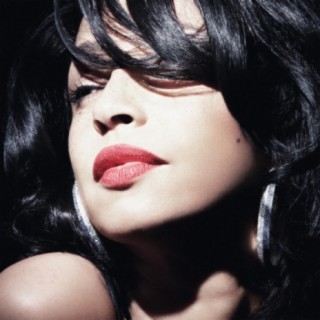 Sade
Current #5,874

All Time #10.3k

Helen Folasade Adu professionally known as Sade Adu (born January 16, 1959), is an internationally renowned, multi-Grammy award-winning singer who is known for her smooth, melodic vocals and the seamless incorporation of different styles of music.

Helen Folasade Adu, professionally known as Sade, was born in Ibadan, Oyo State, Nigeria on January 16, 1959. Her father Adebisi Adu, a Nigerian lecturer of economics, and her mother Anne Hayes, a district nurse, had met in London. Sade was the couple's second child after their son Banji Adu.

Shortly after her birth, Sade's parents separated and she and her brother followed their mother to Colchester, Essex, England. There, the children were raised by their mother as well as their maternal grandfather.

Upon finishing her education at Clacton County High School in Colchester, she enrolled at Central St Martin's College of Art and Design in London to pursue fashion and design. After completion of her program, she worked as a model and menswear designer.

Many Sade songs become very popular and trendy online with a great number of streaming and downloads on Boomplay.

Career.
Sade entered the music scene around 1980 when she started singing harmony for Arriva, a Latin funk band. She joined another funk band called Pride and was a background singer for the group.

Pride garnered much attention from record companies due to their performances around London. Eventually, Sade and fellow bandmates, Stuart Matthewman, Paul Denma, and Andrew Hale signed a deal with the U.K. division of Epic Records and formed the band Sade.

Follow Boomplay and keep up-to-date with the latest Sade songs and information.

Achievement.
In 1984 the band's debut album, Diamond Life, was released to much critical success and was bolstered by singles such as "Hang On to Your Love" and "Smooth Operator." The band followed up their debut with their next album, Promise, which was released the following year. "The Sweetest Taboo," a single from Promise, was on the U.S. Hot 100 for six months.

In 1986, Sade was awarded the Grammy for best new artist. In 1988, Sade released their third album titled Stronger Than Pride and one of it's singles, "Paradise," reached number one on the U.S. R&B chart.

Sade's next album, Love Deluxe, was not released until 1992 but still garnered much success. "No Ordinary Love," one of the album's tracks, won a Grammy for best R&B performance by a duo or group with vocal in 1993.

Lovers Rock, the band's fifth album, was released in 2000 and won the 2001 Grammy for best pop vocal album. In 2010 the band's song "Soldier of Love," from their album with the same name, won the Grammy for best R&B performance by a duo or group with vocal.

Down below is the link to one of her album you can aswell check other albums; https://www.boomplaymusic.com/share/album/32785474

Sade has been married twice. Her first husband was Robert Elms whom she wed in 1980. Due to personal problems the marriage ended. In 1989 Sade married Spanish film director Carlos Pliego but the two later divorced in 1995. In the late 1990s Sade was romantically involved with Jamaican music producer Bob Morgan with whom she had a child.

Sade Adu Net Worth
• Sade Adu's estimated net worth is $70 million.

Sade songs are included in Boomplay music playlists. Search to stream and download Sade songs MP3/ single/ albums on the platform...more

Country/Region : Nigeria
Songs

(4)

Albums

(3)

Playlists

(2)
Listen to Sade's new songs including "I Couldn't Love You More (Bruno Costa Remix)", "Aqua Bull", "Zhiting" and many more. Enjoy Sade's latest songs and explore the Sade's new music albums. If you want to download Sade songs MP3, use the Boomplay App to download the Sade songs for free. Discover Sade's latest songs, popular songs, trending songs all on Boomplay.
Helen Folasade Adu professionally known as Sade Adu (born January 16, 1959), is an internationally renowned, multi-Grammy award-winning singer who is known for her smooth, melodic vocals and the seamless incorporation of different styles of music.

Helen Folasade Adu, professionally known as Sade, was born in Ibadan, Oyo State, Nigeria on January 16, 1959. Her father Adebisi Adu, a Nigerian lecturer of economics, and her mother Anne Hayes, a district nurse, had met in London. Sade was the couple's second child after their son Banji Adu.

Shortly after her birth, Sade's parents separated and she and her brother followed their mother to Colchester, Essex, England. There, the children were raised by their mother as well as their maternal grandfather.

Upon finishing her education at Clacton County High School in Colchester, she enrolled at Central St Martin's College of Art and Design in London to pursue fashion and design. After completion of her program, she worked as a model and menswear designer.

Many Sade songs become very popular and trendy online with a great number of streaming and downloads on Boomplay.

Career.
Sade entered the music scene around 1980 when she started singing harmony for Arriva, a Latin funk band. She joined another funk band called Pride and was a background singer for the group.

Pride garnered much attention from record companies due to their performances around London. Eventually, Sade and fellow bandmates, Stuart Matthewman, Paul Denma, and Andrew Hale signed a deal with the U.K. division of Epic Records and formed the band Sade.

Follow Boomplay and keep up-to-date with the latest Sade songs and information.

Achievement.
In 1984 the band's debut album, Diamond Life, was released to much critical success and was bolstered by singles such as "Hang On to Your Love" and "Smooth Operator." The band followed up their debut with their next album, Promise, which was released the following year. "The Sweetest Taboo," a single from Promise, was on the U.S. Hot 100 for six months.

In 1986, Sade was awarded the Grammy for best new artist. In 1988, Sade released their third album titled Stronger Than Pride and one of it's singles, "Paradise," reached number one on the U.S. R&B chart.

Sade's next album, Love Deluxe, was not released until 1992 but still garnered much success. "No Ordinary Love," one of the album's tracks, won a Grammy for best R&B performance by a duo or group with vocal in 1993.

Lovers Rock, the band's fifth album, was released in 2000 and won the 2001 Grammy for best pop vocal album. In 2010 the band's song "Soldier of Love," from their album with the same name, won the Grammy for best R&B performance by a duo or group with vocal.

Down below is the link to one of her album you can aswell check other albums; https://www.boomplaymusic.com/share/album/32785474

Sade has been married twice. Her first husband was Robert Elms whom she wed in 1980. Due to personal problems the marriage ended. In 1989 Sade married Spanish film director Carlos Pliego but the two later divorced in 1995. In the late 1990s Sade was romantically involved with Jamaican music producer Bob Morgan with whom she had a child.

Sade Adu Net Worth
• Sade Adu's estimated net worth is $70 million.

Sade songs are included in Boomplay music playlists. Search to stream and download Sade songs MP3/ single/ albums on the platform
FAQs about Sade
Where is Sade from?
They are from Nigeria.
What are the latest songs of Sade?
The latest songs of Sade are Aqua Bull, Zhiting and Corona Ferntwirls.
What are the best songs of Sade?
The best songs of Sade are The Sweetest Taboo, By Your Side and No Ordinary Love (Remastered).
What are the best albums of Sade?
The best albums of Sade are The Ultimate Collection, The Best of Sade and Lovers Rock.
How to download songs of Sade?
You can download songs of Sade from Boomplay App for free.
Firstly, install Boomplay app on your mobile phone.
Secondly, navigate to the song you would like to download.
Thirdly, Tap on More > Download.