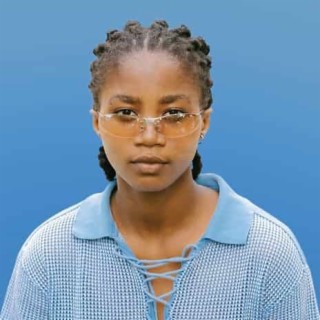 Baaba J
Current #5,485

All Time #12.5k

"Writing music makes me happy." As a child, Baaba J flirted with dreams of joining the army or playing football until she discovered music and filmmaking. She started writing music as an escape from the monotone of daily life until it became too good to keep to herself. Her wonderful blend of soul, pop, rap and alte under the Afro umbrella sets her apart from her peers. She performs in English, Pidgin and Ga, weaving message heavy tales that celebrate individuality, originality and freedom. She wants to show people they "can be unconventional and still achieve their goals." In 2020, Baaba J released Lumumba Street – a 5 track EP which served as the music community's official introduction to her brilliance. The project's lead single, Tomboy, whose video she co-directed is a tale of being confident in one's self and one's choices. She followed it up with Lovin 21, a celebration of her turning 21. She has delivered stellar performances on platforms such as Accra Indie Film Festival, The Crusade & The MiM Life Concert

...more

Country/Region : Ghana
Songs

(14)

Albums

(6)

Playlists

(11)
1

2

3

4

5

6

7

8

9

10

11

12

13

14
Listen to Baaba J's new songs including "Wonderful", "Kaakpa", "OLE" and many more. Enjoy Baaba J's latest songs and explore the Baaba J's new music albums. If you want to download Baaba J songs MP3, use the Boomplay App to download the Baaba J songs for free. Discover Baaba J's latest songs, popular songs, trending songs all on Boomplay.
"Writing music makes me happy." As a child, Baaba J flirted with dreams of joining the army or playing football until she discovered music and filmmaking. She started writing music as an escape from the monotone of daily life until it became too good to keep to herself. Her wonderful blend of soul, pop, rap and alte under the Afro umbrella sets her apart from her peers. She performs in English, Pidgin and Ga, weaving message heavy tales that celebrate individuality, originality and freedom. She wants to show people they "can be unconventional and still achieve their goals." In 2020, Baaba J released Lumumba Street – a 5 track EP which served as the music community's official introduction to her brilliance. The project's lead single, Tomboy, whose video she co-directed is a tale of being confident in one's self and one's choices. She followed it up with Lovin 21, a celebration of her turning 21. She has delivered stellar performances on platforms such as Accra Indie Film Festival, The Crusade & The MiM Life Concert
New Comments(
6

)
FAQs about Baaba J
Where is Baaba J from?
She is from Ghana.
How to download songs of Baaba J?
You can download songs of Baaba J from Boomplay App for free.
Firstly, install Boomplay app on your mobile phone.
Secondly, navigate to the song you would like to download.
Thirdly, Tap on More > Download.