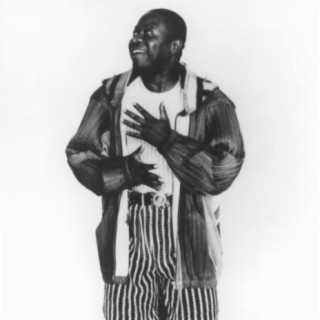 Papa Wemba
Current #401

All Time #530

Jules Shungu Wembadio Pene Kikumba (14 June 1949 - 24 April 2016), known professionally as Papa Wemba, was a Congolese singer and musician who played Congolese rumba, soukous, and ndombolo. Dubbed the "King of Rumba Rock", he was one of the most popular musicians of his time in Africa and played an important role in world music.

He was also a fashion icon who popularized the Sape look and style through his musical group Viva la Musica, with whom he performed on stages throughout the world.

Many Papa Wemba songs become very popular and trendy online with a great number of streaming and downloads on Boomplay.

Career
Papa Wemba was one of the first musicians to join the influential rock-rumba band Zaiko Langa Langa (ZLL) after it was created in December 1969 in Kinshasa, by many well-known Congolese musicians including Nyoka Longo Jossart and Bimi Ombale, among others. He remained with the group for four years.

Papa Wemba (then known as Jules Presley Shungu Wembadio) helped contribute to the success of Zaiko Langa Langa so that, by 1973, it was one of the more successful Congolese groups. By that time, ZLL's shows and performances featured a string of their popular hits, some of them written by Wemba. The latter included "Pauline", "C'est La Vérité", "Chouchouna", and "Liwa Ya Somo".

Zaiko Langa Langa had gained a strong and popular following even in a Congolese musical world that, in those days, was already dominated by various musical acts including Franco Luambo and his band TPOK Jazz, or Tabu Ley Rochereau's various ensembles. ZLL was also vying for an audience with other (at the time) new musical acts such as Bella-Bella and Empire Bakuba.

In December 1974, at the pinnacle of their fame (and just a month after the Rumble in the Jungle between Muhammad Ali and George Foreman in Kinshasa), Papa Wemba (usually called 'Shungu Wembadio' at this point in his career) along with Evoloko Lay Lay, Mavuela Somo and Bozi Boziana, left Zaiko Langa Langa to establish their own musical ensemble Isifi Lokole. Wemba later claimed that ISIFI was an acronym for "Institut du Savoir Idéologique pour la Formation des Idoles," a claim that has still not been given total credence.

In July 1975, Shungu Wembadio officially adopted the soon-to-be-well-known-worldwide name Papa Wemba. The "Papa" (father) part of his name had already been given to him as a traditional and cultural rite because he was his mother's first-born son. But in assuming a new name and public persona, "Papa" was now re-emphasized as an allusion to the demanding family responsibilities that Wemba assumed at very young age, since both parents were now deceased: Wemba's father in 1966, followed by his mother in 1973. Isifi Lokole would only last a year together as a group, with the single "Amazone" (a Wemba composition) as its biggest commercial "hit" record.

Follow Boomplay and keep up-to-date with the latest Papa Wemba songs and information.

In February 2003, Wemba was suspected of being involved in a network that had allegedly smuggled hundreds of illegal immigrants from the Democratic Republic of the Congo into Europe. At that point he was arrested in Paris and held while awaiting a trial.

He then spent three-and-a-half months in prison until a €30,000 bail was posted (some reports claimed it was paid by the Congolese government). In June 2003 Wemba was released from prison which was an experience that, upon his release, he declared had had a profound psychological effect on him.

Wemba died at the age of 66 after collapsing on stage in Abidjan, Côte d'Ivoire, during the FEMUA urban music festival on Sunday, 24 April 2016. On Monday, 25 April, it was reported that his widow, Mama-Marie Luzolo Amazone, flew to Abidjan "accompanied by family members and government officials." In Wemba's hometown of Kinshasa, both fellow musicians and fans gathered together as a tribute to his legacy. Similar tributes also took place in Paris, London, Brussels and Nairobi.

Papa Wemba Songs and Albums
• Emotion (Album)
• Wake Up (Album)
• Rail On
• Mi Amor
• Ye Te Oh
• Zekira
• Blessure
• Muvaro
• Mwasi

Papa Wemba songs are included in Boomplay music playlists. Search to stream and download Papa Wemba songs MP3/ single/ albums on the platform....more

Country/Region : Democratic Republic of the Congo
Listen to Papa Wemba's new songs including "Esclave", "Miss Besange", "Beau gosse ya Paris" and many more. Enjoy Papa Wemba's latest songs and explore the Papa Wemba's new music albums. If you want to download Papa Wemba songs MP3, use the Boomplay App to download the Papa Wemba songs for free. Discover Papa Wemba's latest songs, popular songs, trending songs all on Boomplay.
Jules Shungu Wembadio Pene Kikumba (14 June 1949 - 24 April 2016), known professionally as Papa Wemba, was a Congolese singer and musician who played Congolese rumba, soukous, and ndombolo. Dubbed the "King of Rumba Rock", he was one of the most popular musicians of his time in Africa and played an important role in world music.

He was also a fashion icon who popularized the Sape look and style through his musical group Viva la Musica, with whom he performed on stages throughout the world.

Many Papa Wemba songs become very popular and trendy online with a great number of streaming and downloads on Boomplay.

Career
Papa Wemba was one of the first musicians to join the influential rock-rumba band Zaiko Langa Langa (ZLL) after it was created in December 1969 in Kinshasa, by many well-known Congolese musicians including Nyoka Longo Jossart and Bimi Ombale, among others. He remained with the group for four years.

Papa Wemba (then known as Jules Presley Shungu Wembadio) helped contribute to the success of Zaiko Langa Langa so that, by 1973, it was one of the more successful Congolese groups. By that time, ZLL's shows and performances featured a string of their popular hits, some of them written by Wemba. The latter included "Pauline", "C'est La Vérité", "Chouchouna", and "Liwa Ya Somo".

Zaiko Langa Langa had gained a strong and popular following even in a Congolese musical world that, in those days, was already dominated by various musical acts including Franco Luambo and his band TPOK Jazz, or Tabu Ley Rochereau's various ensembles. ZLL was also vying for an audience with other (at the time) new musical acts such as Bella-Bella and Empire Bakuba.

In December 1974, at the pinnacle of their fame (and just a month after the Rumble in the Jungle between Muhammad Ali and George Foreman in Kinshasa), Papa Wemba (usually called 'Shungu Wembadio' at this point in his career) along with Evoloko Lay Lay, Mavuela Somo and Bozi Boziana, left Zaiko Langa Langa to establish their own musical ensemble Isifi Lokole. Wemba later claimed that ISIFI was an acronym for "Institut du Savoir Idéologique pour la Formation des Idoles," a claim that has still not been given total credence.

In July 1975, Shungu Wembadio officially adopted the soon-to-be-well-known-worldwide name Papa Wemba. The "Papa" (father) part of his name had already been given to him as a traditional and cultural rite because he was his mother's first-born son. But in assuming a new name and public persona, "Papa" was now re-emphasized as an allusion to the demanding family responsibilities that Wemba assumed at very young age, since both parents were now deceased: Wemba's father in 1966, followed by his mother in 1973. Isifi Lokole would only last a year together as a group, with the single "Amazone" (a Wemba composition) as its biggest commercial "hit" record.

Follow Boomplay and keep up-to-date with the latest Papa Wemba songs and information.

In February 2003, Wemba was suspected of being involved in a network that had allegedly smuggled hundreds of illegal immigrants from the Democratic Republic of the Congo into Europe. At that point he was arrested in Paris and held while awaiting a trial.

He then spent three-and-a-half months in prison until a €30,000 bail was posted (some reports claimed it was paid by the Congolese government). In June 2003 Wemba was released from prison which was an experience that, upon his release, he declared had had a profound psychological effect on him.

Wemba died at the age of 66 after collapsing on stage in Abidjan, Côte d'Ivoire, during the FEMUA urban music festival on Sunday, 24 April 2016. On Monday, 25 April, it was reported that his widow, Mama-Marie Luzolo Amazone, flew to Abidjan "accompanied by family members and government officials." In Wemba's hometown of Kinshasa, both fellow musicians and fans gathered together as a tribute to his legacy. Similar tributes also took place in Paris, London, Brussels and Nairobi.

Papa Wemba Songs and Albums
• Emotion (Album)
• Wake Up (Album)
• Rail On
• Mi Amor
• Ye Te Oh
• Zekira
• Blessure
• Muvaro
• Mwasi

Papa Wemba songs are included in Boomplay music playlists. Search to stream and download Papa Wemba songs MP3/ single/ albums on the platform.
New Comments(
12

)
FAQs about Papa Wemba
Where is Papa Wemba from?
He is from Democratic Republic of the Congo.
What are the latest songs of Papa Wemba?
The latest songs of Papa Wemba are Yolele (Summer Solstice Mix) ft. EDUKE, Yolele (Summer Solstice Edit) ft. EDUKE and Wake up ft. Koffi Olomide.
What are the best songs of Papa Wemba?
The best songs of Papa Wemba are Mi Amor, Kaokokokorobo and Ye te oh.
What are the best albums of Papa Wemba?
The best albums of Papa Wemba are Best of Papa Wemba, Papa Wemba Live New Morning and M'Zée Fula Ngenge.
How to download songs of Papa Wemba?
You can download songs of Papa Wemba from Boomplay App for free.
Firstly, install Boomplay app on your mobile phone.
Secondly, navigate to the song you would like to download.
Thirdly, Tap on More > Download.