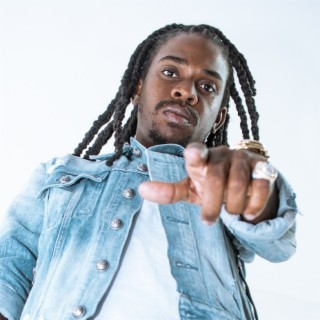 Jahmiel
Current #250

All Time #147

Jamiel Foster was born on August 30, 1992, in Portmore, a bustling city just outside of Kingston, Jamaica with a rich musical heritage. Many of Jahmiel songs become very popular and trendy online with a great number of streaming and downloads on Boomplay.

Career
Jahmiel's passion for music became evident as early as age four. Giving his first performances around age seven, he began recording for some of Jamaica's top producers while still in his teens. Inspired by the likes of Bob Marley, Buju Banton, and Sizzla Kalonji, Jahmiel set out to create timeless songs using words and sounds that empower the human spirit.

In a few short years, Jahmiel progressed from promising newcomer to indispensable star. His is a voice for the ages, blending the rock-solid reasoning of classical roots reggae with the freshest digital rhythm tracks, and investing dancehall music with a spiritual power that we almost forgot it was losing. Somehow Jahmiel managed to do all this without sounding preachy or cliché.

The artist's 2015 breakout hit, "Gain The World," produced by the little-known production team at Quantanium Records, elevated Jahmiel to new heights within the reggae industry. A song about people who sell their souls for success and the importance of resisting material temptations, "Gain The World" affirmed the importance of loyalty over luxury, setting a new standard for songwriting within this generation of Jamaica's dancehall.

Jahmiel later released his Mission EP in May 2014, which featured the hit song "Real Father" produced by Notnice Records, Real Father made its way on a number of countdowns but was a favourite on the Tempo Cross Caribbean Countdown Chart as it was number ONE for a few weeks in August of 2014. His success would continue on an international level as his single " Long Distance Love '', would hit number 1 on Japan Reggaezion music charts in December 2014 produced by Gachapan Records.

Another hit single produced by NotNice, titled "Struggles" has been number two on the Tempo Cross Caribbean Countdown for the weeks February 21st to March2nd 2015. Currently, Jahmiel is experiencing the accolades on the international music scene with his single 'Gain the World', produced by Quantanium Records, is featured on VP Records Vol 52, 53 Strictly The Best compilations.

As Jahmiel grows and he takes on the musical journey his clarity continues to develop and the musical connection with his fans flourish. His single True Colors is an example of how Jahmiel music resonates across all demographics, the words speak of real life and real experiences. "Being true to myself is all I know, I want to sing about life experiences and real life situations that can inspire, motivate and let that person listening know they are not alone and they too will rise above it" says Jahmiel.

As Jahmiel continues to rise he remains grounded and focused on showcasing his versatile ability to cross-over between reggae and dancehall. Jahmiel prides himself in writing his own lyrics bringing a positive vibe. The rising star can be heard ripping both the local and international airwaves and promises nothing but his all to both his fans and musical lovers worldwide.

Achievements
• Jahmiel was awarded, Breakthrough Artist of the Year, from Jamaica Reggae Industry Association (JaRIA)

Follow Boomplay and keep up to date with the latest Jahmiel songs and information.

Jahmiel Songs and Albums
• Jahmiel
• Badness
• Better Tomorrow
• Christmas Girl
• Cut Dem Off
• Daydreaming
• Feel Like Party
• Justus Arison / Jamiel Foster
• Gain the World
• Akiem Bingham / Jamiel Foster
• Gimme Some
• Great Man
• Hard Life
• Hustling
• Legend (Album)
• Great Man (Album)
• Revamp EP

Jahmiel songs are included in Boomplay music playlists. Search to stream and download Jahmiel songs MP3/ single/ albums on the platform....more

Country/Region : Jamaica
Songs

(49)

Albums

(30)

Playlists

(9)
1

2

3

4

5

6

7

8

9

10

11

12

13

14

15

16

17

18

19

20

21

22

23

24

25

26

27

28

29

30

31

32

33

34

35

36

37

38

39

40

41

42

43

44

45

46

47

48

49
Listen to Jahmiel's new songs including "U Me Luv ft. Dunw3ll", "I'm Blessed", "Jah Over Everything" and many more. Enjoy Jahmiel's latest songs and explore the Jahmiel's new music albums. If you want to download Jahmiel songs MP3, use the Boomplay App to download the Jahmiel songs for free. Discover Jahmiel's latest songs, popular songs, trending songs all on Boomplay.
Jamiel Foster was born on August 30, 1992, in Portmore, a bustling city just outside of Kingston, Jamaica with a rich musical heritage. Many of Jahmiel songs become very popular and trendy online with a great number of streaming and downloads on Boomplay.

Career
Jahmiel's passion for music became evident as early as age four. Giving his first performances around age seven, he began recording for some of Jamaica's top producers while still in his teens. Inspired by the likes of Bob Marley, Buju Banton, and Sizzla Kalonji, Jahmiel set out to create timeless songs using words and sounds that empower the human spirit.

In a few short years, Jahmiel progressed from promising newcomer to indispensable star. His is a voice for the ages, blending the rock-solid reasoning of classical roots reggae with the freshest digital rhythm tracks, and investing dancehall music with a spiritual power that we almost forgot it was losing. Somehow Jahmiel managed to do all this without sounding preachy or cliché.

The artist's 2015 breakout hit, "Gain The World," produced by the little-known production team at Quantanium Records, elevated Jahmiel to new heights within the reggae industry. A song about people who sell their souls for success and the importance of resisting material temptations, "Gain The World" affirmed the importance of loyalty over luxury, setting a new standard for songwriting within this generation of Jamaica's dancehall.

Jahmiel later released his Mission EP in May 2014, which featured the hit song "Real Father" produced by Notnice Records, Real Father made its way on a number of countdowns but was a favourite on the Tempo Cross Caribbean Countdown Chart as it was number ONE for a few weeks in August of 2014. His success would continue on an international level as his single " Long Distance Love '', would hit number 1 on Japan Reggaezion music charts in December 2014 produced by Gachapan Records.

Another hit single produced by NotNice, titled "Struggles" has been number two on the Tempo Cross Caribbean Countdown for the weeks February 21st to March2nd 2015. Currently, Jahmiel is experiencing the accolades on the international music scene with his single 'Gain the World', produced by Quantanium Records, is featured on VP Records Vol 52, 53 Strictly The Best compilations.

As Jahmiel grows and he takes on the musical journey his clarity continues to develop and the musical connection with his fans flourish. His single True Colors is an example of how Jahmiel music resonates across all demographics, the words speak of real life and real experiences. "Being true to myself is all I know, I want to sing about life experiences and real life situations that can inspire, motivate and let that person listening know they are not alone and they too will rise above it" says Jahmiel.

As Jahmiel continues to rise he remains grounded and focused on showcasing his versatile ability to cross-over between reggae and dancehall. Jahmiel prides himself in writing his own lyrics bringing a positive vibe. The rising star can be heard ripping both the local and international airwaves and promises nothing but his all to both his fans and musical lovers worldwide.

Achievements
• Jahmiel was awarded, Breakthrough Artist of the Year, from Jamaica Reggae Industry Association (JaRIA)

Follow Boomplay and keep up to date with the latest Jahmiel songs and information.

Jahmiel Songs and Albums
• Jahmiel
• Badness
• Better Tomorrow
• Christmas Girl
• Cut Dem Off
• Daydreaming
• Feel Like Party
• Justus Arison / Jamiel Foster
• Gain the World
• Akiem Bingham / Jamiel Foster
• Gimme Some
• Great Man
• Hard Life
• Hustling
• Legend (Album)
• Great Man (Album)
• Revamp EP

Jahmiel songs are included in Boomplay music playlists. Search to stream and download Jahmiel songs MP3/ single/ albums on the platform.
New Comments(
159

)
FAQs about Jahmiel
Where is Jahmiel from?
He is from Jamaica.
How to download songs of Jahmiel?
You can download songs of Jahmiel from Boomplay App for free.
Firstly, install Boomplay app on your mobile phone.
Secondly, navigate to the song you would like to download.
Thirdly, Tap on More > Download.