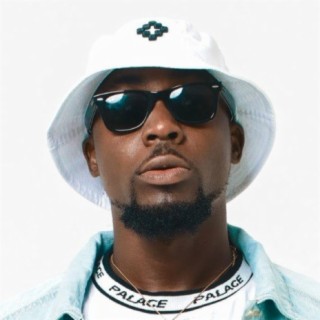 Teephlow
Current #31k

All Time #12k

Lukeman Ekow Baidoo who performs under the stage name Teephlow was born on 20 June 1991 in Kotokuraba, a township in Central Region capital Cape Coast. He is a Ghanaian award-winning hip hop recording artist. He was first noted at the maiden edition of the 2012 "Next Big Thing in GH Hip Hop" Talent Hunt Show. He released his debut single, The Warning, in 2014 featuring Sarkodie. Many of Teephlow's Songs became very popular and trendy on social media in line with a great number of streaming and downloads on Boomplay.

Career
Teephlow attended Ekumfi T.I Ahmadiyya Senior High School and earned a BSC Quantity Surveying and Construction Economics from the Kwame Nkrumah University of Science and Technology. He began his music career in his tertiary days, rapping on campus building a strong fanbase at the Kwame Nkrumah University of Science and Technology. He gained national recognition during the Maiden Edition of the "Next Big Thing in Ghana Hip-Hop" where he came out as the first runner-up.

He was signed by Ghanaian producer Hammer of the Last Two Music Group, after the talent hunt show. He had a first taste of exposure when Hammer featured him on Kwaw Kese's song "Swedru Agona"and released his first single "The Warning" under the Last Two Label in 2014.

Teephlow is currently with TeePhlow Music/Revolve records which is his own creation and is managed by his blood brothers Ibrahim Kwame Baidoo ( Artist Manager) who has been his road manager since 2013 and Hameed Baidoo ( Brand and Creative Development). He has Kwame Asante as his official DJ and Elorm Beenie as the project publicist.

In 2017, Teephlow released his debut tape "The Phlowducation EP" with Production from SnowBeatz, Possigee, Carl Zeus, Two Bars, and Seshi as well as guest appearances from Reggie Rockstone, Edem, Epixode, FlowkingStone, Worlasi, BigBen and Novo.

Achievements
Teephlow won his first award, "Record of the Year" from the 8th song "State of the Art" of the Phlowducation EP at the 2018 Vodafone Ghana Music Awards and got nominated on the same for Best Rapper of the Year and Hip-hop Song of the Year He was also nominated in the 2019 Ghana Entertainment Awards USA for Best Hiplife/ Rap Act and the 2019 Vodafone Ghana Music Awards for Rapper of The Year and Song Writer of The Year.

In 2017 he won Best Rapper Of The Year and 2016 Male Artiste of the Year, Song of the Year, Best Rapper of the Year and got nominated for Best Music Video of the Year "The Warning feat Sarkodie" during the Central Music Awards. He also bagged the 2015 Jigwe Awards for Discovery of the Year.

Follow Boomplay and keep up-to-date with the latest songs of Teephlow and information.

Teephlow's Songs
• No Permission
• 6 Feet
• Maabena
• Forgive
• Ma Mind Dey
• The Warning
• Genesis
• Your Case
• Lovi Dovi
• Odo
• Elevation
• Dede II

Teephlow's Songs are included in Boomplay music playlists. Search, stream, and download Teephlow's Songs, her latest singles and albums in MP3 only on the Boomplay platform for free....more

Country/Region : Ghana
Songs

(16)

Albums

(10)

Playlists

(10)
1

2

3

4

5

6

7

8

9

10

11

12

13

14

15

16
Listen to Teephlow's new songs including "6 Feet", "Road to Phlowducation 2", "Dede 2 ft NOVO x AMERADO x KOJO VYPA x LYRICALJOE" and many more. Enjoy Teephlow's latest songs and explore the Teephlow's new music albums. If you want to download Teephlow songs MP3, use the Boomplay App to download the Teephlow songs for free. Discover Teephlow's latest songs, popular songs, trending songs all on Boomplay.
Lukeman Ekow Baidoo who performs under the stage name Teephlow was born on 20 June 1991 in Kotokuraba, a township in Central Region capital Cape Coast. He is a Ghanaian award-winning hip hop recording artist. He was first noted at the maiden edition of the 2012 "Next Big Thing in GH Hip Hop" Talent Hunt Show. He released his debut single, The Warning, in 2014 featuring Sarkodie. Many of Teephlow's Songs became very popular and trendy on social media in line with a great number of streaming and downloads on Boomplay.

Career
Teephlow attended Ekumfi T.I Ahmadiyya Senior High School and earned a BSC Quantity Surveying and Construction Economics from the Kwame Nkrumah University of Science and Technology. He began his music career in his tertiary days, rapping on campus building a strong fanbase at the Kwame Nkrumah University of Science and Technology. He gained national recognition during the Maiden Edition of the "Next Big Thing in Ghana Hip-Hop" where he came out as the first runner-up.

He was signed by Ghanaian producer Hammer of the Last Two Music Group, after the talent hunt show. He had a first taste of exposure when Hammer featured him on Kwaw Kese's song "Swedru Agona"and released his first single "The Warning" under the Last Two Label in 2014.

Teephlow is currently with TeePhlow Music/Revolve records which is his own creation and is managed by his blood brothers Ibrahim Kwame Baidoo ( Artist Manager) who has been his road manager since 2013 and Hameed Baidoo ( Brand and Creative Development). He has Kwame Asante as his official DJ and Elorm Beenie as the project publicist.

In 2017, Teephlow released his debut tape "The Phlowducation EP" with Production from SnowBeatz, Possigee, Carl Zeus, Two Bars, and Seshi as well as guest appearances from Reggie Rockstone, Edem, Epixode, FlowkingStone, Worlasi, BigBen and Novo.

Achievements
Teephlow won his first award, "Record of the Year" from the 8th song "State of the Art" of the Phlowducation EP at the 2018 Vodafone Ghana Music Awards and got nominated on the same for Best Rapper of the Year and Hip-hop Song of the Year He was also nominated in the 2019 Ghana Entertainment Awards USA for Best Hiplife/ Rap Act and the 2019 Vodafone Ghana Music Awards for Rapper of The Year and Song Writer of The Year.

In 2017 he won Best Rapper Of The Year and 2016 Male Artiste of the Year, Song of the Year, Best Rapper of the Year and got nominated for Best Music Video of the Year "The Warning feat Sarkodie" during the Central Music Awards. He also bagged the 2015 Jigwe Awards for Discovery of the Year.

Follow Boomplay and keep up-to-date with the latest songs of Teephlow and information.

Teephlow's Songs
• No Permission
• 6 Feet
• Maabena
• Forgive
• Ma Mind Dey
• The Warning
• Genesis
• Your Case
• Lovi Dovi
• Odo
• Elevation
• Dede II

Teephlow's Songs are included in Boomplay music playlists. Search, stream, and download Teephlow's Songs, her latest singles and albums in MP3 only on the Boomplay platform for free.
New Comments(
45

)
FAQs about Teephlow
Where is Teephlow from?
He is from Ghana.
What are the latest songs of Teephlow?
The latest songs of Teephlow are Reflections, Pricey and 6 Feet.
What are the best songs of Teephlow?
The best songs of Teephlow are 6 Feet and The Warning (feat. Sarkodie).
What are the best albums of Teephlow?
The best albums of Teephlow are Road to Phlowducation, 6 Feet and The Warning (feat. Sarkodie).
How to download songs of Teephlow?
You can download songs of Teephlow from Boomplay App for free.
Firstly, install Boomplay app on your mobile phone.
Secondly, navigate to the song you would like to download.
Thirdly, Tap on More > Download.