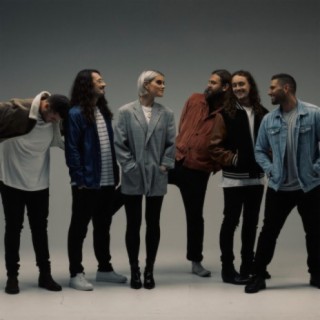 Hillsong UNITED
Current #604

All Time #805

Hillsong United (stylised as Hillsong UNITED or UNITED) is a worship band that originated as a part of Hillsong Church. Many of Hillsong UNITED songs become very popular and trendy online with a great number of streaming and downloads on Boomplay.

Formed in 1998 as part of Hillsong's youth ministry, the band consists of several rotating worship leaders from the church, including Joel Houston, Taya Smith-Gaukrodger, Matt Crocker, Jonathon Douglass, Brooke Fraser, Jad Gillies and Benjamin Hastings.

Career
Due to several songs written by the youth ministry, Hillsong Worship leader Darlene Zschech recommended that they record an album, which resulted in their debut extended play, One, which was released alongside the Hillsong Worship album Touching Heaven Changing Earth. Since then, the group has released fourteen live albums, as well as five studio albums (Sixteen albums in total). The band composes songs and performs in church services as well as concerts in worldwide tours.

The band was originally formed in 1998, by close friends from within the youth ministry called "Powerhouse Youth", led by Hillsong Youth Pastors Phil and Lucinda Dooley for many years. As the house band for the Powerhouse meetings, the group played original songs and rearranged popular radio tunes at their weekly meeting for local youth aged 16–25. Band members sometimes also contributed to the larger interdenominational ministry Youth Alive Australia and its albums. Most members of the band also attended Hillsong Church services.

Their 1999 debut, Everyday, established their creative template: each album was recorded live at the annual October youth conference Encounterfest -- enabling contributions from a variety of church members, friends, and supporters, including the popular Christian folk chanteuse Brooke Fraser -- and released on CD and DVD early the following year.

The members of the band as of 2022 were:
• Joel Houston – worship leader, acoustic guitar, keyboard, percussion
• Jonathon "JD" Douglass – worship leader, percussion
• Jad Gillies – worship leader, acoustic guitar and electric guitar
• Matt Crocker – worship leader, acoustic guitar, percussion
• Taya Smith-Gaukrodger – worship leader
• Michael Guy Chislett – electric guitar, keyboards, music director, producer
• Dylan Thomas – electric guitar, keyboards, music director
• Benjamin "Ben" Tennikoff – keyboard, programming, sampling
• Jihea Oh – bass guitar
• Benjamin Hastings – worship leader, acoustic guitar, keyboard
• Dan McMurray – drums, percussion

Follow Boomplay and keep up to date with the latest Hillsong UNITED songs and information.

Hillsong UNITED Songs
• Scandal of Grace
• From the Inside Out
• Oceans (Where Feet May Fail)
• Relentless
• Love Is War
• Touch the Sky
• Prince of Peace
• Heart Like Heaven
• Even When It Hurts (Praise Song)
• Here Now (Madness)
• Say the Word
• Captain
• Rule
• Empires
• Heaven Knows
• Shadow Step
• Splinters and Stones
• Shape of Your Heart
• Glimmer In The Dust
• Future Marches
• In Greatest of These
• Highlands (Song of Ascent)
• Ready or Not
• Clean
• Might Sound

Hillsong UNITED songs are included in Boomplay music playlists. Search to stream and download Hillsong UNITED songs MP3/ single/ albums on the platform....more

Country/Region : Australia
Songs

(0)

Albums

(0)

Playlists

(13)
Listen to Hillsong UNITED's new songs including and many more. Enjoy Hillsong UNITED's latest songs and explore the Hillsong UNITED's new music albums. If you want to download Hillsong UNITED songs MP3, use the Boomplay App to download the Hillsong UNITED songs for free. Discover Hillsong UNITED's latest songs, popular songs, trending songs all on Boomplay.
Hillsong United (stylised as Hillsong UNITED or UNITED) is a worship band that originated as a part of Hillsong Church. Many of Hillsong UNITED songs become very popular and trendy online with a great number of streaming and downloads on Boomplay.

Formed in 1998 as part of Hillsong's youth ministry, the band consists of several rotating worship leaders from the church, including Joel Houston, Taya Smith-Gaukrodger, Matt Crocker, Jonathon Douglass, Brooke Fraser, Jad Gillies and Benjamin Hastings.

Career
Due to several songs written by the youth ministry, Hillsong Worship leader Darlene Zschech recommended that they record an album, which resulted in their debut extended play, One, which was released alongside the Hillsong Worship album Touching Heaven Changing Earth. Since then, the group has released fourteen live albums, as well as five studio albums (Sixteen albums in total). The band composes songs and performs in church services as well as concerts in worldwide tours.

The band was originally formed in 1998, by close friends from within the youth ministry called "Powerhouse Youth", led by Hillsong Youth Pastors Phil and Lucinda Dooley for many years. As the house band for the Powerhouse meetings, the group played original songs and rearranged popular radio tunes at their weekly meeting for local youth aged 16–25. Band members sometimes also contributed to the larger interdenominational ministry Youth Alive Australia and its albums. Most members of the band also attended Hillsong Church services.

Their 1999 debut, Everyday, established their creative template: each album was recorded live at the annual October youth conference Encounterfest -- enabling contributions from a variety of church members, friends, and supporters, including the popular Christian folk chanteuse Brooke Fraser -- and released on CD and DVD early the following year.

The members of the band as of 2022 were:
• Joel Houston – worship leader, acoustic guitar, keyboard, percussion
• Jonathon "JD" Douglass – worship leader, percussion
• Jad Gillies – worship leader, acoustic guitar and electric guitar
• Matt Crocker – worship leader, acoustic guitar, percussion
• Taya Smith-Gaukrodger – worship leader
• Michael Guy Chislett – electric guitar, keyboards, music director, producer
• Dylan Thomas – electric guitar, keyboards, music director
• Benjamin "Ben" Tennikoff – keyboard, programming, sampling
• Jihea Oh – bass guitar
• Benjamin Hastings – worship leader, acoustic guitar, keyboard
• Dan McMurray – drums, percussion

Follow Boomplay and keep up to date with the latest Hillsong UNITED songs and information.

Hillsong UNITED Songs
• Scandal of Grace
• From the Inside Out
• Oceans (Where Feet May Fail)
• Relentless
• Love Is War
• Touch the Sky
• Prince of Peace
• Heart Like Heaven
• Even When It Hurts (Praise Song)
• Here Now (Madness)
• Say the Word
• Captain
• Rule
• Empires
• Heaven Knows
• Shadow Step
• Splinters and Stones
• Shape of Your Heart
• Glimmer In The Dust
• Future Marches
• In Greatest of These
• Highlands (Song of Ascent)
• Ready or Not
• Clean
• Might Sound

Hillsong UNITED songs are included in Boomplay music playlists. Search to stream and download Hillsong UNITED songs MP3/ single/ albums on the platform.
New Comments(
128

)