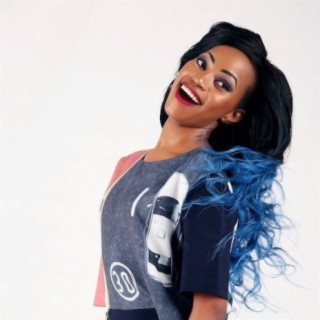 Sheebah
Current #1,243

All Time #584

Sheebah Karungi is a Ugandan musician, dancer, and actress who debuted her acting career in Queen of Katwe as Shakira. Many of Sheebah's Songs became very popular and trendy on social media in line with a great number of streaming and downloads on Boomplay.

She was born on November 11, 1989, in Kawempe, a division of Kampala, the capital city of Uganda. After quitting Obsessions, a dance group she joined in 2006, she rose to recognition upon the release of her hit single "Ice Cream".

In 2014, she released her debut project Ice Cream, a five-track EP which did well commercially and led her to win back-to-back HiPipo Music Awards Best Female Artist in 2015, 2016, 2017, and 2018. She also won the Artist of the Year award twice, in 2017, 2018, and 2019 at the HiPipo Music Awards.

Career
At the age of 15, Sheebah started dancing for money after she joined a dance group called Stingers before she left the group for Obsessions Music Group in 2006. At Obsessions she developed an interest in music, recording two songs before she left the group for a solo career in music.

In 2010, she released "Kunyenyenza", her first official single, produced by Washington with writing credit from Cindy. She went on to release another song titled "Bulikyekola", featuring vocals from KS Alpha and then "Baliwa" featuring Coco Finger. It was until she released "Automatic", a song written by Sizzaman, that her solo career experienced a major turnaround. Upon the success of "Automatic", she teamed up again with Sizzaman to release "Ice Cream" to massive airplay and positive reviews before she went on to release another hit single, "Twesana"....more

Country/Region : Uganda
Listen to Sheebah's new songs including "Mukama Yamba", "Yolo", "Njiira Love ft. Sama Sojah" and many more. Enjoy Sheebah's latest songs and explore the Sheebah's new music albums. If you want to download Sheebah songs MP3, use the Boomplay App to download the Sheebah songs for free. Discover Sheebah's latest songs, popular songs, trending songs all on Boomplay.
Sheebah Karungi is a Ugandan musician, dancer, and actress who debuted her acting career in Queen of Katwe as Shakira. Many of Sheebah's Songs became very popular and trendy on social media in line with a great number of streaming and downloads on Boomplay.

She was born on November 11, 1989, in Kawempe, a division of Kampala, the capital city of Uganda. After quitting Obsessions, a dance group she joined in 2006, she rose to recognition upon the release of her hit single "Ice Cream".

In 2014, she released her debut project Ice Cream, a five-track EP which did well commercially and led her to win back-to-back HiPipo Music Awards Best Female Artist in 2015, 2016, 2017, and 2018. She also won the Artist of the Year award twice, in 2017, 2018, and 2019 at the HiPipo Music Awards.

Career
At the age of 15, Sheebah started dancing for money after she joined a dance group called Stingers before she left the group for Obsessions Music Group in 2006. At Obsessions she developed an interest in music, recording two songs before she left the group for a solo career in music.

In 2010, she released "Kunyenyenza", her first official single, produced by Washington with writing credit from Cindy. She went on to release another song titled "Bulikyekola", featuring vocals from KS Alpha and then "Baliwa" featuring Coco Finger. It was until she released "Automatic", a song written by Sizzaman, that her solo career experienced a major turnaround. Upon the success of "Automatic", she teamed up again with Sizzaman to release "Ice Cream" to massive airplay and positive reviews before she went on to release another hit single, "Twesana".
New Comments(
269

)