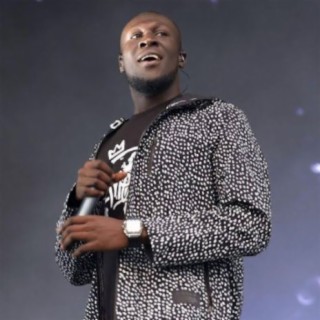 Stormzy
Current #549

All Time #1,431

Michael Ebenezer Kwadjo Omari Owuo Jr (born July 26, 1993) with the stage name as Stormzy, is an award winning British rapper, singer and songwriter known for his Grime, hip hop focused music style. Many of Stormzy songs become very popular and trendy online with a great number of streaming and downloads on Boomplay.

He came to prominence for his series of freestyles over grime beats as released on the Uk underground music scene. He gained more exposure for his top notch collaboration with Ed Sheeran and Burna Boy on the song titled "Own It". His first album, Gang Signs & Prayer became the first rap album to win the British album of the Year at Brit Awards.

He has won other awards like BET awards, MOBO Awards and so on. Stormzy was born on July 26, 1993 in Croydon, London. He grew up in South Norwood, London, with his single mother, Abigail Owuo, who is a Ghanaian, alongside his siblings; a brother and two sisters. He never had a substantive relationship with his father, Michael Omari Sr. He is also a cousin to rapper, Nadia Rose.

Career
Stormzy started to rap at the age of eleven. has been able to develop his passion for music with influences from the likes of Lauryn Hill, Frank Ocean, Lethal Bizzle, Flirta D, Bruza and so on. Prior to fame, he worked in quality assurance for two years at an oil refinery in Southampton, Hampshire.

He became known on the UK underground music scene with his series of freestyles. He came through with his debut EP "Dreamers Disease" in July 2014 and team up with rapper, Chip and Shalo on the song "I'm fine", in November 2014.

He released the track "Know Me From" in March 2015 while also performing his single "Shut Up" at the British heavyweight boxer Anthony Joshua's ring-walk for his fight against Dillian Whyte. Stormzy released the single "Scary" in April 2016 and took a break from the music scene, only to return with the release of his album, "Gang, Signs & Prayer", on February 24, 2017.

He came to limelight for his highly rated collaboration on "Own It" alongside, Ed Sheeran and the Nigerian Afrobeat music star Burna Boy. He continued to dish out exciting tracks like "Crown" and "Sounds of the Skeng" before eventually releasing another album titled "Heavy is the Head" on December 13, 2019. Stormzy has also worked with top artists like Headie One, Tion Wayne, Dutchavelli, Yaw Thog, Kwesi Arthur, Aitch, Skrillex, Charlie Sloth, Dave, Jaykae and many others.

Follow Boomplay and keep up-to-date with the latest Stormzy songs and information.

Stormzy Songs
• Shut Up
• Audacity
• Crown
• Own It
• Vossi Pop
• Sounds of the Skeng
• Do Better
• Rain Fall
• Pop Boy
• Wiley Flow

Achievement
Stormzy has won numerous awards such as; BET awards, Brit awards, MOBO awards, NME awards, BBV Music awards

Stormzy songs are included in Boomplay music playlists. Search to stream and download Stormzy songs MP3/ single/ albums on the platform....more

Country/Region : United Kingdom
Songs

(0)

Albums

(0)

Playlists

(16)

Videos and More
Listen to Stormzy's new songs including and many more. Enjoy Stormzy's latest songs and explore the Stormzy's new music albums. If you want to download Stormzy songs MP3, use the Boomplay App to download the Stormzy songs for free. Discover Stormzy's latest songs, popular songs, trending songs all on Boomplay.
Michael Ebenezer Kwadjo Omari Owuo Jr (born July 26, 1993) with the stage name as Stormzy, is an award winning British rapper, singer and songwriter known for his Grime, hip hop focused music style. Many of Stormzy songs become very popular and trendy online with a great number of streaming and downloads on Boomplay.

He came to prominence for his series of freestyles over grime beats as released on the Uk underground music scene. He gained more exposure for his top notch collaboration with Ed Sheeran and Burna Boy on the song titled "Own It". His first album, Gang Signs & Prayer became the first rap album to win the British album of the Year at Brit Awards.

He has won other awards like BET awards, MOBO Awards and so on. Stormzy was born on July 26, 1993 in Croydon, London. He grew up in South Norwood, London, with his single mother, Abigail Owuo, who is a Ghanaian, alongside his siblings; a brother and two sisters. He never had a substantive relationship with his father, Michael Omari Sr. He is also a cousin to rapper, Nadia Rose.

Career
Stormzy started to rap at the age of eleven. has been able to develop his passion for music with influences from the likes of Lauryn Hill, Frank Ocean, Lethal Bizzle, Flirta D, Bruza and so on. Prior to fame, he worked in quality assurance for two years at an oil refinery in Southampton, Hampshire.

He became known on the UK underground music scene with his series of freestyles. He came through with his debut EP "Dreamers Disease" in July 2014 and team up with rapper, Chip and Shalo on the song "I'm fine", in November 2014.

He released the track "Know Me From" in March 2015 while also performing his single "Shut Up" at the British heavyweight boxer Anthony Joshua's ring-walk for his fight against Dillian Whyte. Stormzy released the single "Scary" in April 2016 and took a break from the music scene, only to return with the release of his album, "Gang, Signs & Prayer", on February 24, 2017.

He came to limelight for his highly rated collaboration on "Own It" alongside, Ed Sheeran and the Nigerian Afrobeat music star Burna Boy. He continued to dish out exciting tracks like "Crown" and "Sounds of the Skeng" before eventually releasing another album titled "Heavy is the Head" on December 13, 2019. Stormzy has also worked with top artists like Headie One, Tion Wayne, Dutchavelli, Yaw Thog, Kwesi Arthur, Aitch, Skrillex, Charlie Sloth, Dave, Jaykae and many others.

Follow Boomplay and keep up-to-date with the latest Stormzy songs and information.

Stormzy Songs
• Shut Up
• Audacity
• Crown
• Own It
• Vossi Pop
• Sounds of the Skeng
• Do Better
• Rain Fall
• Pop Boy
• Wiley Flow

Achievement
Stormzy has won numerous awards such as; BET awards, Brit awards, MOBO awards, NME awards, BBV Music awards

Stormzy songs are included in Boomplay music playlists. Search to stream and download Stormzy songs MP3/ single/ albums on the platform.
New Comments(
46

)
FAQs about Stormzy
Where is Stormzy from?
He is from United Kingdom.
What are the latest songs of Stormzy?
The latest songs of Stormzy are Blinded By Your Grace, Pt. 2 (Acoustic) ft. Wretch 32 & Aion Clarke, Hide & Seek (Rema Remix) ft. Rema and Hide & Seek (FLO Remix) ft. FLO.
What are the best songs of Stormzy?
The best songs of Stormzy are Hide & Seek and Own It (feat. Ed Sheeran & Burna Boy).
What are the best albums of Stormzy?
The best albums of Stormzy are Heavy Is The Head, This Is What I Mean and Hide & Seek.