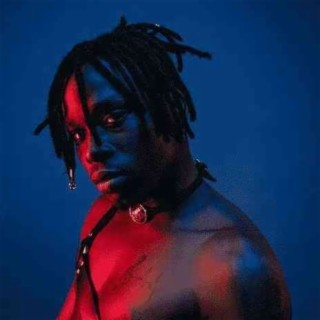 Fireboy DML
Current #100

All Time #7

Fireboy DML
Official Name: Adedamola Adefolahan
Date of Birth: 5th February 1996 in Ogun State, Nigeria
Genres: Afro-Life - a slow-groove pop style and a fresh medley of afro-pop and R&B
Record Label : YBNL Nation founded by Nigerian rapper Olamide.
School: Obafemi Awolowo University (OAU)

What does DML mean?
DML is an acronym of Fireboys name, 'Damola" which means; you're welcome

How did Fireboy DML became Famous? Who is Fireboy DML Family?
Fireboy DML grew up in Abeokuta being first of three boys and was a member of his local church choir. He developed interest in music while studying at Obafemi Awolowo University. His breakthrough single "Jealous" first appeared on YBNL Nation's collaborative album YBNL Mafia Family (2018), before being re-released on 25 March 2019.

Fireboy DML albums - 2
Laughter, Tears and Goosebumps (2019)
Apollo (2020) - 17-song album released on August 20, 2020 of which he described it
"for you see, life is like a song
it doesn't just go on and on
there is an end to everything
so as you dance and as you sing
make the most of the melodies
and i hope they will
remember you"

Fireboy DML Singles - 6
Jealous (2019)
What If I Say (2019)
King (2019)
New York City Girl (2020)
Eli (2020)
Tattoo
Don't Say No, G-Strings, Give Me Love, You'll Be Fine and Ajoke Star

Awards and Nominations 10. won 2
2019
The Headies - Next Rated,Viewer's Choice,Song of the Year
City People Music Awards - Popular Song of the Year, Most Promising Act of the Year, Best New Act of the Year, Revelation of the year
2020
Sound-city MVP Awards Festival -Song of the Year, Listeners' Choice, Best New MVP. Download and Listen your favorite songs on Boomplay.

Fireboy DML's new album "Playboy" released on Aug 5, 2022. Start listening to Fireboy's new music project "Playboy" now!...more

Country/Region : Nigeria
Listen to Fireboy DML's new songs including "Like I Do", "Vibration", "What If I Say" and many more. Enjoy Fireboy DML's latest songs and explore the Fireboy DML's new music albums. If you want to download Fireboy DML songs MP3, use the Boomplay App to download the Fireboy DML songs for free. Discover Fireboy DML's latest songs, popular songs, trending songs all on Boomplay.
Fireboy DML
Official Name: Adedamola Adefolahan
Date of Birth: 5th February 1996 in Ogun State, Nigeria
Genres: Afro-Life - a slow-groove pop style and a fresh medley of afro-pop and R&B
Record Label : YBNL Nation founded by Nigerian rapper Olamide.
School: Obafemi Awolowo University (OAU)

What does DML mean?
DML is an acronym of Fireboys name, 'Damola" which means; you're welcome

How did Fireboy DML became Famous? Who is Fireboy DML Family?
Fireboy DML grew up in Abeokuta being first of three boys and was a member of his local church choir. He developed interest in music while studying at Obafemi Awolowo University. His breakthrough single "Jealous" first appeared on YBNL Nation's collaborative album YBNL Mafia Family (2018), before being re-released on 25 March 2019.

Fireboy DML albums - 2
Laughter, Tears and Goosebumps (2019)
Apollo (2020) - 17-song album released on August 20, 2020 of which he described it
"for you see, life is like a song
it doesn't just go on and on
there is an end to everything
so as you dance and as you sing
make the most of the melodies
and i hope they will
remember you"

Fireboy DML Singles - 6
Jealous (2019)
What If I Say (2019)
King (2019)
New York City Girl (2020)
Eli (2020)
Tattoo
Don't Say No, G-Strings, Give Me Love, You'll Be Fine and Ajoke Star

Awards and Nominations 10. won 2
2019
The Headies - Next Rated,Viewer's Choice,Song of the Year
City People Music Awards - Popular Song of the Year, Most Promising Act of the Year, Best New Act of the Year, Revelation of the year
2020
Sound-city MVP Awards Festival -Song of the Year, Listeners' Choice, Best New MVP. Download and Listen your favorite songs on Boomplay.

Fireboy DML's new album "Playboy" released on Aug 5, 2022. Start listening to Fireboy's new music project "Playboy" now!
FAQs about Fireboy DML
Where is Fireboy DML from?
He is from Nigeria.
How to download songs of Fireboy DML?
You can download songs of Fireboy DML from Boomplay App for free.
Firstly, install Boomplay app on your mobile phone.
Secondly, navigate to the song you would like to download.
Thirdly, Tap on More > Download.