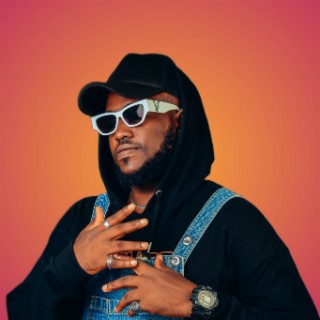 Drakare
Current #6,426

All Time #12.4k

Dooyum Kingsley Abaa popularly known as Drakare is an award winning Christian rapper and music producer from Benue state, Nigeria. He began music as a secular artiste in 2009 and was converted to a Christian after being healed of asthma in 2011.

Since then, he has released several projects over the years such as Demigod, Demigod 2, Talking Drums, Found But Insecure (FBI), Race Of Eternity and the Christ Executive Offer (CEO) which has gathered millions of streams across all platforms.

In 2014, he was nominated as Benue best gospel rapper and was also awarded the best collaboration of the year and best HipHop song of the year at Selah Award. Drakare has performed in several states across Nigerian and holds the record of being the first gospel rap artiste to get 3 awards in a year pacing with over 8 nominations within 3 years. In 2021, he got an international nomination at Rapzilla awards (a pioneer Christian hip hop blog in the U.S) as the best African gospel artist of the year.

In the beginning of 2022, Drakare dropped his new project "Little Things Matter", a 12-track album that hosts collaborations with several top Christian urban artists like Angeloh, Sokleva, LC Beatz, DJ Horphuray and more. He got signed on to a U.S / Nigerian label - RMG Amplify / 4th Crest in June 2022 with a new single announcement under the imprint.

His new single "Lost" which was released September 23 is currently doing well and has garnered over 10K streams in its first week. Drakare keeps being a motivation to several young Christian individuals who hopes to find fulfillment and have a personal journey journey with God....more

Country/Region : Others
Songs

(33)

Albums

(18)

Playlists

(0)
1

2

3

4

5

6

7

8

9

10

11

12

13

14

15

16

17

18

19

20

21

22

23

24

25

26

27

28

29

30

31

32

33
Listen to Drakare's new songs including "Glorious ft. Nolly, Holy Drill & K3ndrick", "Lost", "Father ft. Monaze" and many more. Enjoy Drakare's latest songs and explore the Drakare's new music albums. If you want to download Drakare songs MP3, use the Boomplay App to download the Drakare songs for free. Discover Drakare's latest songs, popular songs, trending songs all on Boomplay.
Dooyum Kingsley Abaa popularly known as Drakare is an award winning Christian rapper and music producer from Benue state, Nigeria. He began music as a secular artiste in 2009 and was converted to a Christian after being healed of asthma in 2011.

Since then, he has released several projects over the years such as Demigod, Demigod 2, Talking Drums, Found But Insecure (FBI), Race Of Eternity and the Christ Executive Offer (CEO) which has gathered millions of streams across all platforms.

In 2014, he was nominated as Benue best gospel rapper and was also awarded the best collaboration of the year and best HipHop song of the year at Selah Award. Drakare has performed in several states across Nigerian and holds the record of being the first gospel rap artiste to get 3 awards in a year pacing with over 8 nominations within 3 years. In 2021, he got an international nomination at Rapzilla awards (a pioneer Christian hip hop blog in the U.S) as the best African gospel artist of the year.

In the beginning of 2022, Drakare dropped his new project "Little Things Matter", a 12-track album that hosts collaborations with several top Christian urban artists like Angeloh, Sokleva, LC Beatz, DJ Horphuray and more. He got signed on to a U.S / Nigerian label - RMG Amplify / 4th Crest in June 2022 with a new single announcement under the imprint.

His new single "Lost" which was released September 23 is currently doing well and has garnered over 10K streams in its first week. Drakare keeps being a motivation to several young Christian individuals who hopes to find fulfillment and have a personal journey journey with God.
New Comments(
0

)

What do you think of this artist?
FAQs about Drakare
How to download songs of Drakare?
You can download songs of Drakare from Boomplay App for free.
Firstly, install Boomplay app on your mobile phone.
Secondly, navigate to the song you would like to download.
Thirdly, Tap on More > Download.