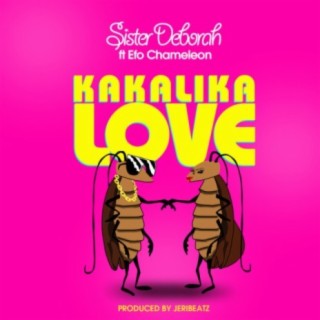 Sister Deborah
Current #14.8k

All Time #11.2k

Sister Deborah is an AfroPop celebrity known mostly for her international hit "Uncle Obama" which was viewed by millions and got her interviewed on CNN primetime aptly right before Obama debated his opponent for his second term.

Sister Deborah releases a single with a video every few months almost always creating media buzz because of funny and/or controversial topics such as "Ghana Jollof" which got featured on the BBC, the Guardian UK & The Fader.

Her social media presence is strong and steadily growing with 600,000 Instagram, 250,000 Twitter, 13,000 Snapchat followers and 110,000 Facebook likes. This can partly be attributed to her bubbly personality and fashion sense.

Sister Deborah has performed at Glastonbury and recently headlined Mr Eazi's Festival at the Roundhouse in Camden.

Also an environmental guardian, Sister Deborah aka Sister Derby aka The African Mermaid advocates for a world free of plastic pollution and inspires her dolphins (fans) to recycle and keep their surroundings clean....more

Country/Region : Ghana
Songs

(19)

Albums

(13)

Playlists

(1)
1

2

3

4

5

6

7

8

9

10

11

12

13

14

15

16

17

18

19
Listen to Sister Deborah's new songs including "Odolastic", "Time Be Moni ft. Strongman & Eno Barony", "Sweet Ex" and many more. Enjoy Sister Deborah's latest songs and explore the Sister Deborah's new music albums. If you want to download Sister Deborah songs MP3, use the Boomplay App to download the Sister Deborah songs for free. Discover Sister Deborah's latest songs, popular songs, trending songs all on Boomplay.
Sister Deborah is an AfroPop celebrity known mostly for her international hit "Uncle Obama" which was viewed by millions and got her interviewed on CNN primetime aptly right before Obama debated his opponent for his second term.

Sister Deborah releases a single with a video every few months almost always creating media buzz because of funny and/or controversial topics such as "Ghana Jollof" which got featured on the BBC, the Guardian UK & The Fader.

Her social media presence is strong and steadily growing with 600,000 Instagram, 250,000 Twitter, 13,000 Snapchat followers and 110,000 Facebook likes. This can partly be attributed to her bubbly personality and fashion sense.

Sister Deborah has performed at Glastonbury and recently headlined Mr Eazi's Festival at the Roundhouse in Camden.

Also an environmental guardian, Sister Deborah aka Sister Derby aka The African Mermaid advocates for a world free of plastic pollution and inspires her dolphins (fans) to recycle and keep their surroundings clean.