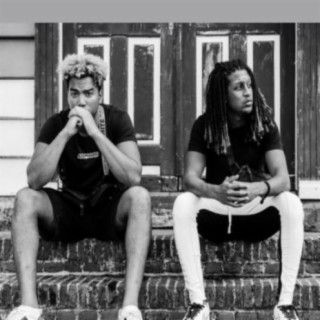 Afro Bros
Current #99k+

All Time #40.9k

Giordano Ashruf & Rashid Badloe known as the "Afro Bros" are a Latin Grammy nominated DJ/Producers duo based in The Netherlands, signed to one of the biggest Dance Label in the world Spinnin' Records. They established their self as pivotal players of the dj culture creating a new wave and genre, which resulted them being award-wining dj's, producers and entrepeneurs.


In 2016 they released a Dutch track called "18 plus". This urban song with an extremely catchy melody synth started as a joke for the duo but began to mutate in a huge international hit.


They (co) produced the #1 songs in the Netherlands called "Energie" & "Come Again" singles from Ronnie Flex, Frenna & Boef. They also (co) produced the Latin Grammy nominated track "Sua Cara" from Major Lazer.


Their biggest hit, also Latin Grammy nominated is the track from Nicky Jam & J Balvin - X which they produced together with Jeon. This track already reached 1...more

Country/Region : Netherlands
Songs

(8)

Albums

(5)

Playlists

(4)
Listen to Afro Bros's new songs including "Bass On Steroids (Original Mix)", "Miami Sunset (Original Mix)", "Caveman (Original Mix) ft. Tommie Sunshine" and many more. Enjoy Afro Bros's latest songs and explore the Afro Bros's new music albums. If you want to download Afro Bros songs MP3, use the Boomplay App to download the Afro Bros songs for free. Discover Afro Bros's latest songs, popular songs, trending songs all on Boomplay.
Giordano Ashruf & Rashid Badloe known as the "Afro Bros" are a Latin Grammy nominated DJ/Producers duo based in The Netherlands, signed to one of the biggest Dance Label in the world Spinnin' Records. They established their self as pivotal players of the dj culture creating a new wave and genre, which resulted them being award-wining dj's, producers and entrepeneurs.


In 2016 they released a Dutch track called "18 plus". This urban song with an extremely catchy melody synth started as a joke for the duo but began to mutate in a huge international hit.


They (co) produced the #1 songs in the Netherlands called "Energie" & "Come Again" singles from Ronnie Flex, Frenna & Boef. They also (co) produced the Latin Grammy nominated track "Sua Cara" from Major Lazer.


Their biggest hit, also Latin Grammy nominated is the track from Nicky Jam & J Balvin - X which they produced together with Jeon. This track already reached 1
New Comments(
0

)

What do you think of this artist?
FAQs about Afro Bros
Where is Afro Bros from?
They are from Netherlands.
How to download songs of Afro Bros?
You can download songs of Afro Bros from Boomplay App for free.
Firstly, install Boomplay app on your mobile phone.
Secondly, navigate to the song you would like to download.
Thirdly, Tap on More > Download.