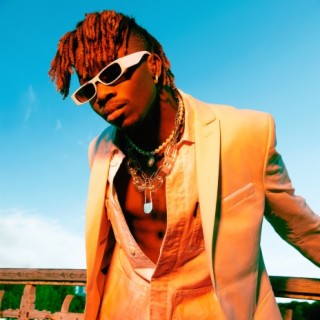 Oxlade
Current #27

All Time #60

Oxlade's real name is Ikuforiji Olaitan Abdulrahman, but he is best known in the music industry by his stage name Oxlade. He was born on April 22nd 1997 and was brought up by his grandmother after losing his mum at an early age. He joined Lagos State University (LASU) for two years before dropping out to pursue a career in music.

When he chose to drop out of university to pursue his career, the decision did not go down well with his father, who stopped catering to his needs. Oxlade's break in the music industry came when fellow artist Blaqbonez heard his single Sour and collaborated with him on the hit track Mamiwota. He later featured on Fireboy DML's hit single Sing. This one was particularly important as it caught the attention of world-renowned singer Davido.

Oxygen is a testament to why so many people have fallen deeply in love with afrobeat music. The tracks feature smooth vocals, and groovy harmonies will have you in your feelings, chasing your dreams, and dancing till your feet are sore. Away, the first track off the album with a video is beautifully scripted and shot in the coastal town of Cape Coast in Ghana. The song revolves around Oxlade waiting for his lady love to join him as he whisks her away on a trip and in love with her parents looking on.

Oxlade has received much encouragement from the Nigerian music icon, Davido, via social media. According to Oxlade, Davido reached out to him at the very point he was about to give up. While the artist has only had a few years in the entertainment industry, the entire Oxlade musician career has seen him create some excellent tracks.

Download and Listen to Oxlade on Boomplay....more

Country/Region : Nigeria
Songs

(15)

Albums

(0)

Playlists

(15)

Similar Artists

(10)
1

2

3

4

5

6

7

8

9

10

11

12

13

14

15
Listen to Oxlade's new songs including "Nobody Like You (Original Mix)", "I Don't Want Nobody (Original Mix) ft. Hazet", "Teaching You (Original Mix)" and many more. Enjoy Oxlade's latest songs and explore the Oxlade's new music albums. If you want to download Oxlade songs MP3, use the Boomplay App to download the Oxlade songs for free. Discover Oxlade's latest songs, popular songs, trending songs all on Boomplay.
Oxlade's real name is Ikuforiji Olaitan Abdulrahman, but he is best known in the music industry by his stage name Oxlade. He was born on April 22nd 1997 and was brought up by his grandmother after losing his mum at an early age. He joined Lagos State University (LASU) for two years before dropping out to pursue a career in music.

When he chose to drop out of university to pursue his career, the decision did not go down well with his father, who stopped catering to his needs. Oxlade's break in the music industry came when fellow artist Blaqbonez heard his single Sour and collaborated with him on the hit track Mamiwota. He later featured on Fireboy DML's hit single Sing. This one was particularly important as it caught the attention of world-renowned singer Davido.

Oxygen is a testament to why so many people have fallen deeply in love with afrobeat music. The tracks feature smooth vocals, and groovy harmonies will have you in your feelings, chasing your dreams, and dancing till your feet are sore. Away, the first track off the album with a video is beautifully scripted and shot in the coastal town of Cape Coast in Ghana. The song revolves around Oxlade waiting for his lady love to join him as he whisks her away on a trip and in love with her parents looking on.

Oxlade has received much encouragement from the Nigerian music icon, Davido, via social media. According to Oxlade, Davido reached out to him at the very point he was about to give up. While the artist has only had a few years in the entertainment industry, the entire Oxlade musician career has seen him create some excellent tracks.

Download and Listen to Oxlade on Boomplay.
New Comments(
115

)
FAQs about Oxlade
Where is Oxlade from?
He is from Nigeria.
What are the latest songs of Oxlade?
The latest songs of Oxlade are KU LO SA - A COLORS SHOW (Mixed), Bad Boy (Mixed) ft. Mayorkun and KU LO SA ft. Camila Cabello.
What are the best songs of Oxlade?
The best songs of Oxlade are KU LO SA - A COLORS SHOW, O2 and AWAY.
What are the best albums of Oxlade?
The best albums of Oxlade are KU LO SA - A COLORS SHOW, OXYGENE and Eclipse.
How to download songs of Oxlade?
You can download songs of Oxlade from Boomplay App for free.
Firstly, install Boomplay app on your mobile phone.
Secondly, navigate to the song you would like to download.
Thirdly, Tap on More > Download.