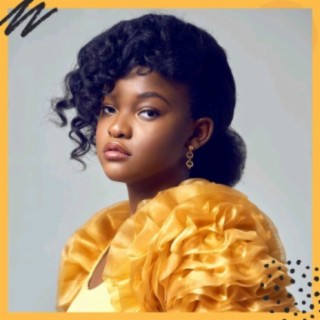 Indira
Current #123

All Time #142

Indira, real name Indira Éden Baboke Tamboulo, born July 9, 2002, is a Cameroonian gospel singer, songwriter and actress. Many of Indira songs become very popular and trendy online with a great number of streaming and downloads on Boomplay.

She is the daughter of Crescence Baboke, a minister, and Oswald Baboke, a senior civil servant.She obtained the GCE Advanced Level Sciences (equivalent to the Scientific Baccalaureate) in 2017.

In 2021, she is in her fourth year of medicine at the University of Yaoundé.

Career
Indira began her musical career at the age of 6 and her very first album, titled Quelle Joie, was released in 2009. We find there the titles what immense joy I wish you, Yawe, Lord Jesus I love you and Score of shame. Her second album Consecration was released in 2012. In 2014, she released Appelle en existence which was a great success. Her third album entitled Le Supernatural is a 9-track album officially released in February 2016. Then, in 2017, she signed her comeback with three tracks: Tu Joues La Vie, Jesus Ne Fait Pas Le Buzz andPray Together.

In 2018, she released a single titled Ne Me Laisse Pas Alone. This gospel is used on the soundtrack of the film Conséquence, in which she plays the main role 6. In November 2019, she signed a collaboration with the Ivorian artist Serge Beynaud in the title J'aura La Victoire 2. In the context of the health crisis, she also recorded another single entitled Stop Covid 19 in April 2020.

On November 13, 2020, she announced the release of her album entitled Souffle Nouveau, consisting of 18 tracks and 1 bonus track. On February 27, 2021, she gave a live concert at the National Museum of Yaoundé. Indira has been nominated four times at Canal 2'Or, (in 2015, 2017, 2019, 2021) in the gospel music artist and group category and in 2021 she won the award in this category. Indira has a total of 4 studio albums, the fourth of which, entitled Souffle Nouveau, was released in 2020.

Indira made her debut at the cinema in 2015 in the film Il a le dernier mot directed by Créscence Baboke. In 2018, she signed her return to the cinematographic scene in the film Conséquence. In 2020, she began to participate in web series, notably with Ulrich Takam in Les Feats de Takam. In 2021, she has a role in Takam's capsules.

Achievements
• 2015: Nominated for the 2015 Canal d'or in the gospel music artist/group category.
• 2017: Special Encouragement Prize for Canal 2'Or 2017.
• 2019: Nominated for the 2019 Canal d'or in the gospel music artist/group category.
• 2019: Best Gospel Artist Award at Urban Jamz Awards.
• 2021: Gospel music artist/group at Canal 2'Or.

Follow Boomplay and keep up to date with the latest Indira songs and information.

Indira Songs and Albums
• What Joy
• Call into Existence
• You Play Life
• Jesus Doesn't Make The Buzz
• Pray Together
• The Strongest
• Don't Leave Me Alone
• Don't Make The Mistake
• So Dance
• Holy Spirit
• I will have La Victoire with Serge Beynaud
• Stop Covid-19
• What Joy (Album)
• Consecration (Album)
• The Supernatural (Album)
• Breath New (Album)

Indira songs are included in Boomplay music playlists. Search to stream and download Indira songs MP3/ single/ albums on the platform....more

Country/Region : Cameroon
Listen to Indira's new songs including "IL EST LA (feat. KS Bloom)", "One Chance", "Desperté" and many more. Enjoy Indira's latest songs and explore the Indira's new music albums. If you want to download Indira songs MP3, use the Boomplay App to download the Indira songs for free. Discover Indira's latest songs, popular songs, trending songs all on Boomplay.
Indira, real name Indira Éden Baboke Tamboulo, born July 9, 2002, is a Cameroonian gospel singer, songwriter and actress. Many of Indira songs become very popular and trendy online with a great number of streaming and downloads on Boomplay.

She is the daughter of Crescence Baboke, a minister, and Oswald Baboke, a senior civil servant.She obtained the GCE Advanced Level Sciences (equivalent to the Scientific Baccalaureate) in 2017.

In 2021, she is in her fourth year of medicine at the University of Yaoundé.

Career
Indira began her musical career at the age of 6 and her very first album, titled Quelle Joie, was released in 2009. We find there the titles what immense joy I wish you, Yawe, Lord Jesus I love you and Score of shame. Her second album Consecration was released in 2012. In 2014, she released Appelle en existence which was a great success. Her third album entitled Le Supernatural is a 9-track album officially released in February 2016. Then, in 2017, she signed her comeback with three tracks: Tu Joues La Vie, Jesus Ne Fait Pas Le Buzz andPray Together.

In 2018, she released a single titled Ne Me Laisse Pas Alone. This gospel is used on the soundtrack of the film Conséquence, in which she plays the main role 6. In November 2019, she signed a collaboration with the Ivorian artist Serge Beynaud in the title J'aura La Victoire 2. In the context of the health crisis, she also recorded another single entitled Stop Covid 19 in April 2020.

On November 13, 2020, she announced the release of her album entitled Souffle Nouveau, consisting of 18 tracks and 1 bonus track. On February 27, 2021, she gave a live concert at the National Museum of Yaoundé. Indira has been nominated four times at Canal 2'Or, (in 2015, 2017, 2019, 2021) in the gospel music artist and group category and in 2021 she won the award in this category. Indira has a total of 4 studio albums, the fourth of which, entitled Souffle Nouveau, was released in 2020.

Indira made her debut at the cinema in 2015 in the film Il a le dernier mot directed by Créscence Baboke. In 2018, she signed her return to the cinematographic scene in the film Conséquence. In 2020, she began to participate in web series, notably with Ulrich Takam in Les Feats de Takam. In 2021, she has a role in Takam's capsules.

Achievements
• 2015: Nominated for the 2015 Canal d'or in the gospel music artist/group category.
• 2017: Special Encouragement Prize for Canal 2'Or 2017.
• 2019: Nominated for the 2019 Canal d'or in the gospel music artist/group category.
• 2019: Best Gospel Artist Award at Urban Jamz Awards.
• 2021: Gospel music artist/group at Canal 2'Or.

Follow Boomplay and keep up to date with the latest Indira songs and information.

Indira Songs and Albums
• What Joy
• Call into Existence
• You Play Life
• Jesus Doesn't Make The Buzz
• Pray Together
• The Strongest
• Don't Leave Me Alone
• Don't Make The Mistake
• So Dance
• Holy Spirit
• I will have La Victoire with Serge Beynaud
• Stop Covid-19
• What Joy (Album)
• Consecration (Album)
• The Supernatural (Album)
• Breath New (Album)

Indira songs are included in Boomplay music playlists. Search to stream and download Indira songs MP3/ single/ albums on the platform.
FAQs about Indira
Where is Indira from?
She is from Cameroon.
What are the latest songs of Indira?
The latest songs of Indira are Fire and Smoke, Afternoon Delight and Uhadumala.
What are the best songs of Indira?
The best songs of Indira are Je Laisse Tout A Dieu, IL EST LA (feat. KS Bloom) and Je Veux Te Louer.
What are the best albums of Indira?
The best albums of Indira are Souffle Nouveau, IL EST LA (feat. KS Bloom) and Je Veux Te Louer.
How to download songs of Indira?
You can download songs of Indira from Boomplay App for free.
Firstly, install Boomplay app on your mobile phone.
Secondly, navigate to the song you would like to download.
Thirdly, Tap on More > Download.