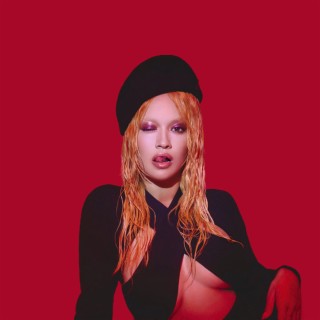 Rita Ora
Current #2,924

All Time #3,437

Rita Sahatçiu Ora going by her stage name of Rita Ora is a British singer, songwriter and actress. Many of Rita Ora's Songs became very popular and trendy on social media in line with a great number of streaming and downloads on Boomplay.

She was born on 26 November 1990. She rose to prominence in February 2012 when she featured on DJ Fresh's single, "Hot Right Now", which reached number one in the UK. Her debut studio album, Ora, released in August 2012, debuted at number one in the United Kingdom. The album contained the UK number-one singles, "R.I.P." and "How We Do (Party)".

Ora was the artist with the most number-one singles on the UK Singles Chart in 2012, with three singles reaching the top position. Ora was named an Honorary Ambassador of Kosovo in 2015.

Career
Ora began performing at open mic sessions around London and, occasionally, in her father's pub. In 2008, she auditioned for Eurovision: Your Country Needs You on BBC One to be the British contestant for the Eurovision Song Contest 2009 and qualified, but later withdrew from the competition after a few episodes as she "did not feel ready" and thought "that challenge wasn't for her."

Her manager, Sarah Stennett (who also worked with Ellie Goulding, Jessie J and Conor Maynard), later told HitQuarters that she reassured Ora that performing in Eurovision would hinder, rather than help her chances to make it as a solo artist. Shortly after, Ora's management got in touch with the American label, Roc Nation, and told them about her.

Ora signed a recording deal and a publishing deal with Roc Nation in December 2008 and was one of their first signees. She made a cameo appearance in Jay Z's video for "Young Forever" (2009). After being signed, Ora recorded an album and wanted to release it, but her label advised against it and she started to work on other material for her debut album....more

Country/Region : United Kingdom
Listen to Rita Ora's new songs including and many more. Enjoy Rita Ora's latest songs and explore the Rita Ora's new music albums. If you want to download Rita Ora songs MP3, use the Boomplay App to download the Rita Ora songs for free. Discover Rita Ora's latest songs, popular songs, trending songs all on Boomplay.
Rita Sahatçiu Ora going by her stage name of Rita Ora is a British singer, songwriter and actress. Many of Rita Ora's Songs became very popular and trendy on social media in line with a great number of streaming and downloads on Boomplay.

She was born on 26 November 1990. She rose to prominence in February 2012 when she featured on DJ Fresh's single, "Hot Right Now", which reached number one in the UK. Her debut studio album, Ora, released in August 2012, debuted at number one in the United Kingdom. The album contained the UK number-one singles, "R.I.P." and "How We Do (Party)".

Ora was the artist with the most number-one singles on the UK Singles Chart in 2012, with three singles reaching the top position. Ora was named an Honorary Ambassador of Kosovo in 2015.

Career
Ora began performing at open mic sessions around London and, occasionally, in her father's pub. In 2008, she auditioned for Eurovision: Your Country Needs You on BBC One to be the British contestant for the Eurovision Song Contest 2009 and qualified, but later withdrew from the competition after a few episodes as she "did not feel ready" and thought "that challenge wasn't for her."

Her manager, Sarah Stennett (who also worked with Ellie Goulding, Jessie J and Conor Maynard), later told HitQuarters that she reassured Ora that performing in Eurovision would hinder, rather than help her chances to make it as a solo artist. Shortly after, Ora's management got in touch with the American label, Roc Nation, and told them about her.

Ora signed a recording deal and a publishing deal with Roc Nation in December 2008 and was one of their first signees. She made a cameo appearance in Jay Z's video for "Young Forever" (2009). After being signed, Ora recorded an album and wanted to release it, but her label advised against it and she started to work on other material for her debut album.
FAQs about Rita Ora
Where is Rita Ora from?
She is from United Kingdom.
What are the latest songs of Rita Ora?
The latest songs of Rita Ora are Your Song (Acoustic) and Your Song.
What are the best songs of Rita Ora?
The best songs of Rita Ora are Let You Love Me and Body On Me ft. Chris Brown.
What are the best albums of Rita Ora?
The best albums of Rita Ora are Phoenix (Deluxe Edition), Let You Love Me and Phoenix.