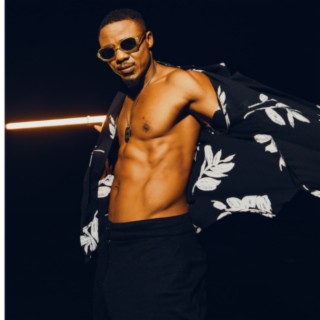 Alikiba
Current #100

All Time #164

Ali Saleh Kiba (born 1986), best known as Ali Kiba or sometimes King Kiba, is a Tanzanian singer and songwriter. He is from Kigoma and the owner of Kings Music label. Many of Ali Kiba songs become very popular and trendy online with a great number of streaming and downloads on Boomplay.

Ali Kiba was born in Iringa to parents Saleh Omari and Tombwe Njere. He is the eldest son in a family of four. His siblings consist of his brother, Abdu Kiba who is also a musician, a sister, Zabibu Kiba and the youngest brother, Abuu Kiba.

Career
Ali Kiba released his album Cinderella which broke record as the best selling album in East African countries including Tanzania, Kenya and Uganda. He is best known for his hit songs Mwana, Aje, Chekecha Cheketua, Cinderella, Nakshi Mrembo, Usiniseme, Dushelele, Single Boy with Lady Jaydee, Mapenzi Yana Run Dunia and Macmuga. He also collaborated with R. Kelly and other African musicians on the One8 project. In 2017 he became the director of Rockstar4000.

Following his return after a three years hiatus, he released the singles "Mwana" and "Chekecha". He won six awards at the 2015 Tanzania Music Awards and broke the record on Mkito.com for the most downloaded song of 2015. Ali Kiba he is regarded one of the best and successful artists in Tanzania of all time.

He set a new record in Tanzania after winning 5 awards at the 2022 Tanzania Music Awards that were held for the first time in April 2, 2022 after 6 years hiatus. Alikiba won Album of the Year for his third studio album "Only One King" that was released in 2021, Best Male Artist People's Choice, Best Music Video for his smash hit "Salute" featuring Nigerian Rudeboy, Best Melodic Songwriter of the Year and Best East African Artist during the ceremony.

Alikiba has been nominated for 'Best International Act' for Black Entertainment Film, Fashion, Television and Arts Awards in 2009, Best East African Artist for African Music Awards in 2009, and Winner of Best Zouk / Rhumba Song at the Kili Music Awards in 2012, Nominated for Best Tanzanian Writer, Best Male Artists and Best Collaborating song with Lady Jaydee for Kili Music Awards in 2013.

Endorsements
• On 20 May 2016, he signed a deal with Sony Music Entertainment. He later left Sony in 2021 after working with them for five years.
• He was endorsed by the mobile telephony brand Airtel Africa

Achievements
• His song Aje Best African Rnb Video and the Best East African Video at the 2016 Watsup Music Awards
• He won the Best African Act at the 2016 BEFFTA Awards
• His song Aje won the Video of the Year at the 2016 BEFFTA Awards
• He won the Best International Act: Africa at the 2016 MTV Europe Music Awards
• He won the Favorite Artist at the 2016 Nafca
• His song Mwana also won the Favorite song at the 2016 Nafca
• He won the Best Male Artist at the 2016 East Africa TV Awards
• His song Aje won him the Song of the Year and the Video of the Year at the 2016 East Africa TV Awards
• He won the most Stylish Artiste East Africa at the 2016 ASFA Awards (Uganda)
• His song Aje won him the Most Fashionable Music Video Africa at the 2016 ASFA Awards (Uganda)
• His song Aje won him the Video of the Year at the 2016 Soundcity Awards
• His song Aje won him the Top Trending Song at the TZ INSTA Awards 2016
• He won the Best Live Act and the Best Male East Africa at the 2019 AFRIMMA
• He has won over Ten Tanzania Music Awards

Follow Boomplay and keep up to date with the latest Ali Kiba songs and information.

Ali Kiba Songs
• Kuteseka
• Namshukuru Mungu
• Nichuum
• Msela
• Namzimia
• Njiwa
• Sabrina
• Sikuoni
• Karim
• Mali Yangu
• Nakshi Mrembo
• Njiwa
• Usiniseme
• I Miss You
• Cinderella (Album)
• So Hot (Album)

Ali Kiba songs are included in Boomplay music playlists. Search to stream and download Ali Kiba songs MP3/ single/ albums on the platform....more

Country/Region : Tanzania
Listen to Alikiba's new songs including "Mahaba", "Huku", "Sumu ft. Marioo" and many more. Enjoy Alikiba's latest songs and explore the Alikiba's new music albums. If you want to download Alikiba songs MP3, use the Boomplay App to download the Alikiba songs for free. Discover Alikiba's latest songs, popular songs, trending songs all on Boomplay.
Ali Saleh Kiba (born 1986), best known as Ali Kiba or sometimes King Kiba, is a Tanzanian singer and songwriter. He is from Kigoma and the owner of Kings Music label. Many of Ali Kiba songs become very popular and trendy online with a great number of streaming and downloads on Boomplay.

Ali Kiba was born in Iringa to parents Saleh Omari and Tombwe Njere. He is the eldest son in a family of four. His siblings consist of his brother, Abdu Kiba who is also a musician, a sister, Zabibu Kiba and the youngest brother, Abuu Kiba.

Career
Ali Kiba released his album Cinderella which broke record as the best selling album in East African countries including Tanzania, Kenya and Uganda. He is best known for his hit songs Mwana, Aje, Chekecha Cheketua, Cinderella, Nakshi Mrembo, Usiniseme, Dushelele, Single Boy with Lady Jaydee, Mapenzi Yana Run Dunia and Macmuga. He also collaborated with R. Kelly and other African musicians on the One8 project. In 2017 he became the director of Rockstar4000.

Following his return after a three years hiatus, he released the singles "Mwana" and "Chekecha". He won six awards at the 2015 Tanzania Music Awards and broke the record on Mkito.com for the most downloaded song of 2015. Ali Kiba he is regarded one of the best and successful artists in Tanzania of all time.

He set a new record in Tanzania after winning 5 awards at the 2022 Tanzania Music Awards that were held for the first time in April 2, 2022 after 6 years hiatus. Alikiba won Album of the Year for his third studio album "Only One King" that was released in 2021, Best Male Artist People's Choice, Best Music Video for his smash hit "Salute" featuring Nigerian Rudeboy, Best Melodic Songwriter of the Year and Best East African Artist during the ceremony.

Alikiba has been nominated for 'Best International Act' for Black Entertainment Film, Fashion, Television and Arts Awards in 2009, Best East African Artist for African Music Awards in 2009, and Winner of Best Zouk / Rhumba Song at the Kili Music Awards in 2012, Nominated for Best Tanzanian Writer, Best Male Artists and Best Collaborating song with Lady Jaydee for Kili Music Awards in 2013.

Endorsements
• On 20 May 2016, he signed a deal with Sony Music Entertainment. He later left Sony in 2021 after working with them for five years.
• He was endorsed by the mobile telephony brand Airtel Africa

Achievements
• His song Aje Best African Rnb Video and the Best East African Video at the 2016 Watsup Music Awards
• He won the Best African Act at the 2016 BEFFTA Awards
• His song Aje won the Video of the Year at the 2016 BEFFTA Awards
• He won the Best International Act: Africa at the 2016 MTV Europe Music Awards
• He won the Favorite Artist at the 2016 Nafca
• His song Mwana also won the Favorite song at the 2016 Nafca
• He won the Best Male Artist at the 2016 East Africa TV Awards
• His song Aje won him the Song of the Year and the Video of the Year at the 2016 East Africa TV Awards
• He won the most Stylish Artiste East Africa at the 2016 ASFA Awards (Uganda)
• His song Aje won him the Most Fashionable Music Video Africa at the 2016 ASFA Awards (Uganda)
• His song Aje won him the Video of the Year at the 2016 Soundcity Awards
• His song Aje won him the Top Trending Song at the TZ INSTA Awards 2016
• He won the Best Live Act and the Best Male East Africa at the 2019 AFRIMMA
• He has won over Ten Tanzania Music Awards

Follow Boomplay and keep up to date with the latest Ali Kiba songs and information.

Ali Kiba Songs
• Kuteseka
• Namshukuru Mungu
• Nichuum
• Msela
• Namzimia
• Njiwa
• Sabrina
• Sikuoni
• Karim
• Mali Yangu
• Nakshi Mrembo
• Njiwa
• Usiniseme
• I Miss You
• Cinderella (Album)
• So Hot (Album)

Ali Kiba songs are included in Boomplay music playlists. Search to stream and download Ali Kiba songs MP3/ single/ albums on the platform.
New Comments(
910

)
FAQs about Alikiba
Where is Alikiba from?
He is from Tanzania.
How to download songs of Alikiba?
You can download songs of Alikiba from Boomplay App for free.
Firstly, install Boomplay app on your mobile phone.
Secondly, navigate to the song you would like to download.
Thirdly, Tap on More > Download.