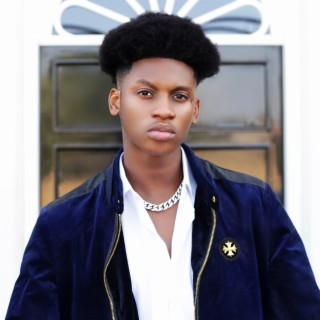 Kelvin Kay
Current #35.3k

All Time #57.9k

Singer, Song Writer and Occasional Rapper Kelvin Kay officially known as Kelvin Owusu Sarfo is a Ghanaian Artist born and raised in Accra, Ghana. Although Majoring in Afrobeats and RnB, Kelvin Kay's influences range across multiple genres drawing inspiration from global artists like August Alsina, Sarkodie, John Legend, Wizkid and Chris Brown.
From his early teens Kelvin Kay always had the sweet voice and ability to sing and with his mum being a church leader, he was often made to sing in church but didn't realise that was the beginning of his musical journey until his passion for making music kicked in in his second year of High School, when he started getting melodies and putting words to them to which he sang to his mates who urged him on to continue.
Kelvin Kay likes to explore the subjects of love, romance, life and everything inbetween. He believes he was born to make music and stir the right emotions in people through his sound and lyrics....more

Boom ID : 117197081 Country : Ghana Gender : Male
Songs

(1)

Albums

(1)

Playlists

(3)
Listen to Kelvin Kay's new songs including "Benke Momi", and many more. Enjoy Kelvin Kay's latest songs and explore the Kelvin Kay's new music albums. If you want to download Kelvin Kay songs MP3, use the Boomplay App to download the Kelvin Kay songs for free. Discover Kelvin Kay's latest songs, popular songs, trending songs all on Boomplay.
Singer, Song Writer and Occasional Rapper Kelvin Kay officially known as Kelvin Owusu Sarfo is a Ghanaian Artist born and raised in Accra, Ghana. Although Majoring in Afrobeats and RnB, Kelvin Kay's influences range across multiple genres drawing inspiration from global artists like August Alsina, Sarkodie, John Legend, Wizkid and Chris Brown.
From his early teens Kelvin Kay always had the sweet voice and ability to sing and with his mum being a church leader, he was often made to sing in church but didn't realise that was the beginning of his musical journey until his passion for making music kicked in in his second year of High School, when he started getting melodies and putting words to them to which he sang to his mates who urged him on to continue.
Kelvin Kay likes to explore the subjects of love, romance, life and everything inbetween. He believes he was born to make music and stir the right emotions in people through his sound and lyrics.